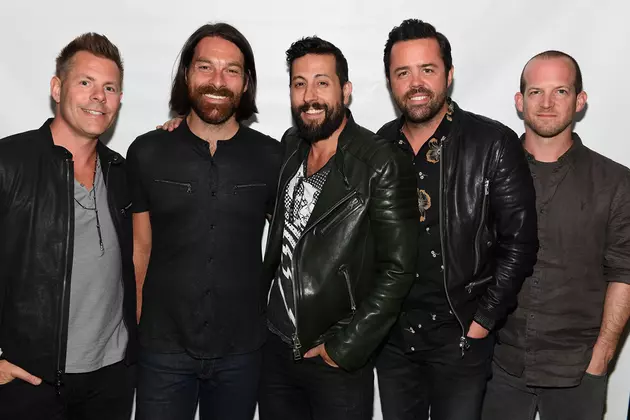 Lyrics Uncovered: Old Dominion, 'Song for Another Time'
Jason Davis, Getty Images
Old Dominion built their "Song for Another Time" lyrics around a string of references to past classic songs, and according to lead singer Matthew Ramsey, they still don't know quite how they pulled it off.
"You hear people say, 'That's a story for another time,' and I don't know what gave me the idea, but I just thought it would be cool if it was 'Song for Another Time,'" Ramsey tells Taste of Country of the song's origin. "And honestly, I had no clue what that meant. I just wrote it down as a title, and thought, 'There's something to that.'"
He pitched the idea in a co-writing session, but the other writers didn't find an angle, and the idea sat on the shelf until a month later, when songwriter Matt Jenkins joined Old D on the road. Ramsey brought up the title to Jenkins and bandmates Brad Tursi and Trevor Rosen.
"We sat there and talked about it for a while, and wound up on this idea of telling this story of a relationship kind of ending, but telling it through other song titles," he recalls. "Somehow, once we started down that road, the song just started to fall into place."
The challenge was to write the "Song for Another Time" lyrics to reference a number of other songs without shoehorning them into place.
"We were definitely aware of that. We didn't want it to sound forced at all. We just wanted to make sure that the songs actually fit the story, and we wanted to make it so that even if people didn't get what we were doing, the story would still make sense," Ramsey affirms. "Because a lot of the songs are older songs, and some of the audience that typically comes to our shows is a little younger than that. So some of them probably don't get it, and some of them definitely do."
The finished "Song for Another Time" lyrics manage the difficult task of referencing 20 different songs while telling their own story.
"Let's be brown eyed girl sweet Caroline / Free fall small town Saturday night / Before you lose that loving feeling / Let's go dancing on the ceiling / Keep on living that teenage dream / Paradise city where the grass is green / Pretty soon I'll be so lonesome I could cry / But that's a song for another time," the chorus says.
We sat there, we wrote it, and then when we played it back, we went, 'I have no clue how we even did that.'
Rosen contributed the guitar lick that starts the song, and everyone contributed collectively to the lyrics and melody. Ramsey says the song was surprisingly easy to write.
"Sometimes when you're writing a song it's work, and you really have to make sure you're kind of pounding out every little piece of it. And then sometimes you write a song, and you turn around and you go, 'How did we do that?' And that's kinda what happened with this song," he shares, adding with a laugh, "We sat there, we wrote it, and then when we played it back, we went, 'I have no clue how we even did that.' And I still listen to it and I feel that way. I'm very proud of it, but have no idea how we did it."
The songs referenced in the "Song for Another Time" lyrics not only move the story along, they also represent certain touchstones for the writers.
"Like 'Marina Del Rey' ... I know that's the first song Trevor learned to play on piano. He sat down and learned that song. Brad is a huge Guns N' Roses fan; when he was a kid that was his first concert, so 'Sweet Child of Mine' made it in there," Ramsey says. "For me, 'I Can't Make You Love Me' is one of the most brilliantly-written songs ever. I'm always kind of searching for a way to capture what that song captures, so that one was in there for me. But again, trying to fit the story, too. Wanted to make sure they fit in there, and another challenge that we had was, we wanted to make sure we had some more current things in there. So that's where the Katy Perry comes in."
Ramsey confesses he's the reason Lionel Richie's "Dancing on the Ceiling" is in the song.
"I'm a huge Lionel Richie fan, and sometimes we actually listen to Lionel Richie on the bus," he says. "I grew up ... my dad listened to everything, and he would play me all kinds of different music, and I specifically remember a lot of Lionel Richie. 'Dancing on the Ceiling' was a great one."
"Song for Another Time" is the third single from Old Dominion's debut album, Meat and Candy, but it almost didn't make the album at all.
"We were done making the album, or so we thought," Ramsey relates. "We'd gone and recorded everything that we were gonna record, album done. Then we're back out on the road, and Matt Jenkins came out with us, and we wrote that song, and realized that we had something special. We had to call the label and call Shane [McAnally], our producer, get the engineer and assemble this team of people back together for one song. So we flew home, made a special trip home, recorded the song and flew back out on the road, because we really felt strongly about having the song on the album."
More From Taste of Country