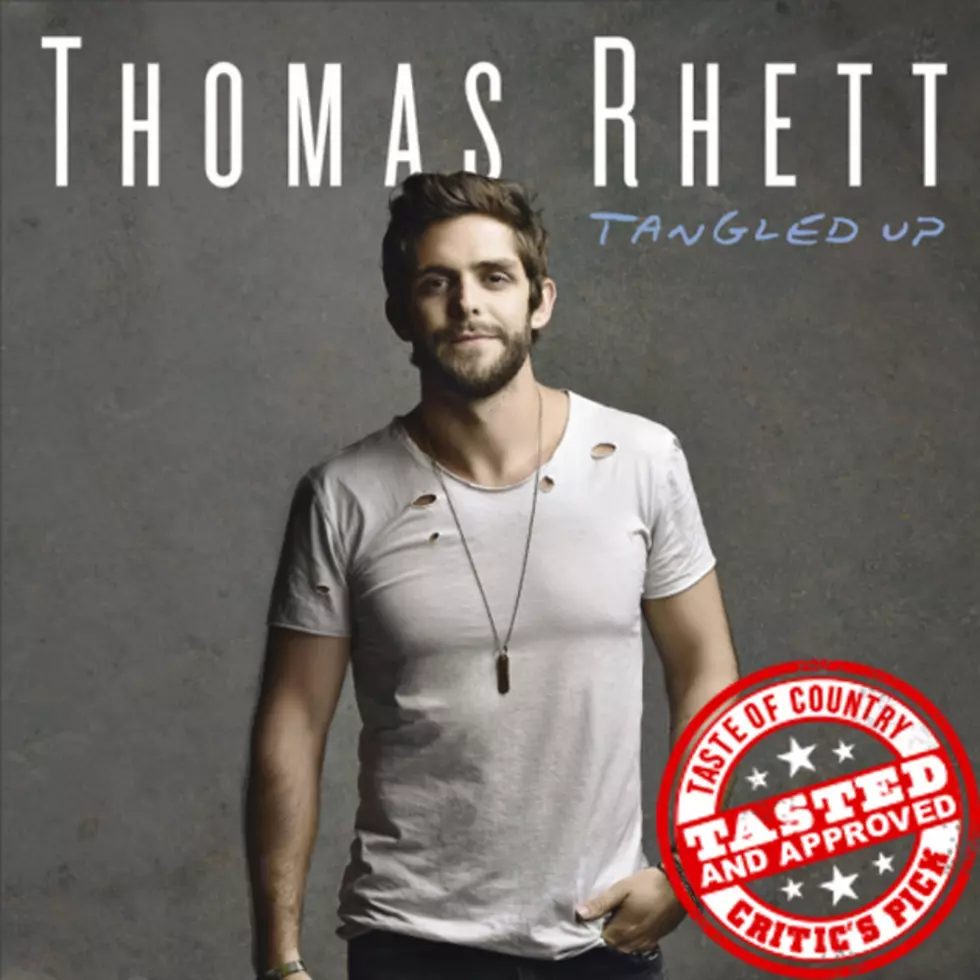 ToC Critic's Pick: Thomas Rhett, 'Tangled Up'
Valory Music Co.
Thomas Rhett makes no apologies for Tangled Up, a collection of 13, very modern, very funky country cuts infectious enough to cause an epidemic. The first five songs are a shot from a cannon. Most will make it to No. 6 (the very middle-of-the-road "Like It's the Last Time"), but some won't be down with the outward displays of rump-shaking encouraged on "South Side."
This isn't your grandpappy's country album. Some will wonder if it's a country album at all, and indeed many of the most danceable tunes seem to fall between genres. "Vacation" and "I Feel Good" are two examples. Arguing about what they aren't, however, belies what they are. Toss in "Anthem," "Tangled Up" and "T-Shirt" and you have the most entertaining, enjoyable album of 2015. Tangled Up could be sold as an anti-depressant!
The day that you stop looking back / You're gonna find that the future / Sure beats the hell out of the past / He ain't no good, yes he's good as good / The day you start looking back girl / Is the day you start moving on
You have to listen hard to catch the clever lyricism. Rhett and his co-writing team don't skimp, as often happens when a producer catches a big beat for his artist to dance alongside. There are some sneaky lines throughout the uptempo tracks, including a hip-hop breakdown in the very genre-bending "I Feel Good" and this breakdown during "South Side":
"Like Memphis, Tennessee / Got in bed with CDB / And had a baby / When the baby cried / It made this sound / It ain't no lie or funktified," Rhett says over bass beat so fat you'll want to name it.
Next to "Crash and Burn," "T-Shirt" is easiest to imagine as a single (although the radio needs a song like "Vacation" next summer). It's a familiar, quick-love story that breathes steam. Rhett owns the song, as if it was written a few moments after he and wife Lauren shared a ... (a'hem) moment.
"You moving around in the TV light / I ain't ever seen anything like / Your dress, my floor / The way, you wore / My T-Shirt," he sings.
Power ballads like "Single Girl" and "Playing With Fire" (feat. Jordin Sparks) and tender, acoustic moments like "The Day You Stopped Looking Back" and "Die a Happy Man" round out a few sharp corners and provide a respite to catch a breath before the tempo turns up again. From the first note to last, Tangled Up is a well-planned, tightly-produced and sharply-penned album that will launch this future superstar to new heights.
The Single:
"Crash and Burn" is a signature song on Tangled Up, with more throwback sounds to come. This song recalls Sam Cooke's "Chain Gang," recorded in 1960.
The music video feels vintage, although it was filmed in downtown Nashville. Rhett attempts to charm his love back into his life, and though in the end even his sly smile isn't enough to woo her, it's still worth the watch.
The second single is "Die a Happy Man," a song Rhett says he penned with his wife Lauren in mind.
The Title:
Rhett says Tangled Up comes from a song lyric on the album, adding that it's a great way to point to all of his different influences. Soul, R&B, country and rock are all sampled on this record, he dishes. The album's cover was chosen by fans.
The Songs:
Rhett offers 13 songs, seven of which he had a hand in writing. There are also two collaborations. Over half the album is straight-up funky, fulfilling a promise he made to ToC in 2014.
1. "Anthem" (Nicolle Galyon, Shane McAnally, Jimmy Robbins)
2. "Crash & Burn" (Jesse Frasure, Chris Stapleton)
3. "South Side" (Thomas Rhett, Frasure, Stapleton)
4. "Die a Happy Man" (Rhett, Sean Douglas, Joe Spargur)
5. "Vacation" (Rhett and Friends)
6. "Like It's the Last Time" (Rhett, Rhett Akins, Ben Hayslip)
7. "T-Shirt" (Ashley Gorley, Luke Laird, McAnally)
8. "Single Girl" (Rhett, Akins, Ross Copperman, Ben Hayslip)
9. "The Day You Stop Looking Back" (Jaren Johnston, Laird)
10. "Tangled" (Chris DeStafano, Adam Hoffman, Matt Lipkins, Josh Osborne, Scott Schwartz)
11. "Playing With Fire" With Jordin Sparks (Rhett, Akins, Gorley)
12. "I Feel Good" Feat. LunchMoney Lewis (Rhett and Friends)
13. "Learned It From the Radio" (Galyon, Gorley, Robbins)
The Best Album of 2015? It's Obvious, Isn't It?
More From Taste of Country