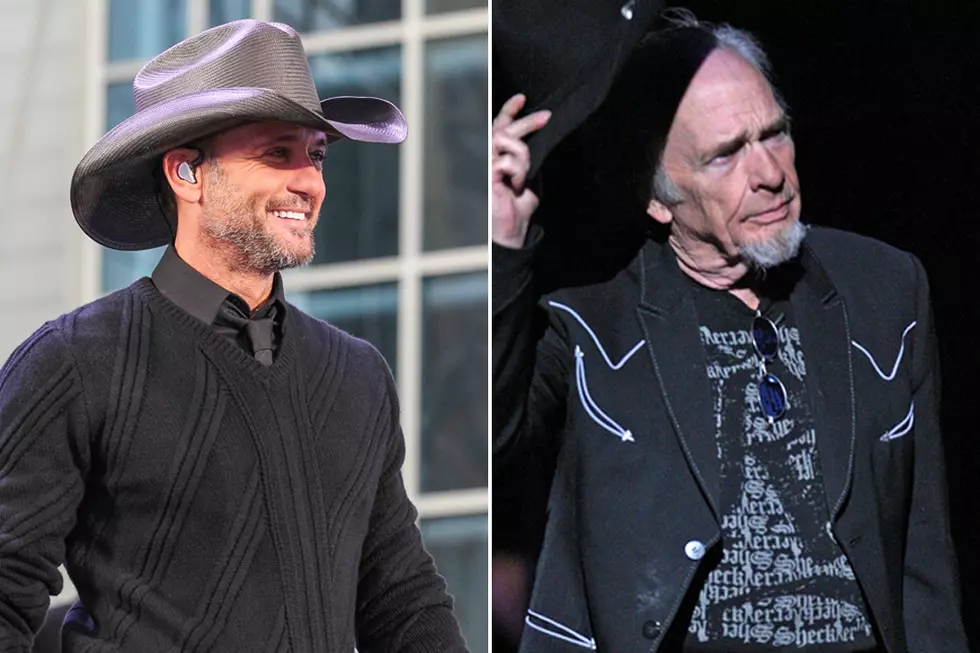 Tim McGraw Tributes Merle Haggard With 'Workin' Man Blues' Jam [Watch]
Terry Wyatt / Frederick Breedon, Getty Images
Tim McGraw turned to social media to pay tribute to Merle Haggard on Wednesday (April 6). The country superstar and his band performed an impromptu jam on Haggard's 1969 classic, "Workin' Man Blues."
In the above video, which he posted to Facebook, McGraw and the musicians in his band assemble in what looks like a backstage lounge area for a seemingly unrehearsed, but tremendously inspired informal jam on the tune, prefacing the performance with a brief conversation about the chords in the song before launching into a high-energy rendition that includes harmonica and piano in addition to acoustic, electric and bass guitars.
McGraw is seated on the back of a leather sofa with his feet down in the seat, and he beams around the room at his band as they crank out the music, paying homage to Haggard by singing his classic tribute to blue collar workers everywhere. At one point he exclaims, "Ha!" after a particularly inspired lead break on the harmonica, and the feel of the entire performance is so loose and fun, it makes one wish McGraw would play a whole concert in that format.
McGraw also paid tribute to Haggard on his official website, which bore the inscription, "Merle Haggard, April 6, 1937-April 6, 2016" when visitors landed on the front page before clicking through to the site.
Haggard released "Workin' Man Blues" as the second single from his 1969 album, A Portrait of Merle Haggard. The song reached No. 1 and went on to become one of his signatures hits.
The legendary singer-songwriter passed away on April 6 after struggling with double pneumonia off and on for the last few months of his life, which caused him to cancel shows repeatedly in December, January and February. Haggard died on his 79th birthday, which he predicted to his son, Ben, a week before he passed.
Country Stars Remember Merle Haggard
More From Taste of Country