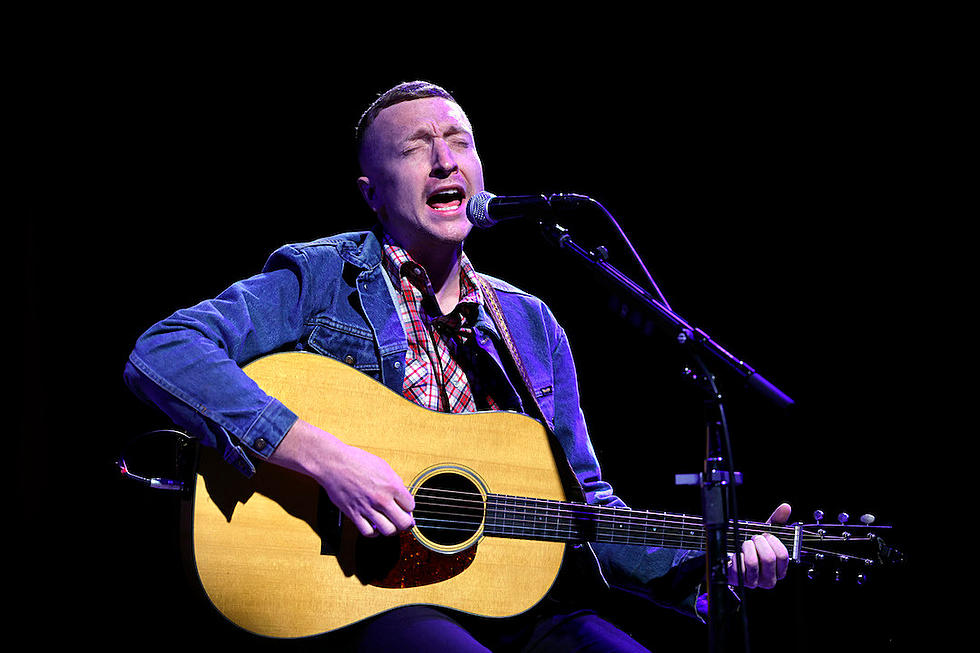 Tyler Childers' 'In Your Love' Is All Sincerity, No Schmaltz [Listen]
Jason Kempin, Getty Images
Who says that a string-swept love song has to be over-the-top and saccharine? Tyler Childers' "In Your Love" tells a love story that even curmudgeons can get behind, because of its emphasis on grit, pain and the price that two people are willing to pay for each other.
The "In Your Love" music video shows just how dire that price might be. Set in 1950s-era rural Appalachia, the clip follows the story of a relationship between two male coal miners who ultimately move away from working for the big companies and make a life for themselves as sustenance farmers. The hard work of culling out a life together is just the beginning: The two men also must face isolation and the fear of homophobic violence, as well as the black lung disease that ultimately kills one of the men, leaving the other to live out his days in relative solitude.
Even without those factors, though, love is hard work. A husband and new father, Childers knows this: Before his rise to Americana and alt-country stardom, he worked a string of blue-collar jobs while living in a trailer with his then-new wife, fellow singer-songwriter Senora May. Childers comes honestly by the grit and gravity in his voice when he sings about working and waiting for his love, and the "long, hard war" that a person undergoes to find his piece of happiness.
Childers' subject matter tends to be a little thorny — he sings of addiction, turbulent faith and the hardscrabble life of the working poor in rural Kentucky, to name a few topics — but when he sings of love, he can get away with a level of earnestness that, in other artists' hands, would come across too syrupy-sweet.
That's because of his voice. Wind-battered, quavering and often downright feral, Childers' vocals highlight the weariness and tumult behind even the sweetest topics. In the lyrics of "In Your Love," when he vows, "I will wait for you," that's not just an empty promise: You can hear his exhaustion, and imagine the demons at his doorstep that he fends off to create a safe and happy home. In Childers' hands, a love song is more than just a love song. It's the culmination of a long-fought war for happiness, against an outside world that works to cut you down at every step.
"In Your Love" comes off the track list of Rustin' in the Rain, Childers' sixth studio album. That seven-track collection also includes covers of "Help Me Make It Through the Night" (written by Kris Kristofferson and later covered by Sammi Smith) and fellow Kentuckian S.G. Goodman's "Space and Time."
Tyler Childers' "In Your Love" Lyrics:
I will wait for you / 'Til the sun turns into ashes / And bows down to the moon / I will wait for you
It's a long, hard war / Oh, but I can grin and bear it / 'Cause I know what the hell I'm fighting for / And I will wait for you
Chorus:
We were never made to run forever / We were just made to go long enough / To find what we were chasin' after / I believe I've found it here in your love
I will stand my ground / I'm a bad man looking for takers / You're the finest thing around / So I will stand my ground
'Cause it's cold out there / And you know some men search for ages / For the love that I have found / So I will stand my ground
Repeat Chorus
Honey, I will wait for you / Honey I will stand my ground
I will work for you / 'Til my hands are tired and bleedin' / I know what it is from us I'm needin' / I will work for you
Like a team of mules / Pulling hell off from its hinges / It's for love that I'll keep tendin' / I will work for you
Repeat Chorus
Honey, I will wait for you / Honey, I will stand my ground / I will work for you / I will stand my ground
The Top 40 Country Songs of 2023, Ranked
The best country songs of 2023 fit snugly over your life and experiences. Each is written from personal experiences, but somehow, translate as if they were custom to each of us.
We've loved, we've longed, we've lost and we've cut loose in the country.
Airplay charts, sales data and streaming numbers helped make this list of country music's
Top 40 songs of 2023
, but staff and Taste of Country reader opinion were most influential. Songs included on previous Top Country Songs lists were not eligible. A song may have been released in 2022, but it had to have the majority of recorded airplay or impact this year to count.
Gallery Credit: Billy Dukes
More From Taste of Country