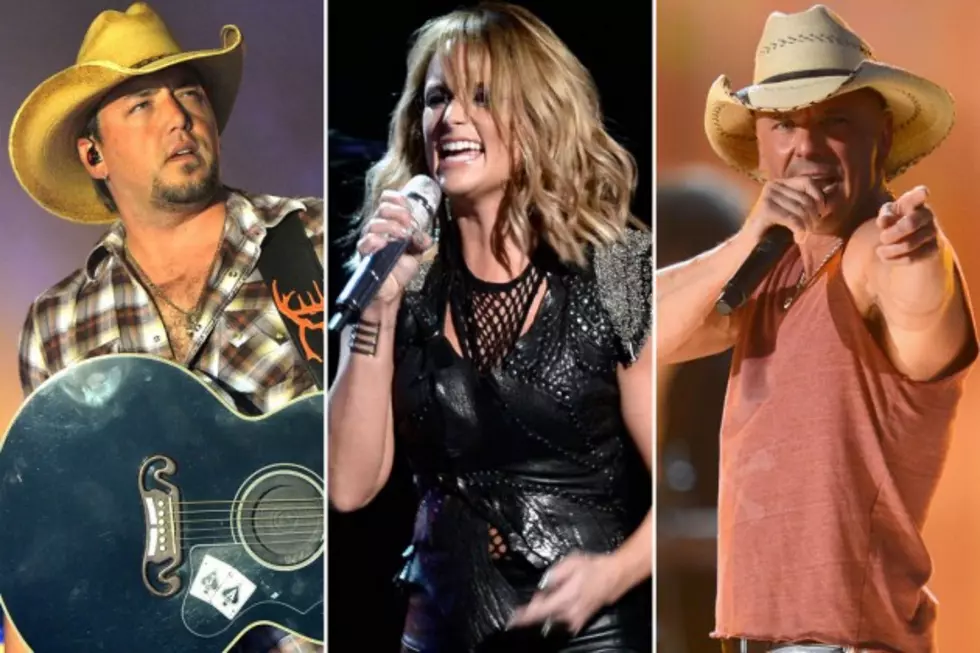 2015 ACM Awards Predictions
Rick Diamond / Kevork Djansezian / Ethan Miller, Getty Images
The 2015 ACM Awards are less than a week away, and that means it's time for the staff of Taste of Country and our readers to square off and predict the winners in this year's biggest categories!
Miranda Lambert leads the nominees with eight, including Entertainer, Album and Song of the Year. Dierks Bentley has seven nominations, including Male Vocalist, Album and Song of the Year. Kenny Chesney is up for four awards, including Song, Single Record and Video of the Year, while Jason Aldean will compete for Entertainer, Male Vocalist and Album of the Year.
We're predicting one of those superstars will go home empty-handed on Sunday night (April 19), when the awards air live from AT&T Stadium in Arlington, Texas. Take a look at our staff predictions below, and then weigh in with your own.
Entertainer of the Year
Our Choice: Garth Brooks — Entertainer of the Year is a tough category this year, with Aldean, Lambert and Luke Bryan all having had huge years both at radio and in touring. Brooks' comeback hasn't returned him to the kind of success at country radio that he once enjoyed, but he's made up for it with the pure excitement and spectacle of his enormous comeback tour. Last year the fans and ACM members chose George Strait as a sentimental favorite for Entertainer as he said goodbye to touring, and this year we predict Brooks will get the nod for the same reason upon his return.
Male Vocalist of the Year
Our Choice: Dierks Bentley — Blake Shelton has won this category every year for five years straight, but all good things must come to an end, and ToC staff predict this is the end of Shelton's streak. The Male Vocalist field is tough, but Bentley moved on to the next level of his career with the release of Riser and "I Hold On," and this is his year to win.
Female Vocalist of the Year
Our Choice: Miranda Lambert — Lambert has won this category five times in a row, and she seems like she's headed for a sixth victory lap this year. She's up against some of the most formidable female talent in country music, but with the heat from her latest album, Platinum, and her tour, Lambert is going to come out on top once again.
New Artist of the Year
Our Choice: Thomas Rhett — New Artist of the Year is always a hard-fought category at the ACM Awards, and this year is no different. In addition to Entertainer, this is one of the categories that fans get to weigh in on, and Sam Hunt, Thomas Rhett and Cole Swindell have all broken through in a major way over the course of the past year. They all have a groundswell of support both in the industry and with the fans, but only one can walk away a winner, and this year we predict it's Thomas Rhett.
Vocal Duo of the Year
Our Choice: Florida Georgia Line — Who else? The other acts in this category have done very well over the course of the past year, and they should all be proud of their nominations. But there's just no getting around the kind of lightning-in-a-bottle success that FGL continue to have, and the ACM for Vocal Duo is almost certainly theirs again this year.
Vocal Group of the Year
Our Choice: Little Big Town — This is another category that could really be almost anybody's ballgame. The Band Perry took Vocal Group honors last year, and they could be a real contender again. Lady Antebellum are a perennial favorite, and Zac Brown Band are on a major roll, too. But Little Big Town have released one of the best albums of the year with Pain Killer and one of the best songs of the year with "Girl Crush." We think that's enough for the win this year.
Album of the Year
Our Choice: Miranda Lambert, Platinum — Aldean, Church, LBT and Bentley all released stellar collections, and all of them have deservedly moved another step forward in their careers because of their efforts. But Lambert's Platinum album shows a new maturity for one of country music's favorite overall artists, and the diversity of the project, coupled with its commercial success, is going to earn Lambert the win this time around.
Song of the Year
Our Choice: Kenny Chesney, "American Kids" — There's a good reason Kenny Chesney is still one of the biggest players in country music after decades of success. The superstar has an uncanny knack for finding the right song at the right time, re-inventing himself over and over and always keeping his fans engaged in new facets of his music. He's done it again with "American Kids," and despite some very strong efforts all around, he's our pick for Song of the Year.
Single Record of the Year
Our Choice: Miranda Lambert, "Automatic" — This was Lambert's category last year with "Mama's Broken Heart," and even though Chesney, FGL, Bentley and Brice all weighed in with deserving songs, "Automatic" has that special something. It's a shift in a more reflective, mature direction for the superstar, and it already won Single of the Year at the 2014 CMA Awards. We predict it'll repeat that success at the ACMs.
Vocal Event of the Year
Our Choice: Tim McGraw (Feat. Faith Hill), "Meanwhile Back at Mama's" — With no disrespect to anyone else in this category, it would be almost astounding if Tim McGraw and Faith Hill didn't win for "Meanwhile Back at Mama's." It's a song they seemed practically born to record, and it may be the best vocal performance they have given together out of all of their duets. It's certainly the most emotionally affecting. Everything about this song — from the actual structure, to the lyric, to the production and vocal performances, to the way it pulls the listener in and makes them feel like they're witnessing part of Tim and Faith's private life — is a win, and we predict it's a sure thing for Vocal Event.
Video of the Year
Our Choice: Glen Campbell, "I'm Not Gonna Miss You" — Again, with no disrespect to anyone else who offered up fine video efforts this year, there's nothing to touch Campbell's clip for "I'm Not Gonna Miss You," which documents the final recording session of his career. The song is a touching farewell to not only his fans, but to everything that Alzheimer's is slowly taking away from him, and it's almost unbearably poignant to see Campbell resolutely recording what he has to know is his final song. The raw emotional power of the song and video are nearly too much to watch, and any other choice just wouldn't seem right.
Surprising, Shocking ACM Awards Facts