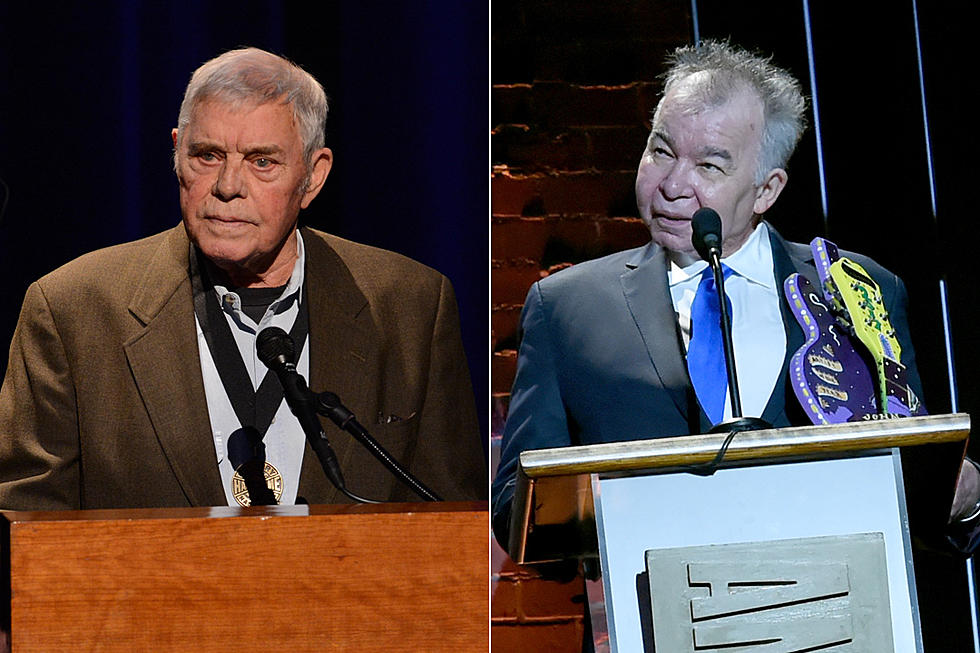 2019 Songwriters Hall of Fame Inductees Include Tom T. Hall, John Prine
Jason Davis / Rick Diamond, Getty Images
Country icons Tom T. Hall and John Prine are among the songwriters who will be inducted into the Songwriters Hall of Fame in 2019.
The Songwriters Hall of Fame announced the inductees for 2019 via their website on Saturday (Jan. 12).
82-year-old Hall has long been known to country music fans as the Storyteller due to the narrative nature of many of his songs. His slate of classics includes "Ballad of Forty Dollars," "A Week in a Country Jail," "The Year That Clayton Delaney Died," "(Old Dogs, Children and) Watermelon Wine" and "I Love." Hall also wrote songs that other artists turned into hits, including Jeannie C. Riley's "Harper Valley PTA.," Alan Jackson's "Little Bitty" and "That's How I Got to Memphis," which has been recorded by a range of artists including Bobby Bare, Solomon Burke, Rosanne Cash, Eric Church, Bill Haley and Buddy Miller. Hall is also a member of the Country Music Hall of Fame.
In a press release announcing the 2019 Songwriters Hall of Fame inductees, Jason Isbell hails Hall as "a master of deceptive simplicity," adding, "The American songbook would be greatly lacking without his contributions."
Former President Jimmy Carter says Hall is "as well qualified as anyone I know to tell the history of our country and love and hate and achievement and disappointment and happiness and tears among the people who have made our country, and who still exemplify its finest merits."
72-year-old Prine is a two-time Grammy Award winner whose remarkable five-decade career has earned him cuts from Johnny Cash, Carly Simon, Bette Midler, Bonnie Raitt, Norah Jones, George Strait, Miranda Lambert, Zac Brown Band and many others. His songs include "Sam Stone," "Angel From Montgomery," "Paradise," "Hello in There," "Illegal Smile," "That's the Way the World Goes 'Round," "Speed of the Sound of Loneliness," "In Spite of Ourselves" and "I Just Want to Dance With You," among more.
Prine is a member of the Nashville Songwriters Hall of Fame, a PEN New England Lyrics Award recipient and a Rock & Roll Hall of Fame nominee. His songs have been honored as part of the Recording Academy's Grammy Hall of Fame. Prine released his first album of new material in 13 years, The Tree of Forgiveness, in 2018, and the project earned him three nominations in the 2019 Grammy Awards.
In addition to Hall and Prine, Dallas Austin, Missy Elliott, Jack Tempchin and Yusuf (Cat Stevens ) will be inducted at a ceremony in New York City in June. In a statement Saturday, SHOF Chairman Nile Rodgers praised the diversity of the 2019 inductees and the impact they have had across genres and decades.
"The 2019 slate of inductees represents diversity and unity across genres and gender, highlighting our dedicated mission to honor music creators who have enriched our lives," he states. "These are writers who in their time literally transformed music and helped make what's happening today possible."
The 2019 Songwriters Hall of Fame induction ceremony is set to take place at the Marriott Marquis Hotel in New York City on Thursday, June 13.
Look Inside John Prine's Amazing Nashville Mansion
More From Taste of Country