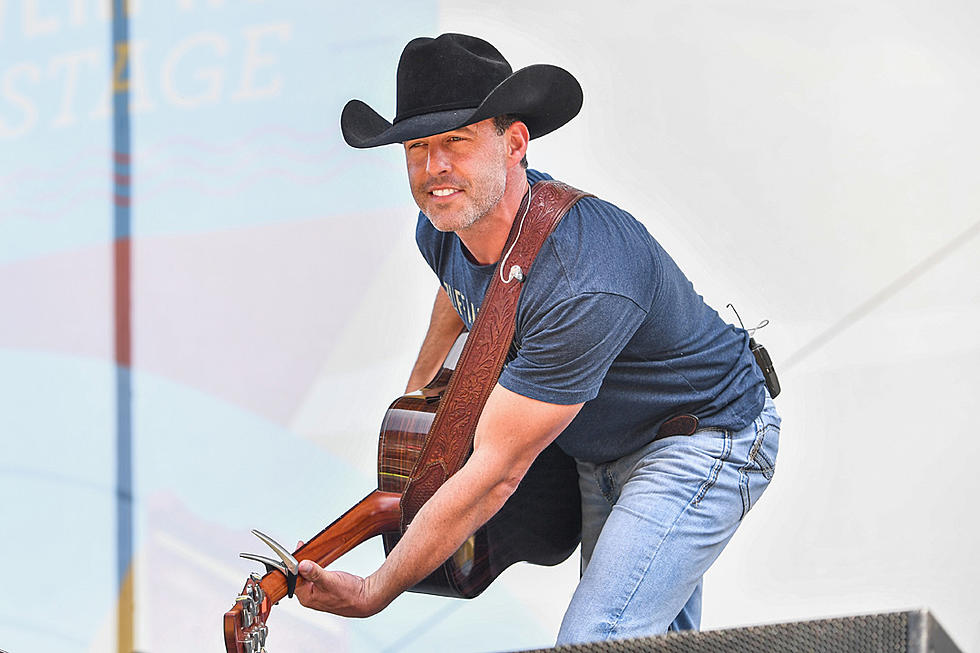 Aaron Watson Inspired by Outpouring of Love After Hurricane Harvey
Erika Goldring, Getty Images
The decision to hold off on releasing a live album was easy for Aaron Watson. Making the live album was not.
The Texas-raised country singer had just watched Hurricane Harvey pummel Houston and coastal communities, affecting thousands fans, friends and family members, so he punted. He'll finally drop Aaron Watson Live at the World's Biggest Rodeo Show on Friday (Aug. 24) — approximately one year after Harvey caused $125 billion in damage.
The "Run Wild Horses" singer's hope is to do a little good and bring renewed attention to an area that is still very early in the rebuild.
"There's still families that lost homes, still trying to get back on their feet. Not everyone has insurance, obviously. There's people that are still suffering," he says. "Obviously I'm not the most well-known artist in the world, and sometimes I'm like, 'Well really what good can we do?' It's not like we sell millions and millions of record, but then I thought to myself that's the wrong attitude to have."
Watson's mother grew up in Houston and for many years his family would travel back for reunions, Astros baseball games and the Houston Rodeo. His grandparents are buried in an area devastated by the storm, so even though he was out of state touring as Harvey bared down on the Lone Star State, it was personal. Images and video came to him via text and television. The result was a song called "Higher Ground."
"My mom and my aunts ... they were just showing pictures of my grandmother and my family through the years, when there's been different hurricanes that have hit Houston," Watson recalls. "I think 'Higher Ground,' that song was really inspired by seeing the outpouring of love and humanity toward all those people who were going through hard times."
The song is the final song, — and the only non-live song — on the new live album.
Coverage of the post-Harvey rebuild thinned considerably in the weeks and months after the storm fizzled, and Watson hopes his efforts will bring renewed attention to what he considers to be a decades-long mending effort. He's also helping financially — $1.41 from the sale of every album will be donated to the Rebuild Texas Fund. It's the least he could do after a night he'll remember forever.
"I tell people, for a Texan, playing the Houston Rodeo is kind of like a golfer getting that green jacket," Watson says, referring to the Masters. "It's a big deal."
He was nervous on March 7, 2017, when he took that stage — and for good reason. The crowd of 65,000 fans felt a mile away (the stage sits in the middle of a dirt area, separated from the stands), which is unusual for a guy used to playing more intimate clubs, theaters and honky-tonks. NRG Stadium isn't the ideal acoustic environment for a live album, either, and Watson says his voice was struggling from a few weeks' worth of media appearances to promote his new Vaquero album. So there are flaws to be heard on Aaron Watson Live at the World's Biggest Rodeo Show.
"At the end of the day I always try to put things in perspective," he says. "It's not like I'm being shipped off to war or running into a burning building like a fireman. I just play the guitar."
Watson hopes he'll get the chance to play it in Houston again soon.
"That buckle that's on the cover," he says, speaking of his live album's cover, "I've already told the guys at the Houston Rodeo that they're gonna absolutely have to bring me back one more time because I have to have two buckles because I have two boys and right now both of them are wanting that buckle some day."
Songs on Aaron Watson Live at the World's Biggest Rodeo Show include new hits like "Outta Style" and "They Don't Make Em Like They Used To," as well as "Bluebonnets," "July in Cheyenne" and his signature "Fence Post." The collection gives fans a taste of every era of his career as a recording artist.
These Country Artists Are Also Keeping Traditional Country Alive:
More From Taste of Country