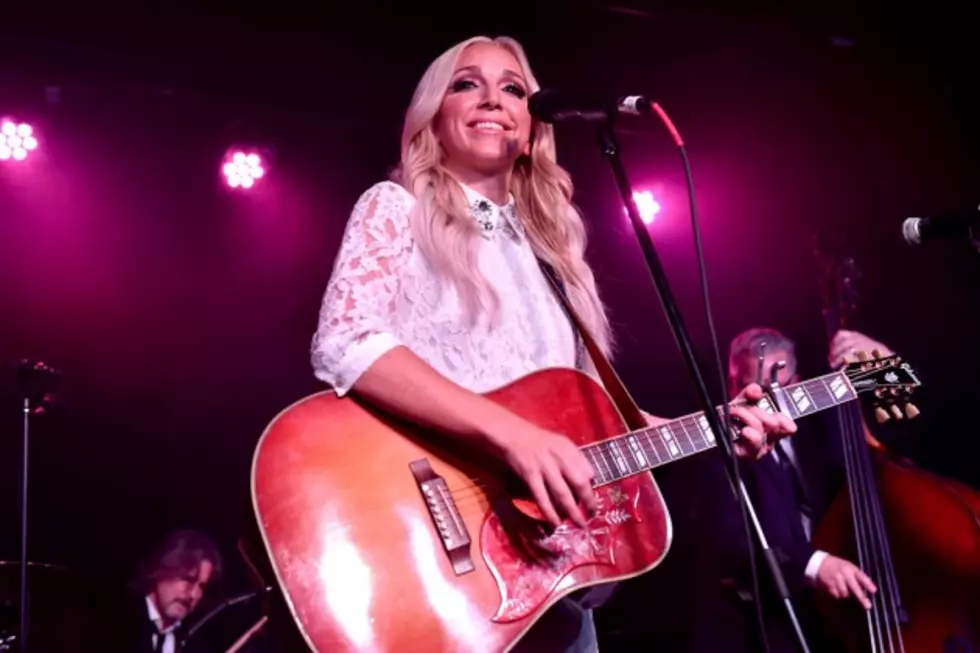 Blind Faith: Ashley Monroe Happy Relying on Good Friends and the Power of Radio
John Shearer, Getty Images
Ashley Monroe almost loses it every single time she sings "The Blade," the title track from her second studio album on Warner Brothers Nashville. It happened this week in East Nashville. Fans watched as she seemed on the verge of a breakdown, as if some invisible spirit was holding her fragile heart by two fingers — a bleeding wine glass dangling above the concrete stage.
One month ago at 3rd and Lindsley in Nashville, it was more pronounced. Fans know this is nothing new for the 28-year-old blonde chanteuse. Old movie reels from her past seem to be zipping by when she closes her long lashes. For a few minutes she's somewhere else, until the song ends and she isn't anymore. In and out of sadness, forever dancing with melancholy — this is who we see and hear in her music.
And to some degree it's who Ashley Monroe is in real life.
... That would be a lie to say that. But I never ever considered … I have to sing. It's just inside me, I have to do it.
"I've always drawn on sadness," Monroe says one summer morning in Nashville. She's in ripped white jeans and a t-shirt, with makeup done and her shocking blonde hair smoothed neat down her back. She sucks on a throat lozenge (it's a busy promotional week). Later she'll pour a large cup of coffee and sing the song acoustically for a nationally syndicated morning show.
"People always ask, 'Are you sad all the time?' And I'm not sad all the time, but even before my dad passed away (in 2000, when she was 13), even when I was a little girl there was always this underlying sadness. Just right under my skin. After Daddy passed it's always there, but I've always turned to music to draw that sadness out."
For the record, her marriage to Chicago White Sox pitcher John Danks is good, although she'll admit it's not perfect and the two have their struggles like any couple. She was with Danks, in fact, when she heard "The Blade." It happened last February during MLB spring training. She thought she was done recording the album until her manager sent her the song. It became the only one not written by Monroe.
"It's just so well written that you sound like you're talking to somebody," Monroe says. Miranda Lambert adds harmonies to this heart-wrenching ballad about the end of a relationship:
"You said goodbye is not the end / And if you need me I'm still your friend / Well that's easy for you to say / 'Cause you caught it by the handle, and I caught it by the blade."
Lambert and Monroe are friends, and no shortage of friends helped the under-appreciated singer get this far. Vince Gill, Little Big Town's Phillip Sweet, Nashville's Sam Palladio and Meghan Linsey were just a few celebs watching as she played her album for fans at the Basement. In country music, good friends can pick you up when radio won't, and that's been the case with Monroe. Radio won't, and it's frustrating. But don't confuse frustration with anger or resentment. Unlike other heralded country singers spurned by radio programmers nationwide, you won't find her complaining. There's no resentment. Monroe may be scarred, by she's not burnt.
"My whole point in making music is that I can share my music with people," she says when asked if, after four tries across two albums, she's still chasing that dream. "I feel like everything in my past was supposed to happen. Even things I still don't understand."
"I guess I've just always had this faith in my gut that everything would work out. (Not to say) I wasn't super disappointed at times or felt like, 'What am I even doing?' That would be a lie to say that. But I never ever considered … I have to sing. It's just inside me, I have to do it."
There were funny moments on the Like a Rose album, but for the first time fans can hear pure optimism on an Ashley Monroe album. "Weight of the Load" is inspirational. "Has Anyone Ever Told You" is a sweet, sweet love song. "On To Something Good" is downright buoyant. Half the songs are true heartbreakers, so the sadness more than lingers, but there are hills and hollers this time. Monroe admits she returns to certain scenes when she sings each song.
"Like when I'm singing 'Has Anyone Ever Told You,' I have the exact same feeling. That song takes me somewhere." It was written over a decade ago with well-known songwriter and producer Tyler Cain, who was also in the audience on Wednesday night.
I've always drawn on sadness. People always ask 'Are you sad all the time?' And I'm not sad all the time but even before my dad passed away ... there was always this underlying sadness. Just right under my skin.
On a day off Monroe says she's as lazy as she can be. She'll watch pre-recorded episodes of 48 Hours and doze off in between. She'll get her nails done and shop online. She's not the busy-body or meticulous planner she is during the work week.
"Wheels are gonna rust / If they don't turn enough," she sings during "On To Something Good," a Top 50 single in 2015.
"I like to stay distracted," Monroe admits. "When I was younger I did it just to survive. I was like 'OK, I don't wanna hurt.'"
"Now like I feel like I have something to do. I'm determined to get my music heard. I'm happier in life, I'm more confident in life so I'm driven."
Ashley Monroe Talks About Her Friendship With Miranda Lambert
More From Taste of Country