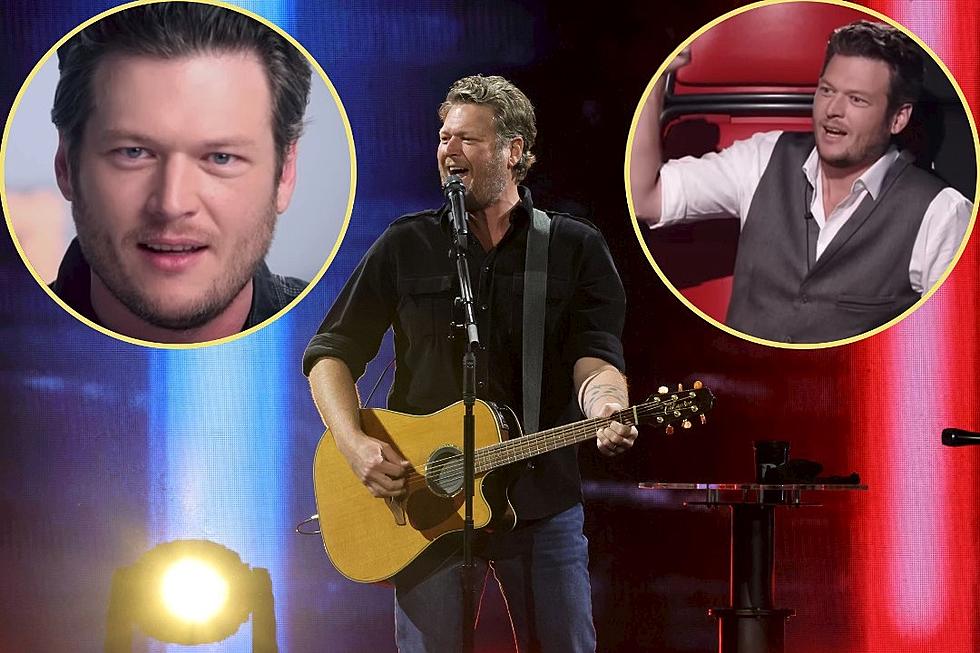 Remember Blake Shelton's First Day on 'The Voice'? [Watch]
YouTube / Kevin Winter, Getty Images
The Voice took a moment to honor its most-tenured coach on Monday night (April 10) with a special tribute to Blake Shelton, who is currently serving out his final season in his red chair.
Show-runners dug up old footage from early seasons of the show and tossed in a montage of clips of various coaches sharing their thoughts on Shelton.
"I wish I could sit here and tell you that I know exactly what The Voice the television show is going to be about," Shelton says in an old video from the first season of the show. "It has to start with a great voice."
Having an ear for that voice is likely what has propelled Shelton to a record nine wins over 22 seasons. This year — his 23rd season — he is looking for his 10th win. Although tough to beat, other coaches who have shared a stage with the Oklahoma native can't help but love him.
"I think it's impossible to think of The Voice and not think of Blake Shelton," fellow coach Kelly Clarkson says. "People are like bugs to a light. They're just like really attracted to him."
"Everybody loves Blake," former coach Usher reveals before adding, "I wouldn't be surprised is he goes for president."
"Blake pulls out the heartstring and the dimples, the accent," confesses Christina Aguilera, who was an original coach when the show began in 2011.
Later in the video, Season 22 coach Camila Cabello gushes about Shelton's sense of humor, admitting he is one of the funniest people she's ever met. She also emphasizes that the "Austin" singer is a good person who cares about his team members. Former coach Pharell Williams calls Shelton a "genius" when it comes to engaging with people. Even current coach Niall Horan is drinking the country singer's Kool-Aid.
"I can see exactly why the people of America have fallen in love with this man," Horan says. "He makes every room that he walks into light up, and he will be sorely, sorely missed. But I'm glad that I'm here to clap him out of here one last time."
Shelton announced his retirement in 2022 revealing that Season 23, the show's current season, is his last. It's a decision he's been considering since 2020, and he predicts the finale will be an emotional night. He has also requested one parting gift.
"I feel like they owe me a damn chair, though," he said when asked about his retirement. "I mean, who else can sit in my chair?"
"It's like the three bears — I don't want anybody else sitting in my chair. I'm gonna try to get that away from them. Maybe I'll have to buy it or something."
Blake Shelton's Winners From 'The Voice': Where Are They Now?
How many of the eight Team Blake winners from
The Voice
can you name?
Blake Shelton
is the show's winningest coach, and several have had hits at country radio and beyond. Several more have shifted genres, changed their name or just flat-out gone missing. Here is the latest on every Team Blake winner from
The Voice.
More From Taste of Country