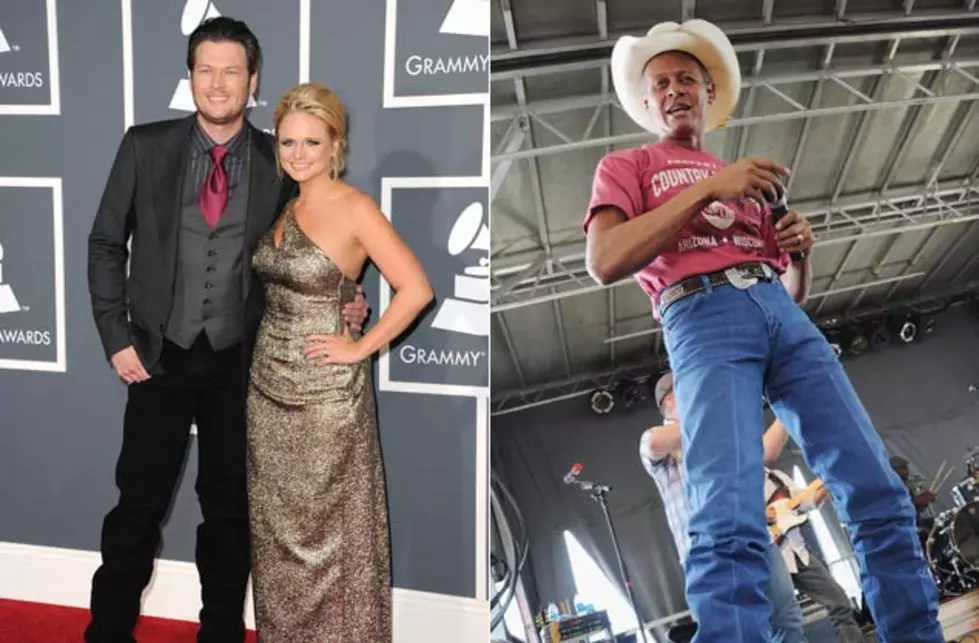 Blake Shelton and Miranda Lambert Working on Album With Neal McCoy
In a video message to fans, Blake Shelton and Miranda Lambert shared that they're working on new music together -- but don't get too excited. The newlyweds appear to be producing Neal McCoy's next album. Not that a new Neal McCoy album is anything to be disappointed about, but for about 30 seconds Shelton had us believing that an album of duets was in the works.
In the video, Shelton and Lambert sit at a sound board before swiveling around to face the cameras. Shelton explains that the couple are giving in to industry and fan pressure. "Miranda and I finally decided to make a record together," he says as Lambert sits with her legs crossed, grinning along in anticipation of a punchline we can all feel coming. Out of nowhere, McCoy wheels in shouting, "It's me! It's my record! Hahaha!"
"I'm gonna need a drink," Shelton quips before his wife adds, "It's gonna be a long week."
The Sheltons are close friends with McCoy, and one may even say they owe him one. McCoy was the featured entertainment at their wedding last May. This will be his first album of new material since releasing 'That's Life' in 2005.
For now, it looks like fans of Shelton and Lambert will have to settle for their duet on Shelton's new album 'Red River Blue.' They sing together on the title track. The couple have written together, too, most recently for Lambert's side project Pistol Annies, and for Lambert's upcoming album, 'Four the Record.'
Watch Blake Shelton and Miranda Lambert's Big Announcment
More From Taste of Country