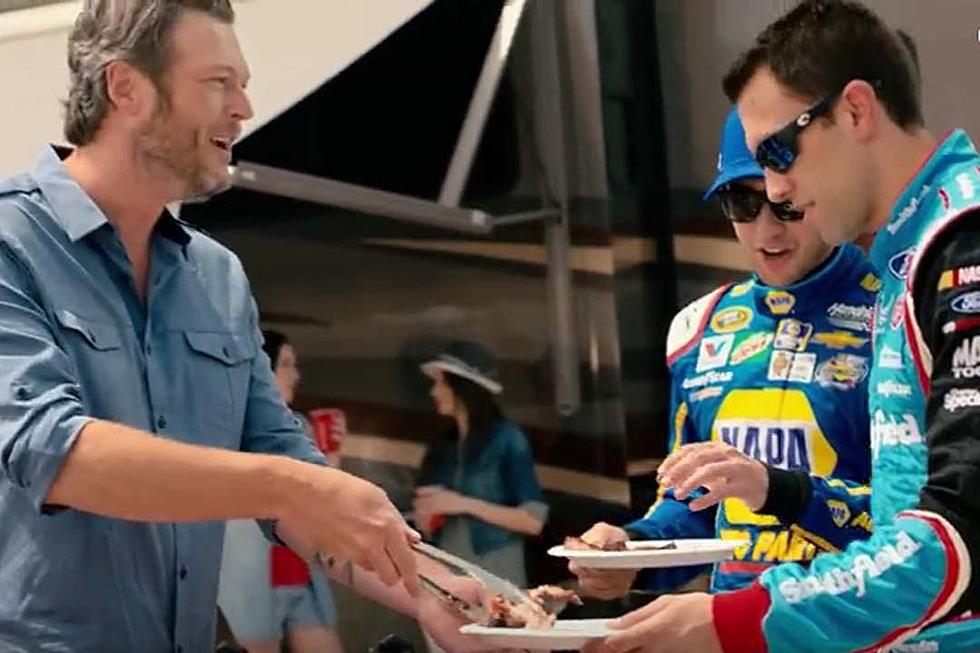 Blake Shelton Hangs With Drivers, Revs Up Crowd in NASCAR Promo [Watch]
YouTube
Blake Shelton has teamed up with some of the biggest names in NASCAR for a new video in promotion of auto-racing.
A one-and-a-half minute clip shot for NBC Sports' 2016 NASCAR broadcast includes Shelton hanging out with racers Clint Bowyer, Aric Almirola, A.J. Allmendinger and Martin Truex Jr. on his tour bus before he heads out to his own show on the racetrack.
The video was shot in April at the Texas Motor Speedway and has Shelton singing "Bringing Back the Sunshine" with slightly updated lyrics to fit the sport. Fans look on and scream along as Bowyer and Truex Jr. are seen strumming air guitars on stage as he performs.
Clips in the video include celebratory confetti thrown after the race winner takes the podium to receive his trophy. Later, Shelton is the host of a barbecue where the racers enjoy the food he's grilling and serving.
In addition to releasing the video for NASCAR, Shelton just dropped the video for his new single "She's Got a Way With Words." The video was filmed in his hometown of Tishomingo, Okla., and is set in an old building he gutted and turned into the set of a dive bar.
"This is making for the perfect backdrop," the star explains in a behind-the-scenes video. "It's been fun."
Unsurprisingly, Shelton says his new single has a "hint of sarcasm" within its lyrics.
Aww! Gwen Stefani Joins Blake Shelton for Birthday Surprise
See More Pics From Blake Shelton's Set at Country Jam
More From Taste of Country