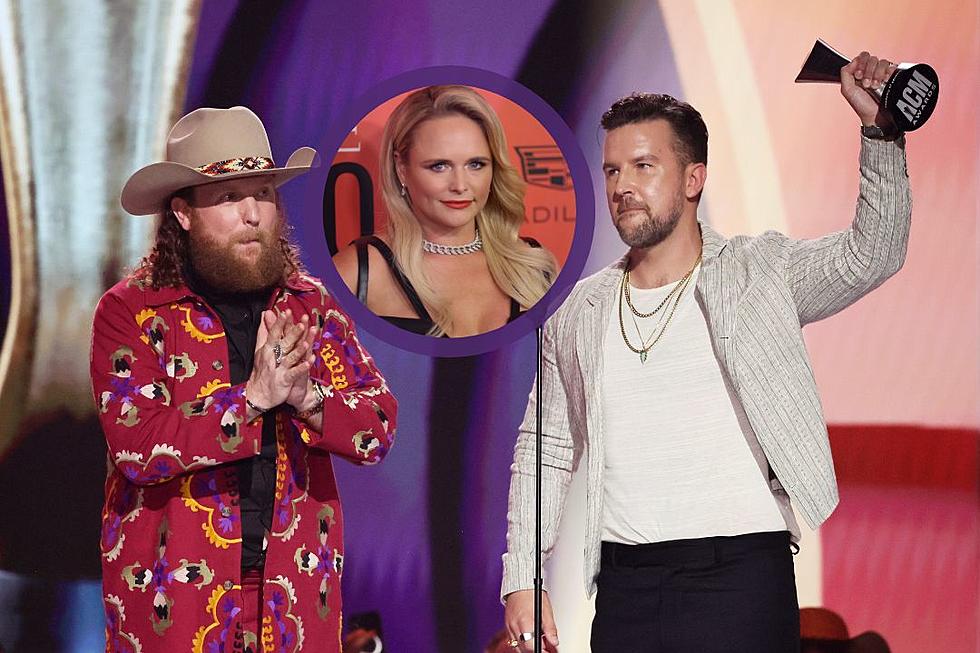 Brothers Osborne Say Miranda Lambert Is 'Like a Sister' to Them
Dimitrios Kambouris , Theo Wargo, Getty Images
Brothers Osborne released their new self-titled album, Brothers Osborne, on September 15, and the 2023 CMA-nominated Duo of the Year stopped by the Taste of Country Nights studio to talk about that project, and many other things that they have going on in their lives.
They decided to self-title their fifth studio album intentionally as they set out to make it.
"Since our last record, John and I have really shared a lot about ourselves," T.J. says. "We both felt that this is the first time that we've really truly 100 percent been ourselves, with no veil or anything."
"So when it came time to make the music, we were able to make it in a space where we didn't feel like we had to avoid any topic or avoid any sort of description of anything," he adds.
T.J. refers to himself opening up to the world and telling fans that he is gay, as well as John's publicized mental struggles. They both felt able to make music now that embodies their true soul, without holding anything back.
On the Brothers Osborne album, you'll also find a collaboration with Miranda Lambert. This was supposed to just be a songwriting session, but turned into a duet. Part of the reason the duo wrote with Lambert particularly is because they have a longtime friendship — the duo opened for her in 2016.
"You never know when you're going on tour with somebody because, as an opener, you're their guest, right?" John says. "You're going into their house and you try to be respectful, and sometimes you can end up in someone else's house and be like, 'I don't really like this house, how can we get out of here?'"
Not true of Lambert.
"With Miranda it was like, Oh my God this feels like ... she just felt like a sister to us immediately. You know, she's funny, and she's just like us, ya know — sit back and talk sh-- and sit back and have some drinks," John says.
"She's so damn good on stage, she just sang pitch-perfect every night. She's so damn good. We have been friends ever since"
The Bros really gave us a peek behind their curtain in this interview — check out the full ing on Taste of Country Nights, On Demand, wherever you get your podcasts from.
Evan Paul is the host of Taste of Country Nights, a syndicated radio show heard on more than 120 country radio stations nationwide, every night from 7PM to midnight. He plays the best new country music and interviews today's top stars, like Luke Combs, Miranda Lambert, Dan + Shay, Keith Urban, Carrie Underwood, Luke Bryan, Chris Stapleton, Lady A, Morgan Wallen, + more! 
2023 People's Choice Country Awards Red Carpet Pictures
The best dressed from the 2023
People's Choice Country Awards
include several bold fashion choices and plenty of mid-summer crop tops. See pictures from the red carpet at the Grand Ole Opry in Nashville, taken before Thursday night's (Sept. 28) live broadcast.
Gallery Credit: Billy Dukes
Pictures: Taylor Swift Watches Travis Kelce Score a Touchdown
Taylor Swift accepted NFL tight end Travis Kelce's invitation to attend his football game on Sunday (Sept. 24). His Kansas City Chiefs beat the Chicago Bears 41-10 in Kansas City. Swift was remarkably excited when Kelce scored a touchdown to make it 34-0.
Gallery Credit: Billy Dukes
PICTURES: Look Inside Lisa Marie Presley's Oceanfront Florida Mansion
Lisa Marie Presley's former mansion in Florida is for sale, and pictures show a stunning oceanfront property fit for rock royalty.
Gallery Credit: Sterling Whitaker
More From Taste of Country