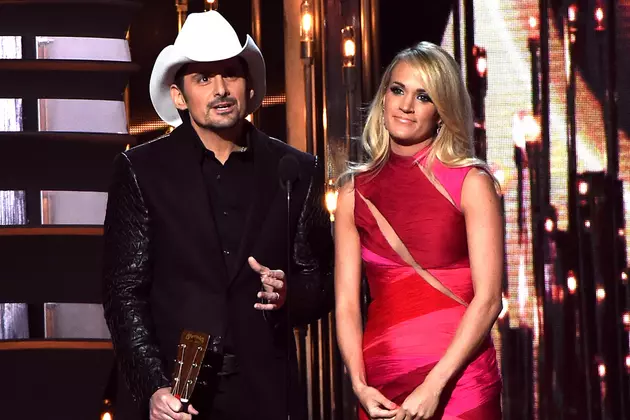 So That's Why Carrie Underwood Won't Let Brad Paisley Babysit
Rick Diamond, Getty Images
During 2015 CMA Awards prep, the country stars were interviewed by Pittsburgh radio station WOGI, who asked Underwood about what it's like being on tour with a baby. The artist shared details about what they had to do to baby-proof the bus for her son, Isaiah, who was born in February.
"All the doors and drawers have magnetic locks so he doesn't fall down the trash chute," Underwood shared.
"That would be very Star Wars," Paisley said, jumping in. "You could even make the walls [close in]."
When asked if she would ever let her CMA Awards co-host and good friend babysit, Underwood was quick to answer. "Probably not. Because he thinks it's okay that the baby goes down the trash chute," she reasoned.
Paisley has been hitting up college campuses around the U.S. this fall as part of his Country Nation College Tour. He recently added Ole Miss to the lineup, which he will play in January. The winter leg of his Crushin' It Tour with Mickey Guyton and Justin Moore is slated to kick off Jan. 21.
Unforgettable Brad & Carrie Moments
More From Taste of Country