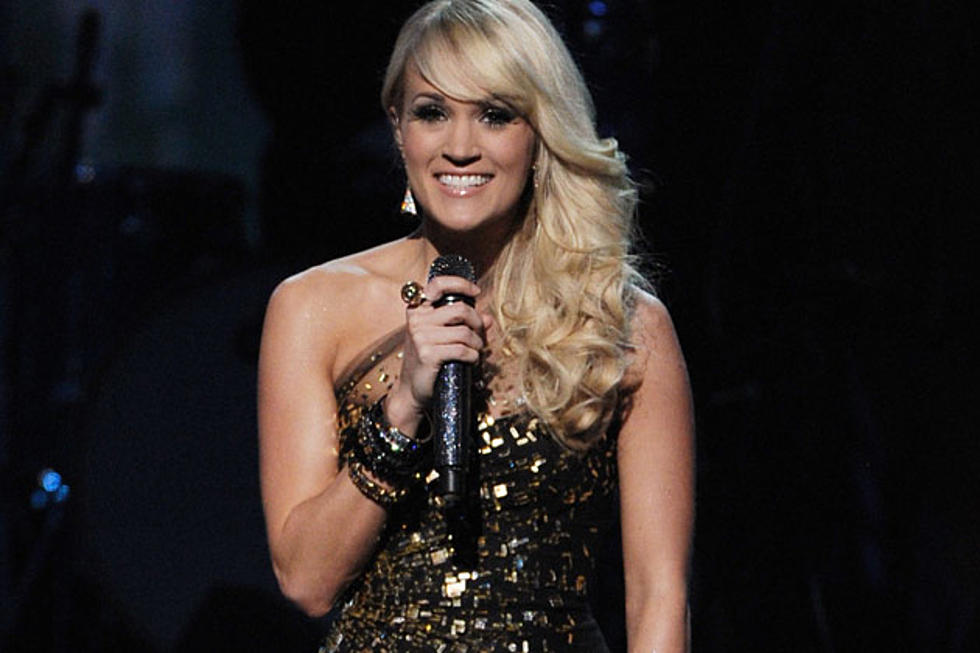 Carrie Underwood, 'Good Girl' – Lyrics Uncovered
The lyrics to Carrie Underwood's latest single 'Good Girl' were co-written by the superstar herself, along with Ashley Gorley and L.A.-based producer Chris DeStefano. Both esteemed songwriters played a big role in creating the perfect song for the first single from the Underwood's forthcoming new album, which is slated for release this spring.
"I was out [in L.A.] working on projects with Chris," Gorley tells Taste of Country. "Carrie happened to be out there, and Carrie's management team had an idea for the three of us to all get together to write. I had written with Carrie and Chris several times separately, but never together. We all thought it would be a great combination, and turns out we were right!"
"Chris started an instrumental track, very uptempo with a great guitar lick," he continues. "Carrie and I were tossing lyrics and melodies back and forth, and settled on 'Good Girl' as a title. We liked it because 'Good Girl' sounded like a sweet song, and it really contrasted with the music we had going. We liked the idea of people seeing the title and then being surprised once they heard the song."
"Hey, good girl / With your head in the clouds / I bet you I can tell you / What you're thinkin' about / You'll see a good boy / Gonna give you the world / But he's gonna leave you cryin' / With your heart in the dirt / His lips are dropping honey / But he'll sting you like a bee / So lock up all your loving / Go and throw away the key / Hey good girl / Get out while you can / I know you think you got a good man," they wrote in the opening lyrics to the song.
"We say the title right off the bat, first words of the song," notes Gorley. "She's talking to a 'good girl' who wants true love from a good guy ... a white wedding, everything all the good girls want, but she's blind to what the guy wants from her. It's basically a warning to the girl that she needs to get out of the relationship before she gets hurt. He's no good for her."
"Why, why you gotta be so blind / Won't you open up your eyes / It's just a matter of time / 'Til you find / He's no good girl / No good for you / You better get to gettin' on your good bye shoes," they wrote in the song's chorus.
Gorley  is also a co-writer on two of Underwood's previous chart-topping hits, 'Don't Forget to Remember Me' and 'All-American Girl.' "As we were writing the lyrics, it was all about fitting the groove, having the right attitude," he explains. "The chemistry was great between the three of us, and the track, melody and lyric all rolled out pretty quickly. When we listened back, we all loved it. Writing it seemed like a blur."
"It's not a normal song structure," he insists, adding, "It has several different sections, which I love. Right when you think chorus is over, the hookiest part of song starts. I love Carrie's voice being exposed the way it is in this song, sometimes singing with just drums or hand claps, and even a capella at the end of the song. She has more power and control with her voice than anyone I've ever been in a room with. I don't think anybody else could sing that song. We had a blast working on it!"
More From Taste of Country