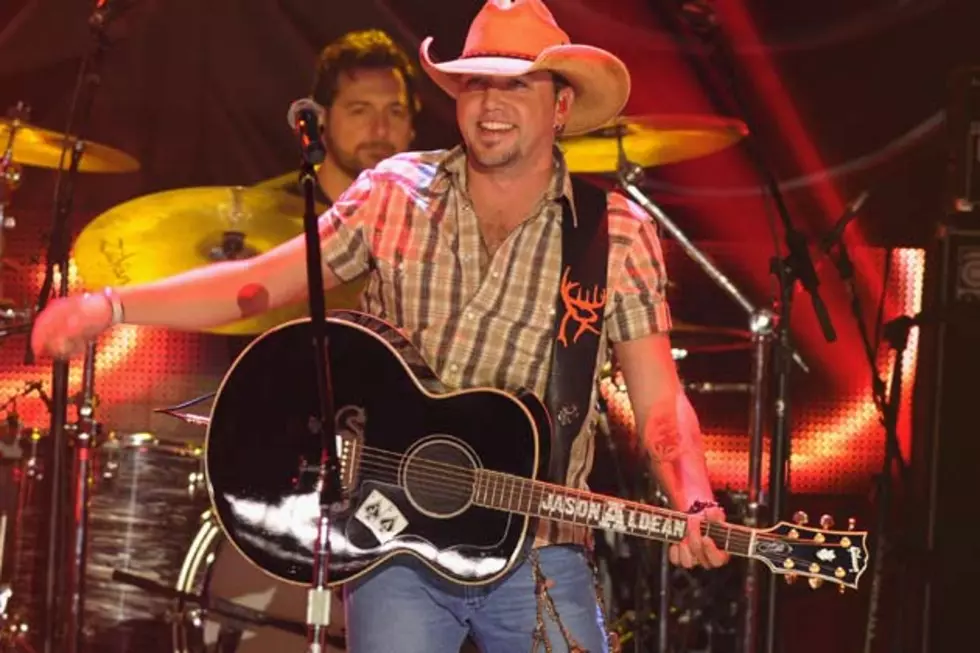 Jason Aldean, 'Fly Over States' – Lyrics Uncovered
The lyrics to Jason Aldean's new single, 'Fly Over States,' came about between hit songwriters Neil Thrasher and Michael Dulaney several years back. While the song was recorded by Montgomery Gentry, the tune didn't make the duo's album, which allowed Aldean to cut and release it as the fifth single from his 'My Kinda Party' record, thankfully.
"I remember going into Michael Dulaney's office, and he had the title," Thrasher tells Taste of Country of the lyrics. "I remember him telling me the story when I got in there. He was like, 'I got this title …' He had presented it to another co-writer of his a few days before me, and that guy didn't get it. He wasn't into it. Michael had the first part of the melody of the song going. It was really, really good and I was like, 'I'm in with that one! You got me! Count me in!'"
"A couple guys in first class on a flight / From New York to Los Angeles / Kinda making small talk, killing time / Flirting with the flight attendants / 30,000 feet above, what could be Oklahoma / Just a bunch of square cornfields and wheat farms / Man it all looks the same / Miles and miles of back roads and highways / Connecting little towns with unknown names / Who'd want to live down there, in the middle of nowhere," they wrote in the lyrics to the opening verse of the song.
"When he explained [the concept of the song] to me, I loved it," notes Thrasher, who also co-wrote Aldean's previous No. 1 hit, 'Tattoos on This Town,' with Dulaney and Wendell Mobley. "I was like, we could paint some pictures with that sucker! We just took off with it. We took off and we wrote that thing. Once we got going on it, it went."
"They've never drove through Indiana / Met the man who plowed that earth, planted that seed, busted his ass for you and me / Or caught a harvest moon in Kansas / They'd understand why God made those fly over states," they wrote in the song's first chorus.
"I think Jason had that song on hold for a while," says Thrasher, who also sings harmonies on the tune. "When they recorded it, they just took it to another level. What [his producer] Michael Knox and him did was amazing."
More From Taste of Country