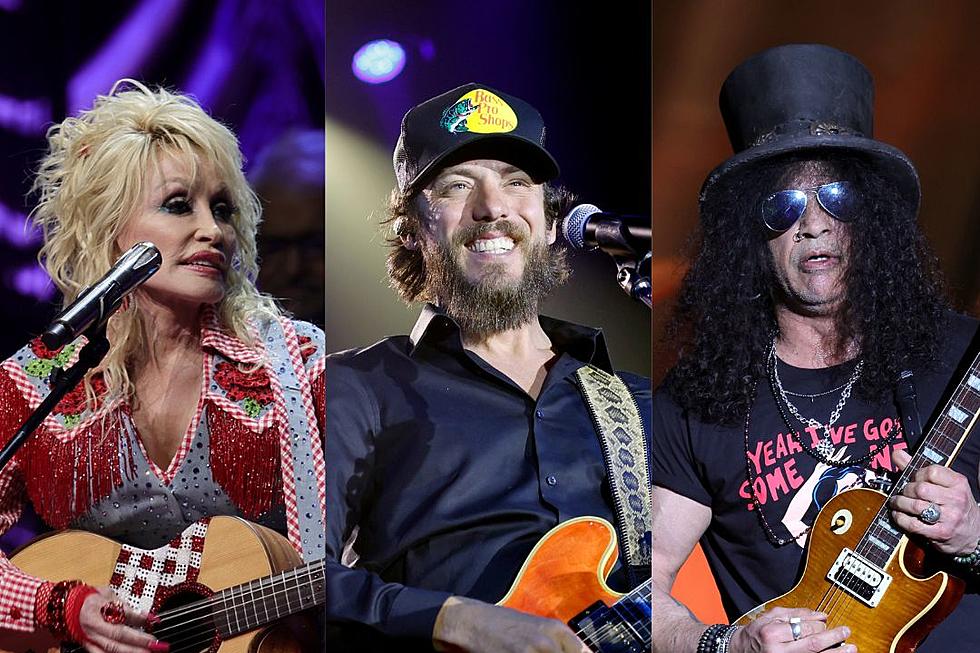 Chris Janson, Dolly Parton + Slash's '21' Forever' Shares Big Life Lessons [Listen]
Michael Loccisano/Jason Kempin/Ethan Miller, Getty Images
Chris Janson has enlisted two global music superstars, Dolly Parton and Guns N' Roses guitarist Slash, for his universally relatable new song, "21 Forever."
Janson co-wrote the song with Tommy Cecil and Tom Douglas, and the stirring track finds Janson and Parton singing to listeners about the joys and tribulations synonymous with growing up.
"I changed the number on my phone / My heart finally found a home / You can't be 21 forever / I put the bottle on the shelf / Thought about more than just myself / You can't be 21 forever," Janson recounts in the candid opening verse, before transitioning to the chorus.
Parton then arrives in the second verse to deliver her candid, hard-hitting perspective on the fleeting, carefree spirit of youth and all she's gleaned from her life lessons.
"The cards aren't always jacks and aces / Pretty soon you got to face it / You can't be 21 forever / Write your story but turn the page / Don't be afraid to act your age / No, you can't be 21 forever," Parton sings in the vulnerable verse with her unmistakable signature vocals.
The most powerful moment in the song then arrives in the bridge and final chorus as both singers soar with their home-run piece of advice on embracing the wisdom that's bestowed with age.
"So enjoy it while you can / 'Cause it's just a number, man / Like wine you only get better all the time / There's a beauty with growing up / So pour it out and fill your cup / 'Cause you can't be 21 forever," Janson and Parton sing over swelling strings, chest-thumping drumbeats, and Slash's virtuosic electric guitar lines, which also close out the emotional tune.
Of "21 Forever," Janson shares, "I'm so thrilled to announce, that two Global Icons have joined me in song, for my absolute biggest collaboration to date. Dolly and Slash, it doesn't get any BIGGER than that. I'm incredibly humbled and grateful for these two. Hope you all enjoy '21 Forever.'"
"21 Forever" is Janson's latest release following "Tap That" and his current single, "All I Need Is You," which is climbing up the country charts.
Meanwhile, Parton is slated to release her debut rock album, Rockstar, later this year. However, fans won't have to wait long for a first preview, as the country icon will premiere its lead track, "World on Fire," at the upcoming 58th ACM Awards.
The Best Country Singer From Every State
Some states, like Oklahoma and Texas, are loaded with famous country singers. Others, like Nevada and Maine, are still looking for a real breakthrough artist. See the best and most successful country music artist from all 50 states, starting with
Hank Williams
and Alabama.
More From Taste of Country