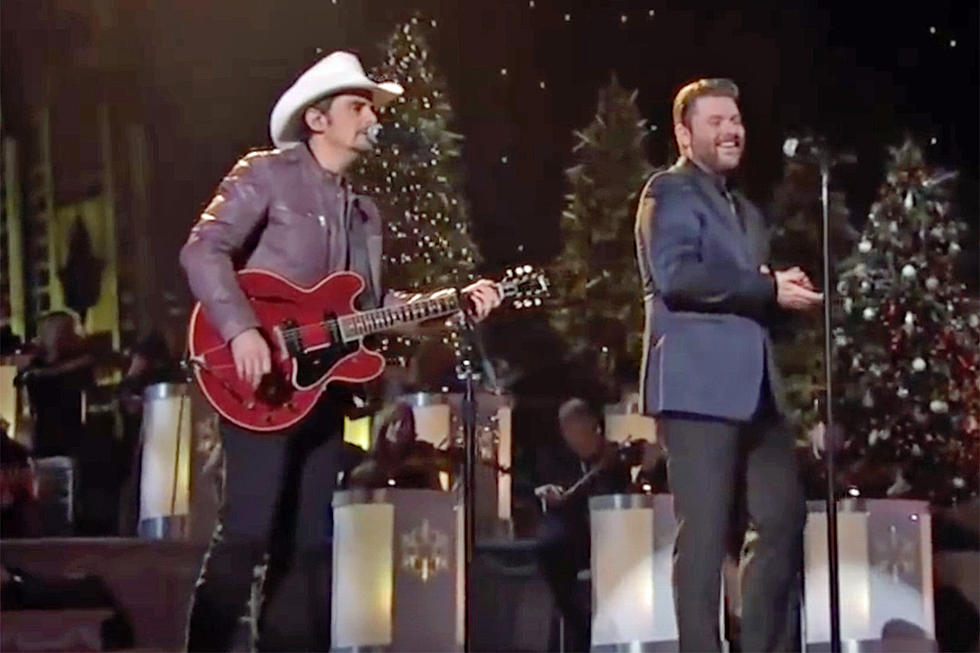 Chris Young, Brad Paisley Team for 'The First Noel' on 'CMA Country Christmas'
YouTube
Chris Young and Brad Paisley spread Christmas cheer together by joining on stage to deliver the classic hymn "The First Noel," as it appears on Young's recent holiday album, It Must Be Christmas. The performance was a part of 2016's CMA Country Christmas special, which aired Monday (Nov. 28) evening on ABC.
The simple set and arrangement let the vocals of both stars shine. They took the stage under a single spotlight while trading off lines before coming together for the chorus.The duo's rendition featured flattering harmonies that set in the Christmas mood. Paisley also showed off his second-to-none guitar abilities by offering a solo in the middle of the song.
Paisley is featured on the studio version of track as a part of Young's It Must Be Christmas album, although the original plan included him not singing quite so much.
"It was the first project I've ever done where all of the things that were duets with people were sent off, and they came back," Young shares with the Boot, "So we got a message back from Brad's studio engineer, Kendall, and he was like, 'Hey, Brad took some liberties.' And by 'Brad took some liberties,' he means Brad had stacked four different, bad-a– harmony parts and played all these amazing guitar parts underneath. And he was like, 'Is this good? I don't know if this is good. Do you like it?'"
It Must Be Christmas is now available to provide the perfect soundtrack all season long.
Chris Young Will Be Missing His Grandma This Christmas
See Country Stars With Santa 
More From Taste of Country