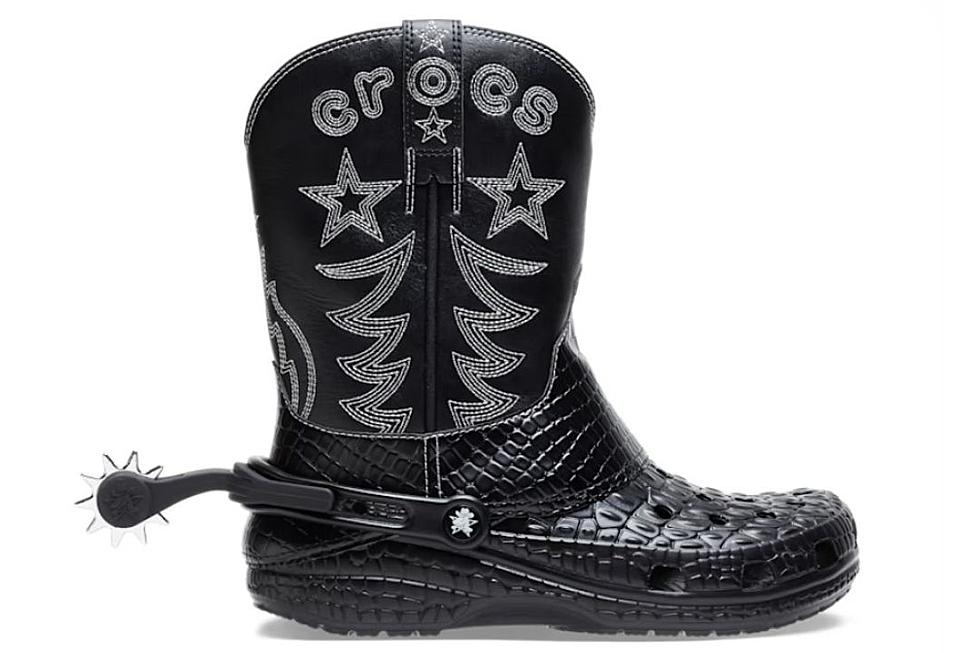 Heads Up, America — Crocs Cowboy Boots Are Coming! [Pictures]
crocs.com
Over the years, Crocs have seemed to only gain popularity in America. What started out as a simple shoe to garden in has taken over as the go-to form of footwear — Crocs even have a cult-like following!
This week, Crocs unveiled the latest piece of their footwear line: The Crocs Cowboy Boots.
They will be available for a limited release beginning on October 23 for a price of $120. While that might be a lot for a rubber shoe that started out as very affordable, they're set up to be quite popular especially as the holiday season approaches and due to their limited nature.
Crocs timed the release of the cowboy boot to "Croctober," or the month of October, when the brand typically does something unique with the shoe that was inspired by its fans.
Naysayers, step back: Crocs credit their fanbase for this unique idea, noting in a statement:
"For years, the buzz around a Crocs-inspired cowboy boot has been building, creating a genuine fan-fueled movement trending across social media. Recognizing this passion, Crocs is making fan dreams come true, turning the Crocs Classic Cowboy Boot into a reality."
The Crocs takeover may have happened during the pandemic, where it was a rite of passage to be comfortable. Of course, sliding on a pair of comfy Crocs is the best way to be both convenient and comfortable.
It has become more than just a lounging-around shoe — people in all different professions can be spotted wearing a pair, at any time.
With the Oct. 23 release of the Crocs cowboy boot just days away, you need to decide rather quickly if this is something you want to try to lock down, or pass on.
Evan Paul is the host of Taste of Country Nights, a syndicated radio show heard on more than 120 country radio stations nationwide, every night from 7PM to midnight. He plays the best new country music and interviews today's top stars, like Luke Combs, Miranda Lambert, Dan + Shay, Keith Urban, Carrie Underwood, Luke Bryan, Chris Stapleton, Lady A, Morgan Wallen, + more! 
See Inside Jimmy Buffett's Staggering $6.9 Million Palm Beach Mansion
Jimmy Buffett
sure knew how to live the good life. His former 3-bedroom, 3.5-bathroom, 4,039-square-foot mansion in the exclusive Eden Properties neighborhood in Palm Beach is exactly the kind of laid-back home you'd expect the superstar to relax in when he was off the road.
The interior centers around a combined dining and living room with eye-popping vaulted ceilings topped off by skylights, while a massive wall of mahogany-framed sliding glass doors looks out over the pool area outside. The kitchen is decorated in gleaming white, and each of the bedrooms has its own attached bathroom, while the massive master suite also has sliding glass doors that open to both the pool and a bathroom that looks like it belongs in a high-end resort.
The exterior of the house is just as striking, centered around a sparkling pool of deep cobalt blue. The pool area features plenty of lounging, and a loggia just outside the living room offers open-air dining. There are lush gardens, brick paths that walk through elaborate pergolas and a fountain. The property also features a two-car garage with a guest suite overhead, and it offers deeded access to the beach nearby.
Gallery Credit: Sterling Whitaker
30 Best Country Road Trip Songs, Ranked
There's nothing that makes a road trip fly by faster than great country music coming out of the speakers. In fact, if you're like Maren Morris, listening to music while you're driving might even be akin to a religious experience! Whether you're singing along to John Denver as you drive through West Virginia, or rolling down the windows as you listen to Keith Urban, here are the Top 30 country songs essential to your road trip playlist.
Gallery Credit: Carena Liptak
10 Artists We Totally Underestimated
Oliver Anthony
is country music's newest underdog, but he's just next in line on a list of hitmakers that fans, the media and the music industry scoffed at.
This list of 10 artists we underestimated includes at least five legitimate superstars with dozens of No. 1 hits, two
American Idol
finalists and country music's first real viral sensation. Each has proven themselves worthy in ways nobody saw coming.
Gallery Credit: Billy Dukes
More From Taste of Country