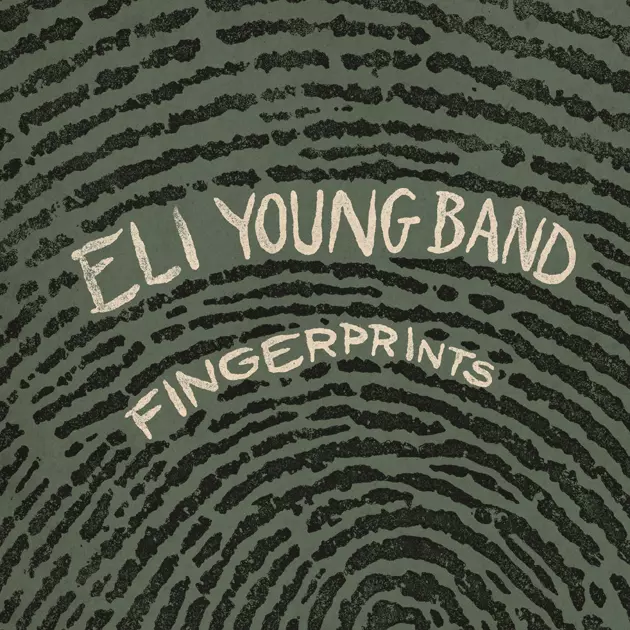 Album Spotlight: Eli Young Band, 'Fingerprints'
Valory Music Co.
Fingerprints (Valory Music Co.) is a fitting name for Eli Young Band's latest album. Celebrating their fourth major label LP and 17 years as a band, the foursome of Mike Eli, James Young, Jon Jones and Chris Thompson have left their mark on country music, but this album represents the mark country music has left on them.
The title was just sitting on lead singer Eli's phone as he was wrapping his head around the idea of a woman leaving nothing but fingerprints on his heart, soul and life before she leaves him for good.
"You show back up / I let you in every time / You end up running / Like you're running from the scene of a crime / You know how to make your, make your mark / You know how to take a, take a heart / Break it all to pieces / Burn it with a touch / You're gonna leave and leave nothing but fingerprints," he sings.
It's aggressive and personal — something Eli demanded on this record. And as more tunes poured in for the 11-song album, the song "Fingerprints" stood out as an obvious album title, not necessarily because of the song's lyrical meaning, but the connection the band had to the idea.
"This doesn't just talk about the record; it really talks about our career," says bassist Jon Jones. "17 years of being a band and it's not really what the song is about, but fingerprints; it's about all the fingerprints that have been on us. All the people that left their impression on us and the music that we make and then also the fingerprints we've left on our fans all across the country at all the shows we've played."
Co-produced by Ross Copperman and Jeremy Stover, as well as the band, Fingerprints  (June 16) showcases the band's hard and soft edge, with tender singles such as "Skin & Bones" (Mike Eli, Lori McKenna, Phil Barton) competing with the bad attitude on songs such as "Fingerprints" (Mike Eli, James Young, Ross Copperman, Josh Osborne). It's also worth noting that eight of the 11 tracks have Eli attached to the writing credits with Young assisting on "Once," "Never Land" and "Fingerprints."
It's evident the band strived for additions to their live show, relying less on studio tricks and more on ringing guitars to make fans feel the music through their instruments rather than through a computer program. It's an organic approach closest to 2011's Life at Best, which yielded No. 1 hits "Even If It Breaks Your Heart" and "Crazy Girl," a double dose the band hopes to repeat their fourth time around.
Did You Know? The band rarely comes together on their favorite song, but "The Days I Feel Alone" is the track the band universally agrees they want their fans to hear most. "All the key elements of it are very uniquely Eli Young Band," drummer Chris Thompson tells Taste of Country.
Key Tracks: "Skin & Bones," "Saltwater Gospel," "The Days I Feel Alone" and "Fingerprints."
Watch: The Eli Young Band Talk About Fingerprints
More of the Best Country Albums of 2017
More From Taste of Country