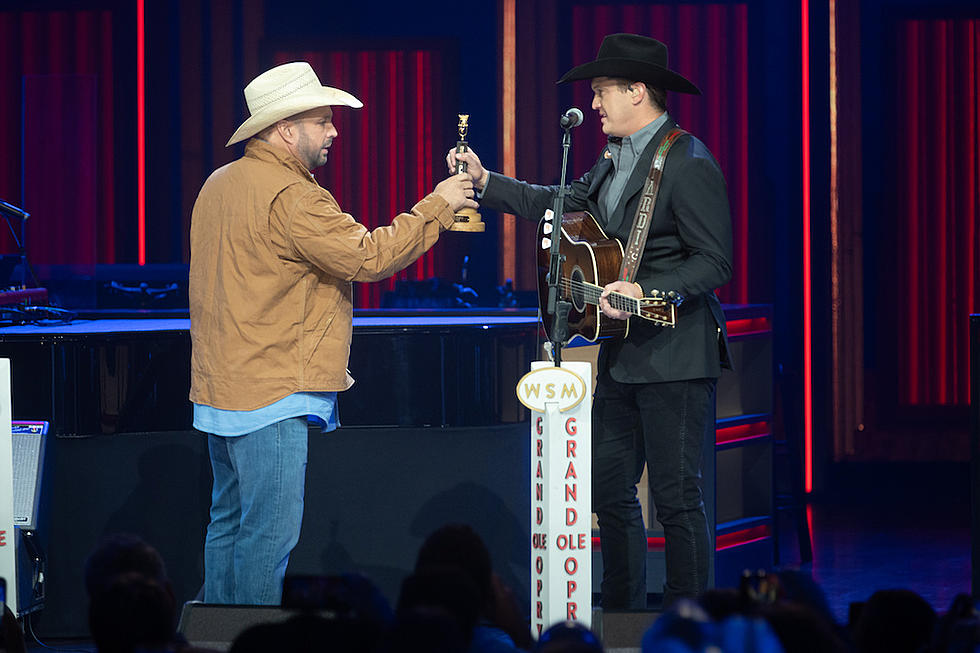 Garth Brooks Made Jon Pardi Cry Happy Tears During Opry Induction [Pictures]
Chris Hollo / Hollo Photographics Inc.
Joining the Grand Ole Opry family was already a big deal to Jon Pardi, who became the first-ever native Californian to become a member on Tuesday night (Oct. 24).
But there was a special surprise to make the moment even sweeter: Pardi's longtime hero, former tour boss and Opry member Garth Brooks was on hand to pass over Pardi's Opry trophy and make things official.
Of course, Brooks is a legend in the country genre who has had an influence on virtually every young act, but his impact on Pardi is particularly profound: The young star has spoken about having a tape of Brooks' music as a 7-year-old kid that he took with him everywhere, and begged his mother to replace for him when he accidentally burned it on a fireplace.
From the Grand Ole Opry stage, Brooks shared the story of the time when Pardi's admiration for him became mutual.
"People ask me, 'What's my favorite thing to get to do in music?' My favorite thing is to watch a new country artist squirm," he said.
The two artists first met at a CMA party, and they hit it off, but Pardi hadn't yet proved himself as a country performer to Brooks. That would happen later, when he joined Brooks on a Knoxville, Tenn. Stadium Tour stop.
"85,000 people here that night, okay? Big boy here, I'm gonna watch him fold like an aluminum can under pressure," Brooks continued. "But by the second song, this guy had 'em eating out of his hand."
Pardi's performance that night flipped the script, Brooks continued — after watching the opening set, Brooks felt pressure to top Pardi's act when it was his turn to take the stage.
"I used to like Jon Pardi," Brooks remarked, pausing for a laugh from the crowd. "After that night, I loved Jon Pardi."
That was the night that Pardi gained Brooks' respect as a performer. With his induction into the Grand Ole Opry, Brooks reflected, he isn't Pardi's hero anymore — he is his peer.
"This is me and you joined in holy matrimony, shared by the common love of country music," Brooks joked as he joined Pardi in the circle. "Are you prepared for this? Because now we've got each other's back. There's gonna be times when your a-- needs saving. There's gonna be times when mine needs saving, and I'm depending on you to do it."
"I got you, man," Pardi said emotionally, as he accepted his trophy.
The new Opry inductee was holding back tears as he removed his hat and bowed to the crowd, thanking Brooks for being at his induction ceremony and reiterating what a "full-circle" moment the evening was.
"My hero that I watched fly around in an arena is right behind me," Pardi said.
"I don't even know what to say. I love the Opry. I love being a part of the family. And you know, the future's all going on. I'm holding on, Garth, I'm holding on," he concluded at the end of his speech.
In April, Pardi got his invitation to join the Grand Ole Opry from another country legend: Alan Jackson. Jackson couldn't be there in person to celebrate the younger star's induction, but he did send a social media message to Pardi for the occasion, posting a photo of the two of them playing together and encouraging Pardi to "Keep on #KeepinItCountry!"
These Country Artists Are Keeping Traditional Country Alive:
More From Taste of Country