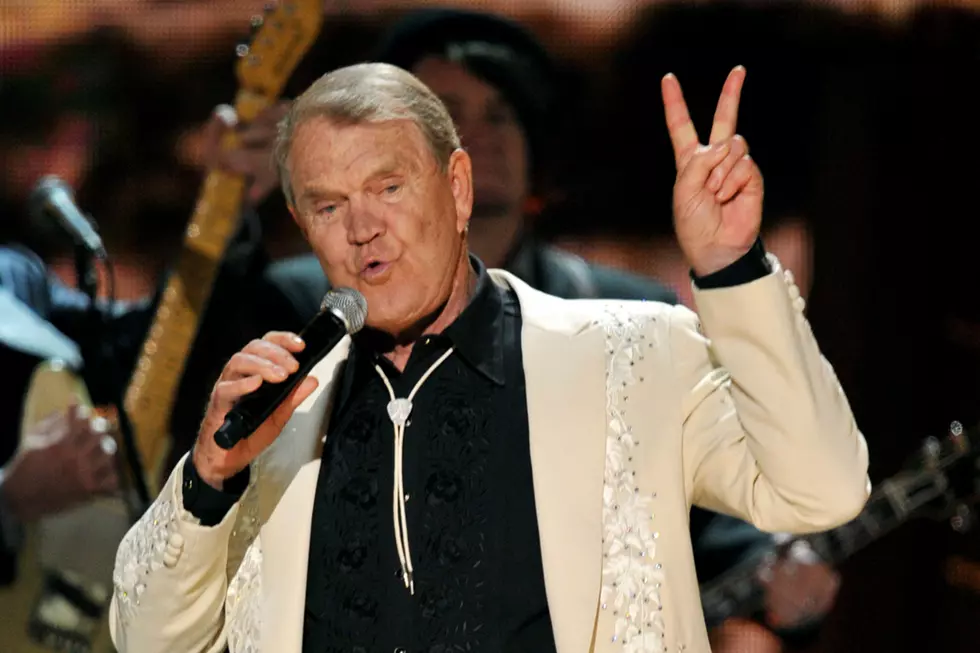 Glen Campbell's Widow and Children Clash Over Subpoena, Court Date in Will Dispute
Kevin Winter, Getty Images
New disputes have arisen between Glen Campbell's widow, Kimberly Campbell, and three of his adult children in the ongoing court battle over the singer's estate.
Travis, Kelli and Wesley Campbell are Campbell's children with his second wife, Billie Jean Nunley, and they are contesting the validity of a will that excluded them from inheriting any money after Campbell died.
A Nashville judge recently ruled that they have the standing to dispute the will, and Kim Campbell has agreed not to challenge their right to do so, but according to Nashville's Tennessean newspaper, the two sides cannot come to an agreement on when they want to go to trial. Campbell's children want the trial on their challenge to take place late in 2019, and she wants it to start on April 1. A lawyer for the three adult children has requested a hearing before Davidson Probate Judge David "Randy" Kennedy in September to resolve the differences.
The two sides also disagree as to the time frame in which Campbell's former business manager, Stanley B. Schneider — who has been serving as the administrator of his estate — should have to comply with a subpoena that asked for legal and financial documents from across several decades, including documents that provide details about Campbell's ownership stake in the Arizona Diamondbacks.
Listen to Glen Campbell's Best Songs
Lawyers for Schneider and Kimberly Campbell claim the subpoena should not become effective until the trial date has been set, while the attorney for the three children, Christopher Fowler, feels that's no reason for the discovery process not to go forward "in a timely manner," he writes in a new filing, in which he also disputes the notion that some of the delay is due to the age of some of the documents. Fowler is also arguing that his clients should not be required to file a formal complaint stating their reasons for contesting Campbell's will, since he claims there is no statute requiring them to do so. Campbell's children have previously alleged he was under undue influence and questioned his capacity to sign the will that excludes them.
Last week, Judge Kennedy ordered Schneider to reconcile a bank account Campbell held jointly with his wife and list all of the transactions since Campbell's death on Aug. 8, 2017. Another of Campbell's daughters, Debbie Campbell-Cloyd, had previously alleged that royalties Campbell's music has earned since his death were supposed to be deposited into an account under the control of Campbell's estate, but have instead been deposited into the joint account, over which Schneider has power of attorney.
Watch Lindsay Ell's Incredible One-Woman Performance for RISERS!
True Grit: Glen Campbell's Life in Pictures
More From Taste of Country