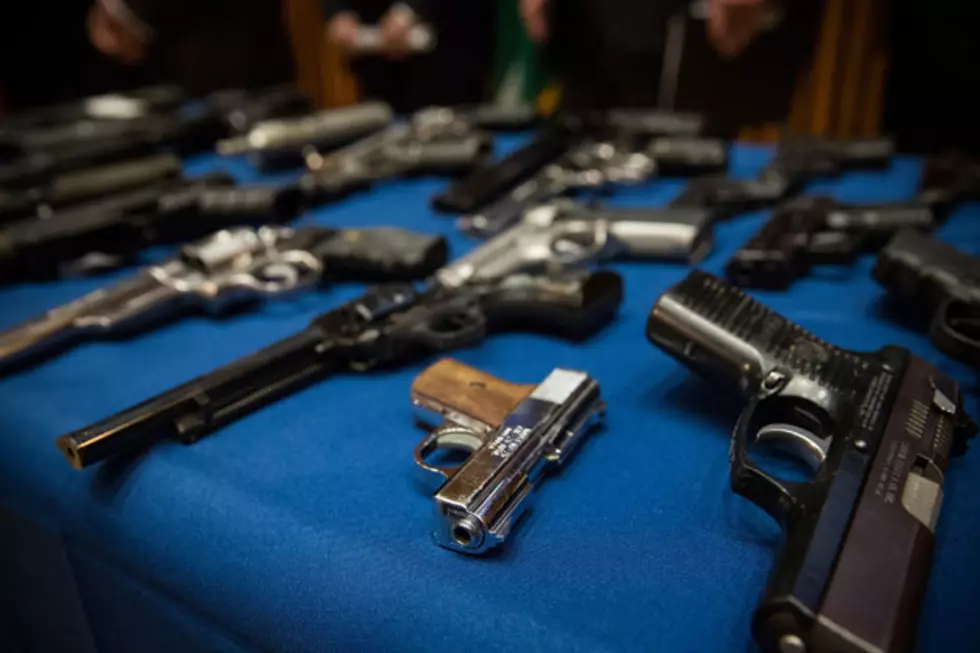 Andrew Burton, Getty Images
Some are simple, some are even sweet. The best gun songs tell a story that involves a gun, although at least one song on this list is about an actual gun. Country artists join country fans in standing up for their Second Amendment rights, and these 10 songs celebrate carrying a gun for protection or using a gun for recreational use.
10

'Cupid's Got a Shotgun'

Carrie Underwood

Carrie Underwood is an unlikely contributor to this list of gun songs, but her 2012 song about guns is something of a love song. 'Cupid's Got a Shotgun' was never released as a single, but it was a fun deviation on her 'Blown Away' album.

9

'Don't Take Your Guns to Town'

Johnny Cash

This was a No. 1 hit over 50 years ago. Unlike 'Big Iron,' the tale doesn't end as well for the main character. A brash young man strides into town carrying his gun and gets into a skirmish with a local at the bar. Booze and bullets don't mix, one learns in Johnny Cash's hit song. Billy Joe ends up on the ground, dying as he remembers his mother's final words to him: "Leave your guns at home Bill / Don't take your guns to town."

8

'Time to Get a Gun'

Miranda Lambert

Miranda Lambert is the only artist with two songs on this list, although 'Time to Get a Gun' was actually a Fred Eaglesmith song before she covered it for her 2009 'Revolution' album. The song tells the story of a small town going downhill, so the singer decides she'd better arm herself instead of remaining vulnerable to the petty crime around town. "It's time to put something between me and the sun / When the talking is over it's time to get a gun," she sings.

7

'Saturday Night Special'

Conway Twitty

While not one of his all time biggest hits, Conway Twitty's late '80s Top 10 single is a great gun story. In a way, it's a love story -- one that despite the success of songs like 'Gunpowder and Lead' would have trouble finding room on the radio today. The singer tells of a man who's ready to commit suicide, but instead decides to help a woman pawning her wedding ring. They fall in love and (presumably) live happily ever after in Texas.

6

'Shotgun'

Randy Rogers Band

Randy Rogers Band included a rowdy gun song on their 2013 'Trouble' album. 'Shotgun' talks about keeping the firearm nearby, even though the hellraising days are behind the singer. This was widely praised as one of the better songs on 'Trouble.' "I might have hung up my shotgun / But I didn't put it up so high / That I can't reach up and get it back down / If you give me a reason why," Rogers sings.

5

If ever there was a gun-lovin' song, this is it. Justin Moore included 'Guns' on his 2011 'Outlaws Like Me' album. It's a unabashed tribute to rifles, shotguns, muzzle loaders and handguns. "I'm gonna tell you once and listen, son / As long as I'm alive and breathing / You wont take my guns," Moore sings in what could be an anthem for defenders of the Second Amendment.

4

Marty Robbins' 1960 single is Western set to a country beat. A stranger rides into town with "big iron on his hip," and squares off with Texas Red. It was a minor hit for Robbins, but the imagery used to describe the showdown and the gun is memorable enough to make this list of the best gun songs.

3

'Cleaning This Gun'

Rodney Atkins

Few parents can listen to Rodney Atkins' 'Cleaning This Gun' without chuckling. While sung tongue-in-cheek, it's a story that more than a few country fans can relate to in one way or another. It may have even inspired a new generation of fathers using old-school tricks to let boyfriends know they'd better treat their daughters properly. The 2007 hit came at the peak of Atkins' career.

2

'Gunpowder and Lead'

Miranda Lambert

Miranda Lambert's Top 10 hit from 2008 is a revenge tale. The singer began to define her career with this song, the story of a woman who has grown tired of taking abuse from her rotten husband. It's a violent lyric that was, for the most part, celebrated by country music fans.

1

'Granddaddy's Gun'

Aaron Lewis / Blake Shelton

Both Blake Shelton and Aaron Lewis recorded 'Granddaddy's Gun,' but Lewis released it as a single, so he gets the credit for bringing the song to the masses. While many of the other nine songs on this list of gun songs rely on a single emotion or fantastic story, this well-written cut shows real depth and understanding of family. Lewis sings it like a man who still has his grandfather's gun hanging on his wall.