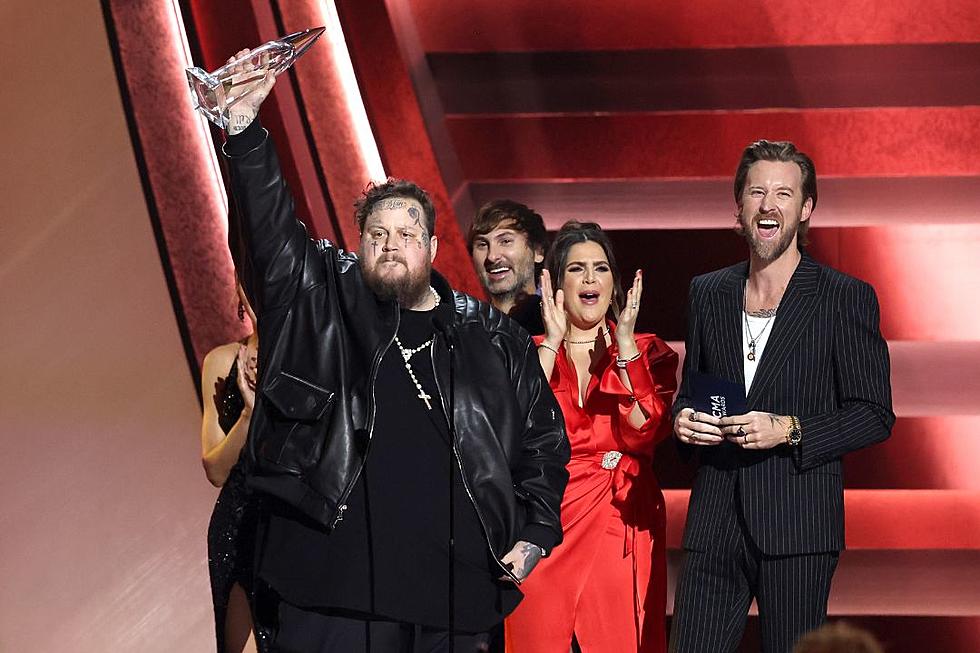 Jelly Roll's Moving New Artist of the Year Speech Brings CMAs Crowd to Its Feet
Terry Wyatt, Getty Images
Jelly Roll topped off an incredible year with a CMA Awards win on Wednesday night (Nov. 8). The country newcomer snagged the trophy for New Artist of the Year and had all of his peers in Bridgestone Arena on their feet.

"Nasvhille!" he shouted, holding his trophy in the air. "I got a thousand people to thank, but most importantly my Lord and my wife — I love you so much. You changed my life, baby."
He also shouted out his fellow nominees.
"Megan, Parker, Hailey I love all y'all, we're friends. And Zach Bryan, I think you are one of the hottest things on earth, not just country music. You deserve this as much as anybody else. I love you. I'm glad we're sitting there partying the rest of the night," he continued as the camera panned to a grinning Bryan.
Jelly Roll then put the spotlight on his fans, addressing those across the nation who have had a tough time, like he has.
"But most importantly, there is something poetic about a 39-year-old man winning New Artist of the Year," he said. "I don't know where you're at in your life or what you're going through, but I wanna tell you to keep going, baby. I wanna tell you success is on the other side of it. I wanna tell you it's gonna be ok. I wanna tell you that the windshield is bigger than the rearview mirror for a reason."
"Because what's in front of you is so much more important than what's behind you!"
As he spoke, the "Son of a Sinner" singer's voice grew louder with more passion. The crowd caught onto his energy, and one by one, people rose to their feet. By the end of it, Jelly was preaching to a standing ovation from his peers.
Jelly Roll took home the award over Bryan, Parker McCollum, Megan Maroney and Hailey Whitters. The country rookie has made quite a name for himself over the last year after releasing his debut album Whitsitt Chapel. He also embarked on his first headlining tour, the Backroad Baptism Tour, earlier this year.
His impact on the genre was demonstrated in his many nominations: He also received a nod for Male Vocalist of the Year, while his song "Need a Favor" was up for both Single and Music Video of the Year. His duet with Lainey Wilson "Save Me" earned him a nomination for Musical Event of the Year.
The CMA Awards featured two performances from Jelly Roll, opening the show with "Need a Favor" and closing with a cover of the Judds' "Love Can Build a Bridge" with K. Michelle.
The 2023 CMA Awards aired on ABC and are available for streaming on Hulu.
Jelly Roll + Bunnie Xo Get Matchy on the 2023 CMA Awards Carpet
Jelly Roll and his wife Bunnie Xo sparkled in matching black outfits as they walked the red carpet before the 2023 CMA Awards. Jelly walked into the show as one of the night's most nominated artists, with five mentions across several different categories.
Gallery Credit: Carena Liptak
More From Taste of Country