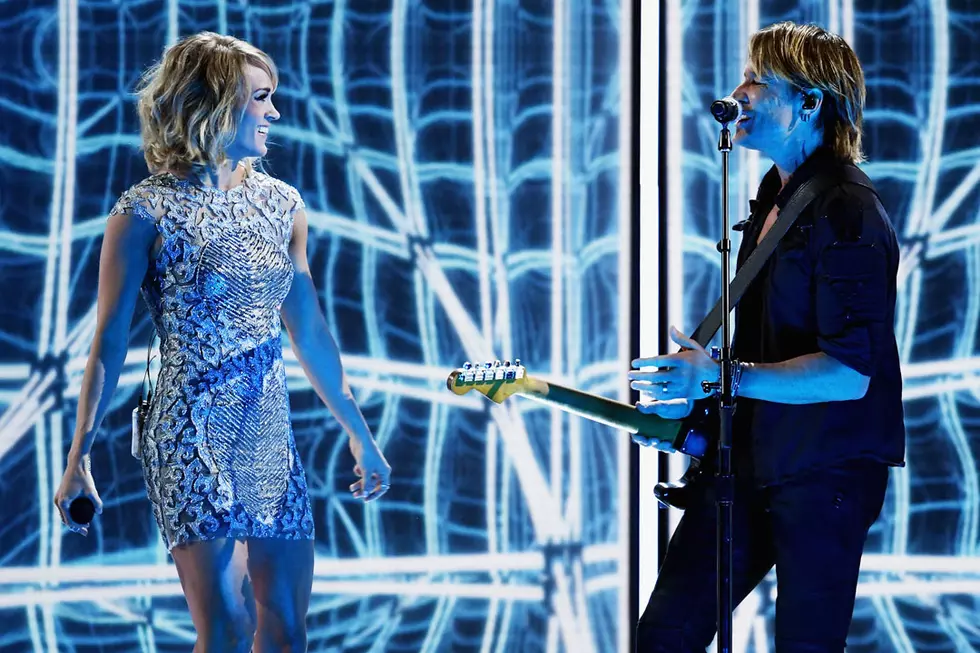 Keith Urban, Carrie Underwood Hit No. 1 With 'The Fighter'
Kevin Winter, Getty Images
Keith Urban and Carrie Underwood have found themselves at the top of the charts yet again. The superstars' duet on "The Fighter" has claimed the No. 1 spot on the Country Aircheck/Mediabase Country chart.
Additionally, the song is inching its way toward No. 1 on both the Billboard Hot Country Songs and Country Airplay charts. The track serves as the fifth single off Urban's 2016 album Ripcord and was inspired by the early days of his relationship with Nicole Kidman, when he promised her he'd be her fighter when times get tough.
"The song is about wanting to heal somebody, wanting to take care of somebody, wanting to protect somebody. It's really like a vow in so many ways," he explains to Billboard. "The Fighter" follows previous chart-topping singles off his album, "John Cougar, John Deere, John 3:16," "Break on Me," "Wasted Time" and the multi-week No. 1 "Blue Ain't Your Color."
"It comes from a very real place. It's a song about helping to heal and protect someone you love," Urban says in a press release. "It's a song about reassurance that you'll always be there to take the blows the world can throw. Carrie and I had sung together before and I thought our voices blended really well — so she was unquestionably the right choice. It was such a relief that she wanted to do it." 'The Fighter" marks Urban's 23rd No. 1 and Underwood's 26th.
Urban announced in July of 2017 that he is back in the studio working on a new album that will act as the follow-up to Ripcord. 
Highest-Paid Country Singers of 2017
Keith Urban's Most Memorable Moments
More From Taste of Country