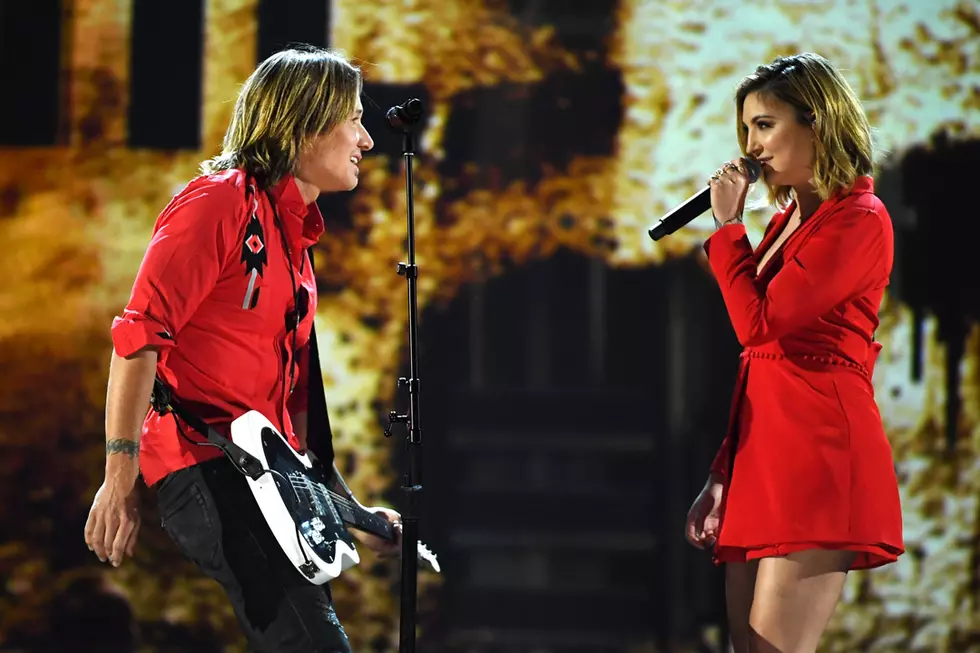 Keith Urban, Julia Michaels Rock 2018 ACM Awards With 'Coming Home'
Ethan Miller, Getty Images
The song is the first official single from Urban's upcoming album, Graffiti U, and it's very progressive by country music standards, even compared to some of the envelope-pushing songs he's released in recent years. But he also borrows from traditional country music for the song, sampling the opening guitar riff from Merle Haggard's classic, "Mama Tried."
Urban is always one of the most poised and natural performers in country music, and he gave a typically easy-yet-energetic performance, offset by Michaels' cool interlude as she hit the stage wearing red. It was a standout moment that was part of a night of standout moments.
"I called Theresa Haggard and Ben Haggard to play them what we'd been working on," he says. "It was important to me to have their blessing — and I'm so grateful that they love the song."
Urban will release Graffiti U on April 27. The project includes 13 songs. In addition "Coming Home," fans have already heard "Female" on the radio. At an album preview party in January, Urban shared four other songs: "Steal My Thunder," "Same Heart," "Texas Time" and "Parallel Line."
Urban was also nominated for Entertainer, Male Vocalist, Song and Vocal Event of the Year in the 2018 ACM Awards.
See the Best Photos from the 2018 ACM Awards
See the Best Moments from the 2018 ACM Awards!
Meet ToC RISER Devin Dawson
More From Taste of Country