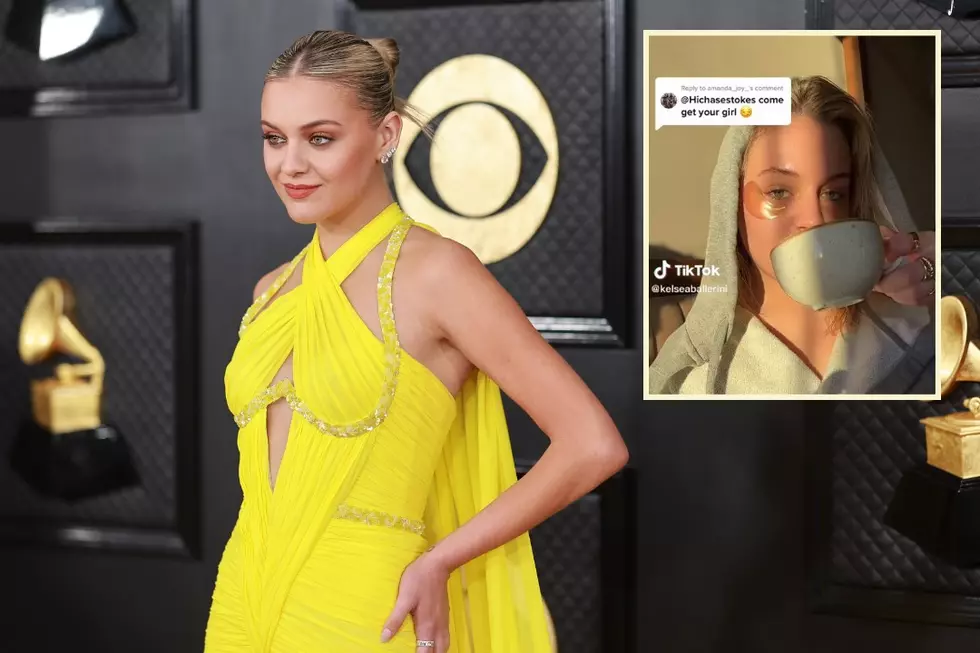 Kelsea Ballerini Adds More Fuel to Chase Stokes Dating Rumors With One Sneaky Video [Watch]
TikTok / Matt Winkelmeyer, Getty Images
It doesn't appear that Kelsea Ballerini is looking to squash any rumors about a budding romance with actor Chase Stokes.
If anything, the country star is fanning the gossip flames by sharing a quick-and-sneaky video that appears to show the two in bed together.
Ballerini was responding to a fan's comment that said, "@hichasestokes come get your girl." In the video, which lasts just seconds, she sips from a mug and pans the camera over just far enough to reveal a shirtless man's shoulder with tattoos on it. Comments — and a "Chase Stokes shirtless" Google search — confirm that ink belongs Stokes.
The "Peter Pan" singer didn't offer up any commentary or captions to accompany the clip. However, the cozy video seems to imply that the Outer Banks actor does not need to "come get" his girl, because she's already with him.
Rumors of romance between them began in January, after the two were photographed cuddled up at the 2023 College Football Playoffs National Championship game. The pair were also recently spotted in downtown Nashville grabbing a bite to eat.
Neither have confirmed nor denied the relationship — Ballerini seemed bewildered by the internet's speedy fascination with her love life and asked fans to stop speculating.
Stokes says the two are just "having a good time."
The "Love Me Like You Mean It" singer's love life has been a topic of conversation ever since her divorce from fellow winger Morgan Evans. The couple announced they were calling it quits after five years in August 2022 and finalized things in November.
Pictures: Kelsea Ballerini Nods to Her Album Cover Artwork With Dreamy Grammys Look
Kelsea Ballerini's flowing, floor-length yellow Grammys gown was an homage to the dress she wore on the cover of her 'Subject to Change' album.
More From Taste of Country