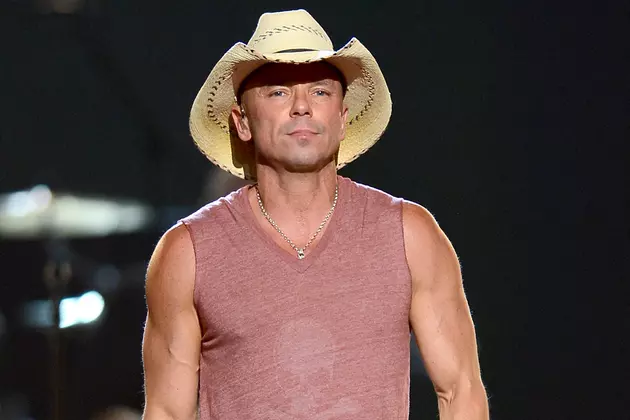 Kenny Chesney Comments on Beyonce's CMA Awards Performance
Ethan Miller, Getty Images
Beyonce joined the Dixie Chicks onstage for an incendiary, one-of-a-kind performance of her song "Daddy Lessons" from Lemonade, and while critics almost universally praised the performance as one of the highlights of the show, reactions from viewers were mixed, to put it mildly, with many voicing outrage online at everything from Beyonce being "not country," to her revealing costume, to her perceived stance on law enforcement. Many viewers also derided the Chicks for the now-infamous flap over anti-George Bush comments from Natalie Maines that essentially brought their career at country radio to an abrupt end in the runup to the Iraq War.
Chesney found himself dragged unwillingly into the fray, when online commenters began to post about what they perceived as his negative reaction to the performance, citing his facial expression and body language as examples of his supposed disapproval. Commenters who disliked Beyonce's performance perceived him as sharing their negative view, while those who enjoyed it seemed to perceive him as disagreeing with them. The superstar -- who received the Pinnacle Award at the CMAs -- decided to speak out to correct the misperceptions.
"I love Beyonce … I loved her Super Bowl performance, her sense of how to make the music hit really hard -- and give it drama when she's onstage," Chesney says in a press release. "The idea her fans were so quick to judge me, or know what I was thinking doesn't feel like the woman I've always imagined Beyonce to be -- and honestly, the people who love her music, either."
The "Setting the World on Fire" singer was truly unhappy about being misperceived in such a basic manner, saying his serious expression was one of respect.
"As someone who believes in the message of Spread the Love, we try to find the best in people -- and in this case, that meant really watching the musicianship on that stage, as well as a guest in our format who'd written an incredible song. I am amazed and saddened this is the response my respect for her art gets."
He adds that there never should have been any question about his reaction.
"I believe music is great or not," says Chesney. "It has nothing to do with genre, gender or color. Just did you bring it, and how great are your songs? To me, there's no question about Beyonce – or my response to their performance."
Greatest CMA Moment of All Time? Here's Our Faves
Wow! This Actually Happened
More From Taste of Country