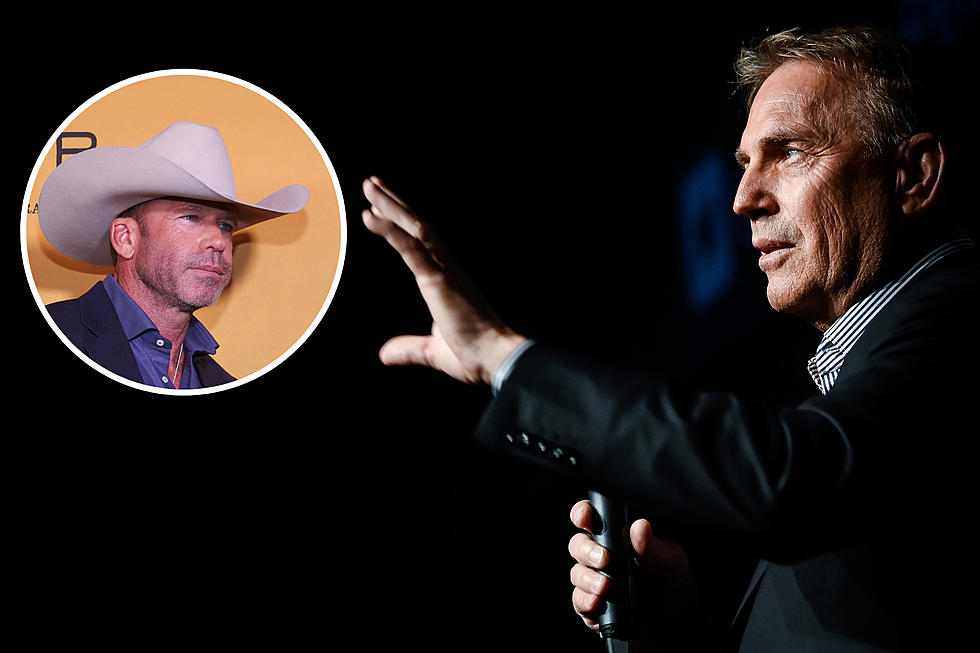 Revealed: Here's Why Kevin Costner Skipped a Major 'Yellowstone' Appearance Amid Season 5 Tensions
Samuel de Roman/Omar Vega, Getty Images
Yellowstone star Kevin Costner, many of the other principal cast members and series co-creator Taylor Sheridan were last-minute no-shows for a scheduled panel at a celebrated television festival on Saturday (April 1), and in a new report, an insider from the show reveals why Costner made the decision not to attend.
Deadline reports that Costner (John Dutton), Sheridan, Kelly Reilly (Beth Dutton), Cole Hauser (Rip Wheeler), Luke Grimes (Kayce Dutton), Kelsey Asbille (Monica Dutton), Wes Bentley (Jamie Dutton), Gil Birmingham (Thomas Rainwater) and Jacki Weaver (Caroline Warner) were all slated to appear in a panel during the annual PaleyFest in Los Angeles along with Yellowstone Executive Producer David Glasser. None of them were actually in attendance when the panel began, despite the fact that they were still listed among the attendees on the website right up until the event started.
Speaking to Us Weekly, a source says, "The ongoing issues between Kevin, who's also an executive producer, and Taylor is what led to the last-minute cancelation. It's been an ongoing power play between them."
The backstage drama between Costner and the producers of Yellowstone has been making headlines since February. The Oscar winner has reportedly been unable to come to an agreement over scheduling for the second half of the season due to a conflict with another project of his called Horizon, and they're considering killing off his character and ending the show at the conclusion of Season 5. According to those reports, the network will move on to a new show in the Yellowstone franchise starring Matthew McConaughey.
The panel discussion almost certainly would have resulted in difficult questions about the various reports.
"Kevin didn't want to come across as unauthentic and he would have if he was forced to dodge uncomfortable questions about their working relationship," the source adds. "It seemed like a lose-lose situation for him. It just wasn't worth it to Kevin."
According to that source, it's "no secret" that Costner and Sheridan "butt heads." A report from Puck News in March detailed a complicated history that goes back years.
"It's safe to say that the drama behind the scenes is far from over," the source tells Us.
Yellowstone cast members Mo Brings Plenty (Mo), Dawn Olivieri (Sarah Atwood), Josh Lucas (young John Dutton) and Wendy Moniz (Lynelle Perry) filled in at the last minute for a conversation about the show at PaleyFest, joined by Keith Cox, President of Scripted at MTV Entertainment Studios.
In regard to Costner, Cox said, "We are very confident he will continue with the show," causing the fans on hand to burst into cheers.
Cox added that more news about Season 5 is coming "soon" and that the second half of the season "will be phenomenal. I am confident."
A Paramount executive has confirmed that a new Yellowstone spinoff starring McConaughey will move forward, whether Costner returns to Yellowstone or not.
As part of Taste of Country's comprehensive coverage of all things Yellowstone, check out our Dutton Rules podcast on Apple Podcasts and Spotify.
PICS: See Inside the Historic Texas Ranch Where the New 'Yellowstone: 6666' Spinoff Is Filmed
The massive, historic Texas ranch where the new Yellowstone spinoff Yellowstone: 6666 is filming has sold for just under $200 million, and pictures show a property that is truly part of Texas history.
The 6666 Ranch — better-known as the Four Sixes Ranch — in Guthrie, Texas, dates back to 1870. The ranch centers around a 13-bedroom, 13-bathroom, 13,280-square-foot main residence, which is constructed of quarry rock that was hauled to Guthrie by wagon. The ranch also includes vast, sweeping fenced pastures, farmland, fenced-in pens for cattle, a more recent addition for horses, a water filtration plant that serves the ranch's water needs and more.
There are separate camp manager's homes in both the North Camp and the South Camp of the ranch, which encompasses nearly 225 square miles of land. Yellowstone creator Taylor Sheridan is part of a group of investors who recently acquired the property for $192 million, and he has been shooting his new show out there in recent months.
PICTURES: See Inside Kevin Costner's Spectacular Colorado Ranch
Yellowstone star Kevin Costner lives the ranch life when he's off the set of the hit show, too. The Oscar-winning actor owns a 160-acre ranch in Aspen, Colo., that's a spectacular getaway, complete with a main residence, a lake house and a river house.
The luxury retreat also features a baseball field, a sledding hill, an ice rink, multiple hot tubs and views of the Continental Divide. The ranch property comfortably sleeps 27 people, and it's currently available to rent for 36,000 a night.
You Can Rent a Cabin on the Ranch From 'Yellowstone' - See Pictures
The stunning Montana ranch that serves as the setting for the hit TV show Yellowstone offers cabins for rent, and the price includes tours of the set and ranch. Scroll below to see photos of the extraordinary property.
More From Taste of Country