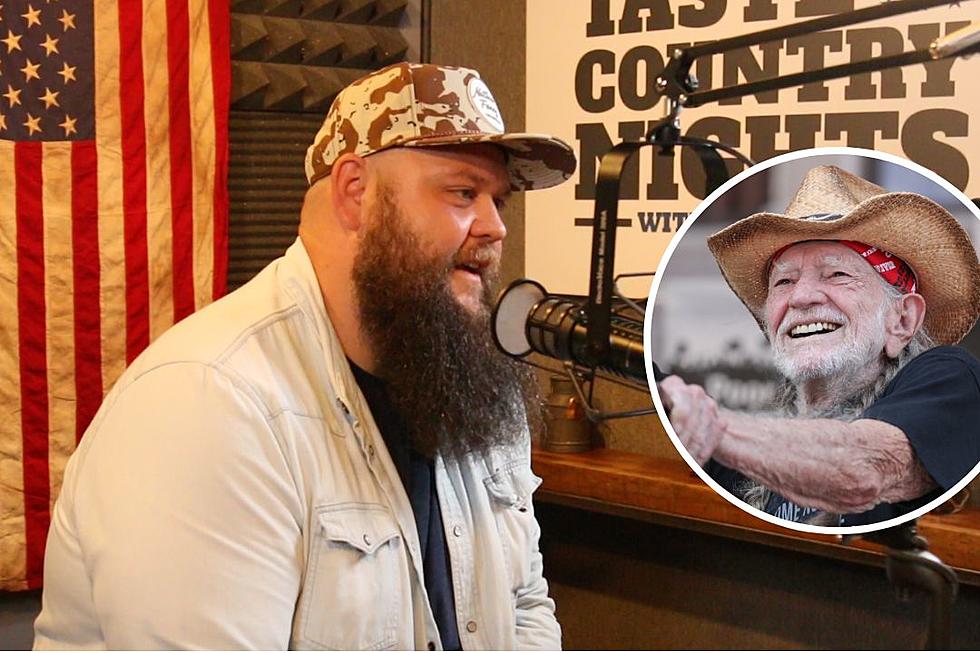 Larry Fleet Thought He Ticked Off Willie Nelson — Taste of Country Nights, On Demand [Listen]
Taste of Country Nights Studio, Brandon Bell , Getty Images
In the six years since Larry Fleet went from working blue-collar jobs to being signed to Big Loud Records, he has gotten to meet and work with some of his childhood idols. Most of those interactions have gone very well.
I had the chance to sit down with the country star on the latest episode of Taste of Country Nights On Demand, and we chatted it up about everything from his new Earned It album, family life and being on the road, to getting to meet and work with some of his musical idols from when he was growing up.
One of those idols is Willie Nelson. I asked Fleet how he met Nelson, and he told me the country legend was one of the first people to place his trust in him.
"Just, honestly man, the nicest man I've ever met," Fleet told me. He let out one of those childish giggles afterward, and you could tell that his encounter with Nelson was genuine and he was speaking from the heart. He also had a story to tell.
"So I'm opening for him, by myself, no band, just me and a guitar. I do my thing and I walk off and there's Willie Nelson," he says about five minutes into the interview. "He walks over to me and says, 'Well Larry, that was real good, that was real nice.' I was like, 'Yeah, thank ya man, this is amazing.' He goes, 'You want to come out and sing some gospel songs with me?'"
Flash forward to Fleet singing "I'll Fly Away" and "Will the Circle Be Unbroken" with Nelson one night, and doing well enough to get called out for a second night.
"I got a little brave and I was like, I'm gonna go for it tonight, I'm gonna let it rip on 'Will the Circle Be Unbroken,'" he shares. Fleet described the moment he took over and the 'What are you doing?' look he thought he was getting from the legend.
He thought he ticked off Willie Nelson!
It turns out that Nelson was extremely impressed with what Fleet did and brought to the table that night. Nelson said, "Yes, that was amazing!" Fleet then got to saying that he and Nelson have been good friends from that day forward, and that Nelson is someone he considers a legend and a friend.
Larry Fleet just dropped his third studio album, Earned It, and is currently on tour. Check out the full interview with Fleet on this week's episode of Taste of Country Nights On Demand, wherever you get your podcasts.
Evan Paul is the host of Taste of Country Nights, a syndicated radio show heard on more than 120 country radio stations nationwide, every night from 7PM to midnight. He plays the best new country music and interviews today's top stars, like Luke Combs, Miranda Lambert, Dan + Shay, Keith Urban, Carrie Underwood, Luke Bryan, Chris Stapleton, Lady A, Morgan Wallen, + more! 
PICTURES: See Inside Willie Nelson's Historic $2.5 Million Rural Retreat
Willie Nelson
's former home in Nashville is on the market for $2.5 million, and pictures show a splendid rural retreat that's a true piece of country music history.
Nelson's 3-bedroom, 1-bathroom hand-built log cabin, which the country music icon built for himself, sits on 150 rolling rural acres in Goodlettsville, Tenn., just half an hour outside of Nashville. The land surrounding the cabin offers a breathtaking slice of unspoiled Tennessee and ensures maximum quiet and privacy.
Gallery Credit: Sterling Whitaker
More From Taste of Country