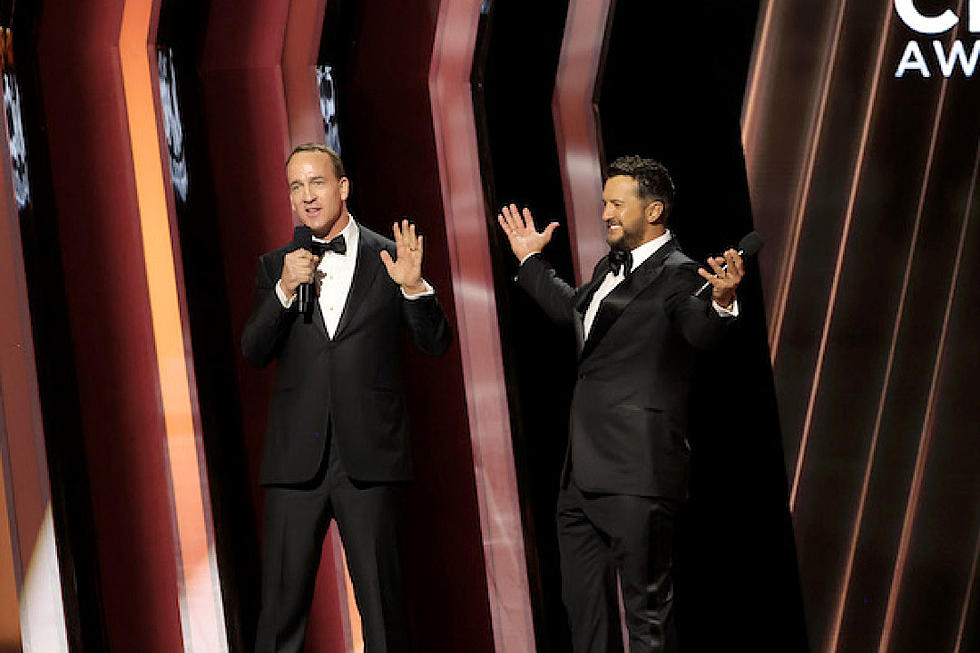 Luke Bryan Spills the Beans on a Big 2023 CMA Awards Moment
Michael Loccisano, Getty Images
Luke Bryan says that big onstage surprises always make for his favorite CMA Awards moments — and he may have gotten a little bit too excited about one surprise ahead of the 2023 show.
During a press conference with his co-host, NFL legend Peyton Manning, Bryan fielded a comment about the moments he's most excited to see during this year's show, and he mentioned that he's looking forward to see Morgan Wallen and Hardy take the stage with rapper Post Malone.
"For them to be together onstage is fun stuff," Bryan said enthusiastically, but he followed that up by saying a little too much:
"They're doing the Joe Diffie tribute."
Did you catch it? Although Wallen, Malone and Hardy's performance itself has been announced, the CMA has billed it as a medley of classic country hits — there's been no mention of the trio paying tribute to Diffie, meaning that the plan was to save that as a surprise for show night.
Of course, it makes sense that the "Pickup Man" would be getting a hat-tip on the CMAs stage. One of country music's most beloved '90s performers, Diffie died of complications from COVID-19 in late March 2020, when he was just 61 years old.
Diffie's been the subject of tributes on awards show stages in the past, but never from this particular lineup of stars.
It's a tribute that's sure to be especially meaningful to Hardy, as one of the final releases featuring Diffie's voice was "Redneck Tendencies," a Trace Adkins duet that appeared on the Hardy-curated Hixtape Vol. 1 in 2019.
After he realized he'd said something that's not yet public knowledge, Bryan swiftly recovered with a dose of his signature humor and charm.
"Did I just spill the beans on that?" he said with a self-admonishing laugh, then turned to his co-host. "See how I work? See how that works, Peyton?"
That signature humor — although probably no more bean-spilling — is due to make an appearance when Bryan and Manning take the stage together as show hosts. The two stars agreed that they're planning some light-hearted barbs and banter for the big night.
"Luke and I both certainly have thick skin, and the more the joke can be on us, we are for it," Manning explained. "We both believe in self-deprecating humor, and as you can see right here in front of you, we don't take ourselves too seriously. But this is supposed to be a celebration, and we're not here to make anybody mad or disappoint anybody, so I feel like [Bryan] and I are getting the majority of the punch lines on us tomorrow night."
The 2023 CMA Awards are set to take place on Wednesday (Nov. 8). The show will air live from Nashville's Bridgestone Arena on ABC.
Country Stars Walk the Red Carpet at the 2022 CMA Awards
Country stars flocked to Nashville on Wednesday, Nov. 9 for the 2022 CMA Awards. The artists also brought their best looks to the red carpet.
Carrie Underwood
brought the drama with a long blue gown, top-nominated
Lainey Wilson
opted for a velvet version of her classic bell bottoms and hosts
Luke Bryan
and Peyton Manning looked snazzy in suits. Here are some of best dressed, and biggest stars, that graced the CMA Awards red carpet.
Gallery Credit: Sterling Whitaker
More From Taste of Country