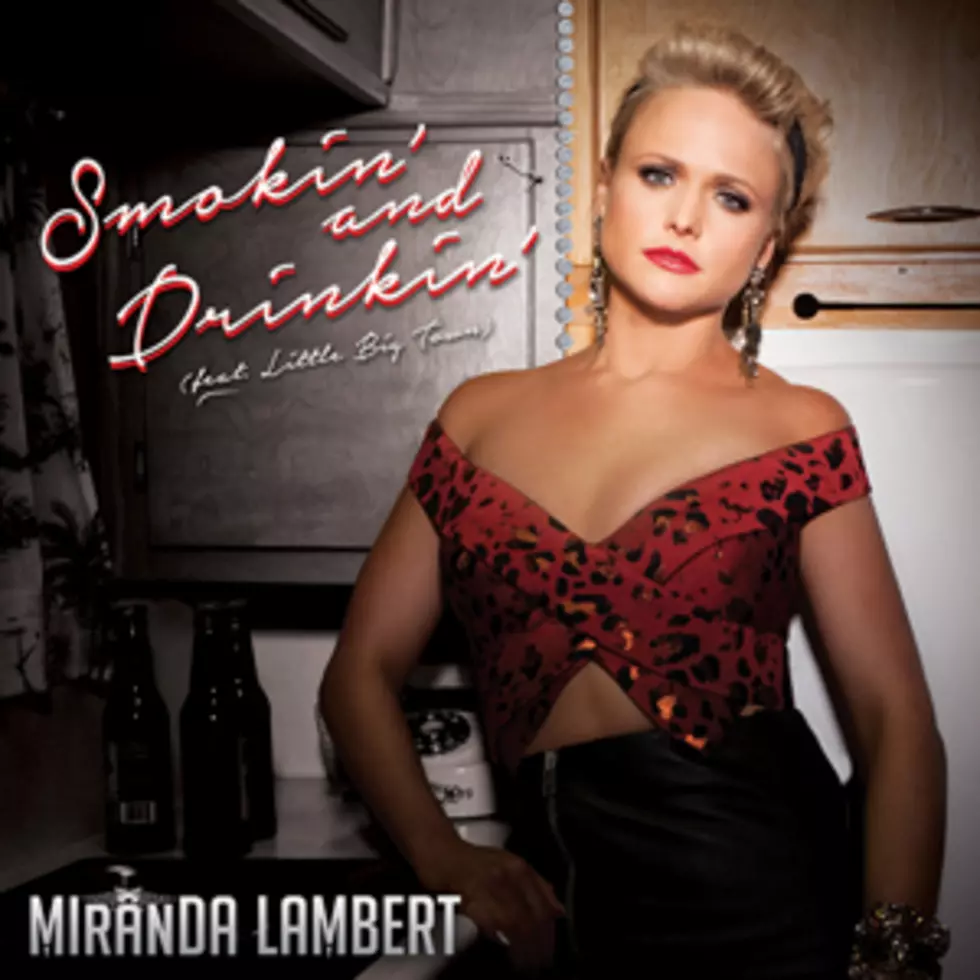 Miranda Lambert (Feat. Little Big Town), 'Smokin' and Drinkin" [Listen]
Sony Nashville
Miranda Lambert swings from one extreme to another with "Smokin' and Drinkin'." The collaboration with Little Big Town is the anti-"Little Red Wagon."
The album version features a dreamy, nearly one-minute-long musical introduction before Lambert begins a pleasantly surreal first verse.
"It was one of those times when a real good time felt like a long time ago / It was one of those fires that burned all night and made your blue jeans smell like smoke / Hanging with friends, going again start upbringing, smokin' and drinkin'," Lambert sings.
Her voice is a strange mix with the lilting tones of LBT. A quiet cry of steel guitar lets us know how to feel, but it's this unconventional arrangement that stamps a pensive signature on "Smokin' and Drinkin'."
"We be lighting up, saying this town sucks, so we painted it on the bridge / We were young in love to not know enough that those were the days that were gonna to miss / But damn we know it now, 'cause that's all we talk about, smokin' and drinkin'" Lambert sings at the second verse, which is Natalie Hemby, Luke Laird and Shane McAnally's finest.
In many ways, the ballad is as edgy as "Little Red Wagon." Sonically, it's a sleepy number that won't play well in clubs across America, but those willing to run their fingers between the intricate weave will come away appreciating the song in the same way they appreciated "All Kinds of Kinds" on the Four the Record album.
Lambert isn't through taking chances — she's just taking quieter risks.
Why Fans Will Love It: Lambert's easygoing, nostalgic side is just as exciting as her bad girl phase. This mellow tune isn't flashy, but it reaches one in a way few songs on the radio are capable of.
Key Lyrics: "Smokin' and drinkin' on the weekend like we did back in the day / Smokin' and drinkin' gotcha thinkin' about the one that got away / So here's to all those nights all we felt was life, smokin' and drinkin'"
Did You Know?: Miranda Lambert is dedicated to getting her album a platinum certification. Before the 2014 CMAs, all of her outfits were accentuated with platinum earrings and nail polish. She says she's sending out good vibes in hopes Platinum gets there.
Listen to Miranda Lambert, 'Smokin' and Drinkin''
See Miranda Lambert's Hairstyles Through the Years
So, How Well Do You Know Miranda Lambert?
More From Taste of Country