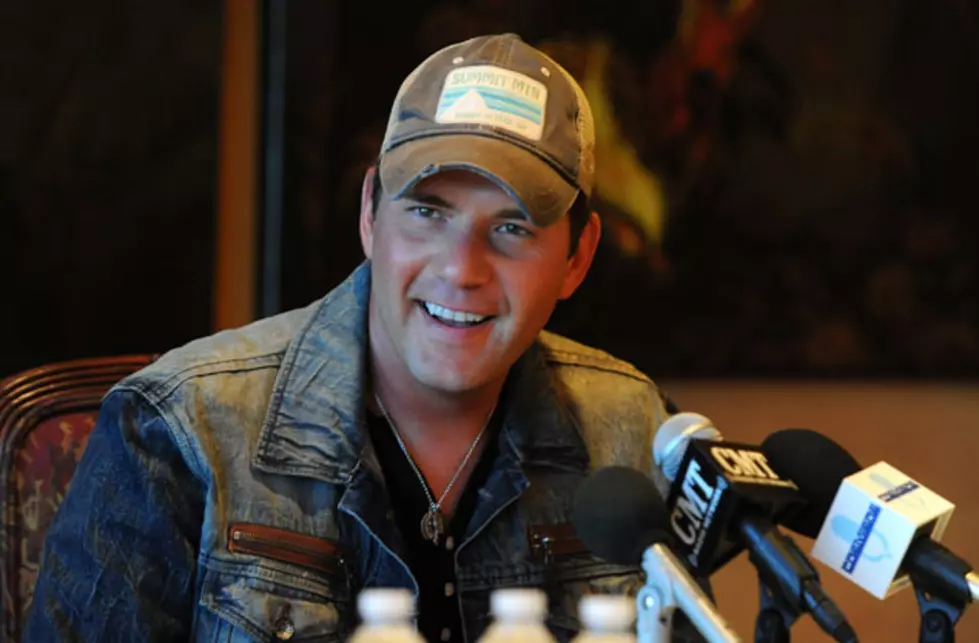 Rodney Atkins Talks Adoption, Video Stunt Work and His New Album 'Take a Back Road'
Rodney Atkins' best known hits are so wholesome they make Charlie Bucket want to be a better person. 'Watching You' and 'These Are My People' could even be called corny, but it'd be an injustice to label them, or the singer, as anything but real. It doesn't take a long conversation with Atkins to realize he is that dad, that friend or the guy looking to "put a little gravel in my travel" on his most recent No. 1 hit, 'Take a Back Road.'
Atkins talked to Taste of Country about his new album, fatherhood and the daredevil stunt work he did in his most recent video. The 'If You're Going Through Hell' singer doesn't pick up the phone with scripted answers to questions he's heard before. He's thoughtful, taking plenty of time between sentences and ideas. It's a bit like catching up with your brother. Along the way, he uses charmingly old-fashioned phrases like "put the ball glove on and come out and pass" and admits, "I can't even figure out the remote control in my house anymore."
If you're looking for a rock star, look elsewhere. If you like your country stars humble and honest, than Atkins is your brand of tractor.
In the 'Take a Back Road' video, how did you get on top of that bridge?
They kind of take one of those cherry pickers, that you climb in, you tether into that carabiner deal and it lifts you up as far as it will go and then you pretty much throw the rope around it [the bridge], tether it and climb. Then you get up there, get settled ... then they say, "OK, Give me the tether back."
You're not locked in up there?
No. The camera would see the tether. You sit there for awhile, get comfortable with the situation and then it's just you.
Are you afraid of heights?
I don't really have a fear of heights, but I've been known to have vertigo ... Where you get up high and you start leaning, and you don't realize you're leaning. You start going over to one side. Like up in a skyscraper or something, and you start going, "Wow this view is beautiful," and then you hear your head plunk against the glass of the window.
The crazy thing about both those places [including the water tower] is the bridge had been shut down. It was condemned. You can only have one vehicle at a time. Only a certain number of people can be on it at a time. The water tower, the rail, it was all rusted. It was only like a foot wide. It was bizarre. It made you focus pretty fast.
The other thing people are talking about from that video is we see you without a baseball cap. What has the reaction been like?
[For] 'Farmer's Daughter,' I think, I took my hat off a couple of times just because it got hot. It's a funny thing about the ball cap, that there would be anything to it. Hell, I should have done a press release a long time ago. The whole thing started when we did the first album with 'Honesty' -- there were a few shots, no hat, a few shots with a cowboy hat. When we went in for 'Going Through Hell,' I switched management companies ... and my manager said as we were talking about looking for songs, "You know the songs need to match you." A lot of times with artists I think, you could hear five or six of their albums and still not feel like you know them at all. He pretty much took a picture, put it out on his desk and as I would write songs, listen to songs -- 'cause his thing was, he said, "The only way I've ever seen you is you're wearing a ball cap everywhere you go. Be you. Be yourself and let the music represent that. And that's how you get authentic." Well, suddenly you have a few hits and the ball cap becomes an image.
I just happened to be up there, and that black top was hot and the breeze felt good. You're up there playing and trying to get loose and set the ball cap down. There's no hairdresser fixin' it.
Sometimes it is like that. Sometimes it's a calculated decision to remove a hat.
And a press release and blah, blah. It's just trying to be real, I guess.
What will fans learn about Rodney Atkins on 'Take a Back Road'?
There are some songs on here that are musically edgier than anything we've done before. Then we go down to a romantic love song. I'd never done that before, and there's a couple of songs -- most love songs that you get, that you write, ehh ... It's not about what it's really like once you've been in a relationship or been married a while. You wanna try to find things that are just honest.
What is a song that had a really great background story or was inspired by something unique?
Have you ever read the book 'The Shack'? I had just finished that book. Somebody told me about it and I read it. That's how 'Cabin in the Woods' came along.
For me, gosh, all these songs hit me in a personal way. 'Growing Up Like That' just started out as I had a writing appointment with Ben Hayslip and Ted Hewitt, and on the way to go write with them I was telling them about my kid's basketball goal. It's one of those kinds you can put anti-freeze down in, or people put water or sand to hold it still. Well, his goal had blown over either on my truck or on the driveway ten times. I'm like, "Man, that thing. We need to go back to the basketball goal I had growing up."
That led to the conversation -- what it was, how I got my basketball goal ... I didn't realize it at the time but it was my dad giving me a goal to do that day. And I had certain chores I had to do and he sent me out there with post diggers and the whole nine yards. He's just keeping me busy is what he was doing, but the way I got a basketball goal was by him giving me a goal.
And you realize later, which the hook of the song is: "I was lucky and I didn't even know it growing up like that."
Your son Elijah is now 10. Do you plan on having any more kids?
We would love to. We've talked about adopting. That's kind of the only way we could do that now. But I'd have 30 if I could. I love having them run around.
What has parenting a 10-year-old made you appreciate more about your parents?
[Long pause] You realize the times where I know they were flat worn out. My dad coming home from work just really tired, wore out, but he still made time to put the ball glove on and come out and pass. To put the effort in, to just be present when we were there talking about stuff, or watching the game together, or going fishing. Taking that time to really be in the moment. For me it's beyond appreciation. Being adopted, it's amazing the sacrifices they made on my behalf.
You'll be touring with Darius Rucker soon. He's a University of South Carolina Gamecocks fan and you're a University of Tennessee fan. Are you still able to find peace on the road?
[Laughs] With Darius? I think it will be pretty cool ... I don't even know if Darius can pull for [head coach Steve] Spurrier all the time.
You two are both very humble and generous with your time and talents. I imagine you two get along pretty well.
I've been around Darius a bunch. That's why I'm looking forward to this tour with him. He's himself. He's just down to earth. He's fun. He's kind of all in. He loves music. You don't have the career he's had by getting jaded by what the business can be like. He's ready to roll and rock and I just can't wait to get out there with him. We're going to have a blast.
Watch the Rodney Atkins 'Take a Back Road' Video
More From Taste of Country