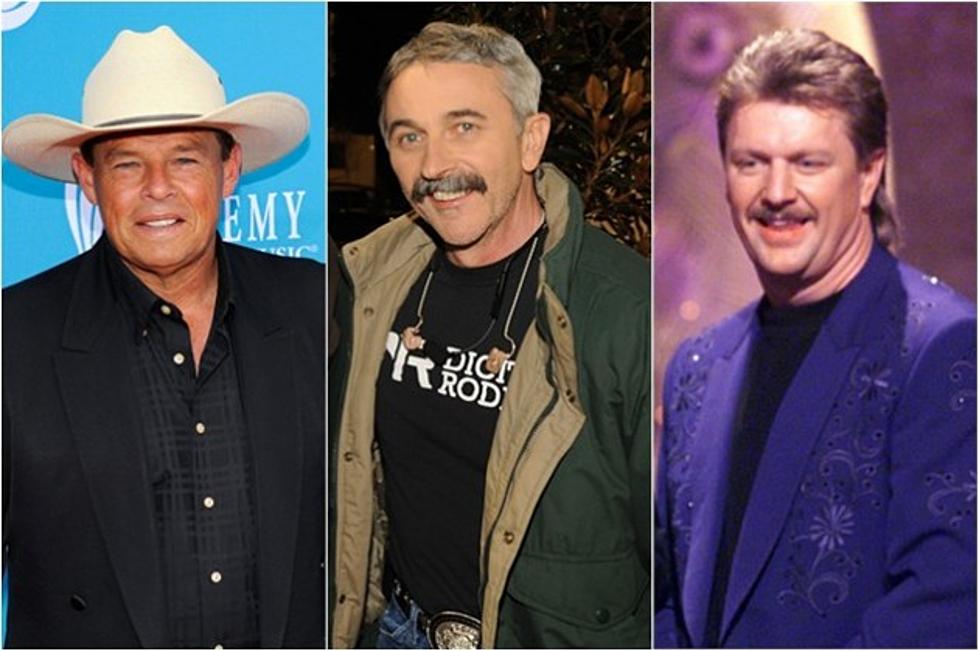 Sammy Kershaw, Aaron Tippin and Joe Diffie Hit the Road for Roots & Boots Tour
Kevork Djansezian / Rick Diamond / Frank Micelotta, Getty Images
If you're an old-school country music fan, you're going to love the upcoming Roots & Boots Tour. Featuring Sammy Kershaw, Aaron Tippin and Joe Diffie, this tour is tailor made for longtime, hardcore country music fans.
This spring and summer, Kershaw, Tippin and Diffie plan to wow crowds with acoustic versions of their dozens of Top 40 hits. And since these three country crooners have known each other for decades, they'll be pausing between songs to tell stories and have some laughs with their fans.
"The Roots & Boots Tour is three friends who love country music, having a good time, telling jokes about each other and telling jokes on each other," Kershaw said in a statement. "We tell stories behind all of our songs. It's a great show."
Even if you're a country newcomer, you'll recognize some of these classic country songs.
Kershaw's most popular hits include 'She Don't Know She's Beautiful,' 'I Can't Reach Her Anymore' and 'National Working Woman's Holiday.' Diffie will play selections from his 12 No. 1 hits, while Tippin chimes in with radio favorites like 'You've Got to Stand For Something,' 'Where the Stars and Stripes and the Eagle Fly' and 'There Ain't Nothing Wrong with the Radio.'
"Being onstage with Sammy and Joe is a blast," Tippin said. "I admire both of these guys so much. We have a great time together and the show is different every night and always a lot of fun."
There's nothing like a set full of hit songs to spur on a major singalong -- maybe that's the kind of fun Tippin is talking about. To learn more about the 2013 Roots & Boots Tour or purchase tickets, click here.
2013 Roots & Boots Tour Dates:

3/8 - Wilkesboro, N.C. | John A. Walker Community Center
3/12 - Palm Desert, Calif. | McCallum Theatre for the Performing Arts
3/13 - Modesto, Calif. | Gallo Center for the Arts
3/14 - Redding, Calif. | The Cascade Theatre
3/15 - La Mirada, Calif. | La Mirada Theatre for the Performing Arts
3/16 - Chandler, Ariz. | Chandler Center for the Arts
3/17 - El Cajon, Calif. | Sycuan Casino
3/18, 19 - Folsom, Calif. | Three Stages At Folsom Lake College
3/23 - Rising Sun, Ind. | Rising Star Casino Resort
3/24 - Meadville, Penn. | Alleghey College Auditorium
3/29 - Mahnomen, Minn. | Shooting Star Casino
4/6 - Biloxi, Miss. | IP Casino Resort & Spa / Convention Center
4/19 - Moncton, Canada | The Centre At Casino New Brunswick
5/10 - Branson, Mo. | RFD-TV Theatre
5/11 - Sand Springs, Okla. | Osage Casino - Sand Springs
5/24 - Pigeon Forge, Tenn. | Country Tonite Theatre
More From Taste of Country