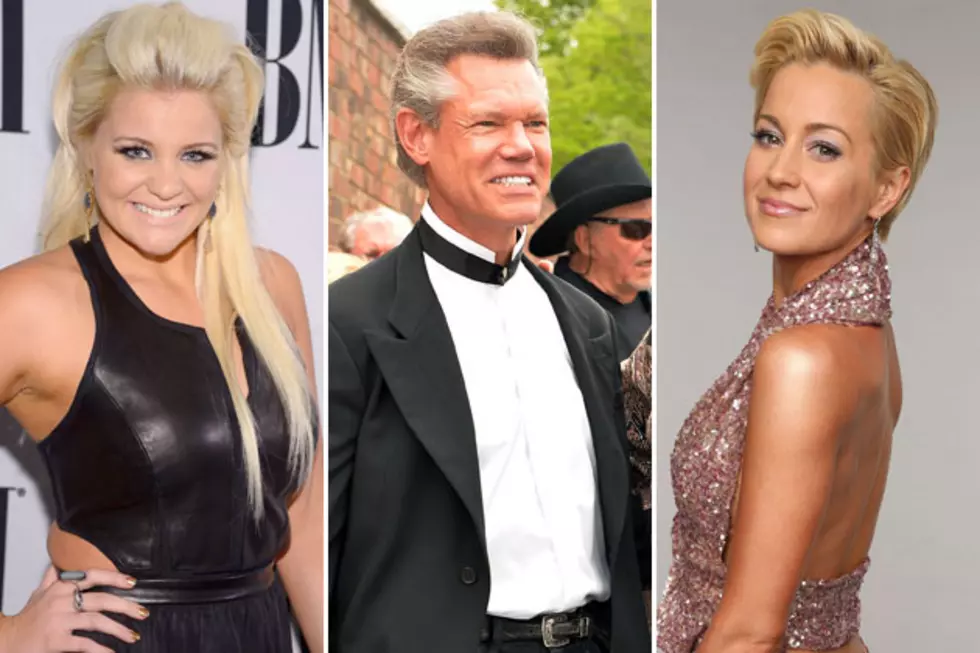 10 Songs That Should Have Been Hits in 2013
Michael Loccisano / Rick Diamond / Christopher Polk, Getty Images
There's dozens of reasons why some songs fall short of becoming true country "hits." Sometimes a brilliant recording is just too edgy for mainstream radio. Sometimes an artist doesn't get a push from his or her record label. And some songs simply fall through the cracks; they get lost in the pile of new music that sits on a radio programmer's desk.
These 10 songs are Taste of Country staff and reader favorites that never realized their full potential in 2013. Give each a listen and then share your pick for No. 1.
10

'Better I Don't'

Chris Janson

Country newcomer Chris Janson's song 'Better I Don't' was a Top 40 hit, but it deserved better. The track served up a bolt of electricity every time the thundering drum intro blasted through the speakers. It's also a nice variance from the typical country male party songs prevalent today.

9

'I Believe' was the first single of George Strait's legendary career to miss the Top 40, and there's really no reason for it. The lyrics are deeply emotional, and his message is topical, but not heavy-handed. Even the King of Country had to be scratching his head after this song was mysteriously ignored.

8

'Barefoot and Buckwild'

Lauren Alaina

The first single from Lauren Alaina's still-unreleased second studio album didn't get the warm welcome she was hoping for. It was a perfect summertime party anthem, but stalled out just inside the Top 40 on country charts. Alaina revealed a new confidence with this sassy rocker. It could still be a sign of big things to come.

7

'Grandaddy's Gun'

Aaron Lewis

While Aaron Lewis isn't the only artist to record this song, he was the first to release it as a single. 'Grandaddy's Gun' takes a frequently divisive topic and turns it into a universal, emotional story of a man and his grandfather. The song charted, but ultimately failed to reach as many pairs of ears as it deserved.

6

'Half-Broke Horses'

Jaida Dreyer

Jaida Dreyer is a country newcomer still looking for her first hit song. 'Half-Broke Horses' is the type of storytelling song that's capable of launching a career, but it never became the buzz she was hoping for.

5

'Tonight I'm Playing Possum'

Randy Travis (Feat. Joe Nichols)

Randy Travis's duet with Joe Nichols was released between George Jones' death in April and Travis' hospitalization in early July. The track was later sent to radio without Nichols' vocals. The timely nature of the release should have been enough to catch widespread attention, and Travis' health woes should have magnified the importance of these lyrics. Unfortunately, the song never caught on.

4

'The Simple Life'

Drake White

Drake White's vocals on 'The Simple Life' will lift you up on the lousiest of days. It's one of the year's best feel-good tracks, and it deserved more airplay. The Alabama-raised singer's debut peaked inside the Top 40 on the country charts in mid-2013.

3

'He Loves to Make Me Cry'

Kristen Kelly

'Ex-Old Man' singer Kristen Kelly shows off her powerful voice early during this soulful ballad from early 2013. It's an undeniably brilliant performance, but for one reason or another, the emotional track was a miss with radio.

2

'What Are You Listening To'

Chris Stapleton

Chris Stapleton is another great country vocalist fans have yet to fully embrace. His debut solo single 'What Are You Listening To' is also soulful, but his approach is much softer than Kelly's. There's genuine pain in his voice as he wonders how his former flame is spending her time today. This beautiful ballad cracked the Top 50.

1

'Someone Somewhere Tonight'

Kellie Pickler

Kellie Pickler's first single from her 'The Woman I Am' single had all the makings of a country smash. She was as hot as can be coming off a win on 'Dancing With the Stars' (the video featured her partner Derek Hough). The ballad had lyrical depth, and her vocal performance was arguably the best of her career. Yet for some reason, the song barely cracked the country charts. Like all 10 songs on this list, the reason for her song's limited success is complicated and mysterious.
More From Taste of Country