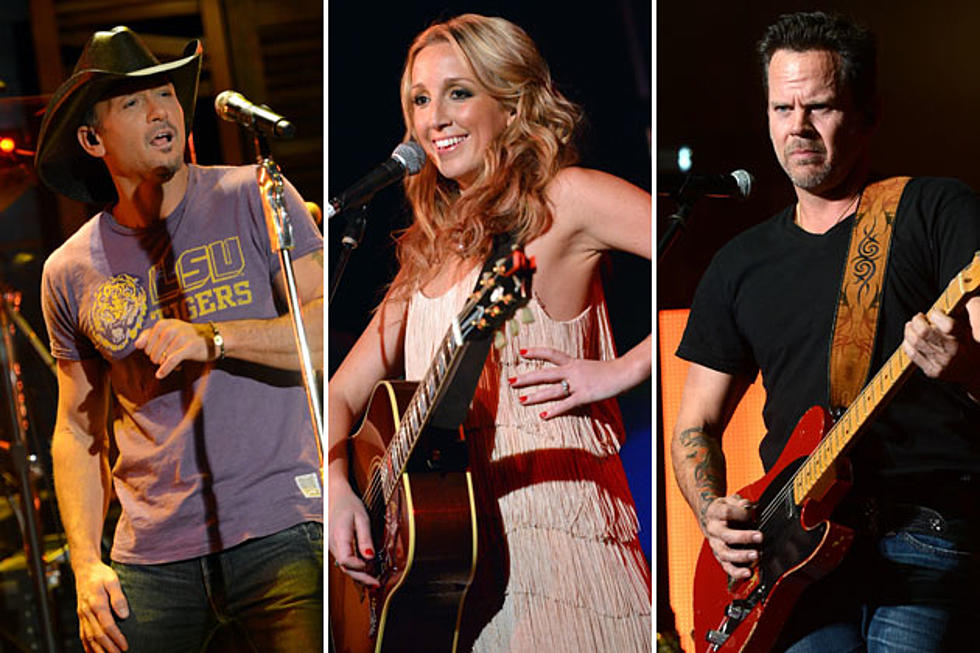 Rick Diamond, Getty Images
Often the first few months of the year are a time to dump albums with little potential, but that wasn't the case in 2013. The race for the best album of the year began early with new releases from Gary Allan and Tim McGraw, and it didn't slow down, with strong showings from Ashley Monroe and Keith Urban following.
The spring and summer brought new projects from Kacey Musgraves, Luke Bryan and the Band Perry. Fall additions from Scotty McCreery, Justin Moore and Thomas Rhett also challenged others for a spot on this Best Albums of 2013 list. Unfortunately, there's only room for 10!
One album has just refused to give up the top spot all year long, even with strong projects from Blake Shelton and Lady Antebellum breathing down its neck. Is our No. 1 your No. 1?
The Best Albums of 2013 list was compiled using sales data, Taste of Country staff opinions and reader input. Check back monthly to see how your favorite albums are faring.
10

'Spitfire' is an autobiography that LeAnn Rimes may have recorded mostly as therapy. Superb songwriting keeps the most revealing tracks from coming across as tabloidy, even though her high-profile relationship with Eddie Cibrian has been a TMZ favorite for a few years. 'I Do Now,' 'What Have I Done' and 'Borrowed' are three songs that may silence the room. Rimes' voice is as strong as ever, and when she clears her conscious, it's impossible not find one's self captivated.

9

The confidence from Lady Antebellum's Hillary Scott make 'Golden' more than memorable. She shines on this project, with songs like 'Downtown' and 'It Ain't Pretty' standing above those that are more collaborative efforts with Charles Kelley. The group pulled back the thick production, leaving this album feeling more organic and less theatrical than any before. The timing for this change was perfect.

8

"Energy" is a one-word description of 'Fuse,' Keith Urban's 2013 release. Most of the 13 songs are uptempo jams that lean away from traditional country. His electric guitar is heavily featured throughout this pop-inspired, blistering album. Highlights include his duet with Miranda Lambert ('We Were Us'), 'Cop Car,' 'Raise 'Em Up' with Eric Church and 'Even the Stars Fall 4 U.' It's an undeniably modern album that still manages to fall safely in the country genre.

7

'Two Lanes of Freedom'

Tim McGraw

'Two Lanes of Freedom' is Tim McGraw's best record in nearly a decade. The title track, 'Highway Don't Care' and 'Nashville Without You' are three songs one keeps returning to. His voice is strong, and there's a true sense that his whole team was at their best to record the album -- his first on Big Machine Records.

6

'Rubberband'

Charlie Worsham

Charlie Worsham has the second-best debut album of 2013. 'Rubberband' proves the Mississippi native to be a talented instrumentalist, but also a vocalist with surprising range and confidence. Sonically, this is a very creative album, and guest appearances from Vince Gill and Marty Stuart are more than trivial. They jam on 'Tools of the Trade,' one of a number of highlights.

5

'Based on a True Story ...'

Blake Shelton

Blake Shelton will heat up the bedroom with many songs found on his 'Based on a True Story ...' album. The majority of the project is focused on love, and the singer approaches the topic with a new maturity. 'Mine Would Be You' is an absolute smash hit in waiting, but others like the R&B-inspired 'Doin' What She Likes' may stretch the singer to his most creative place yet.

4

'Like a Rose'

Ashley Monroe

This isn't Ashley Monroe's debut album, but it's definitely her 'coming out' project as a solo artist. 'Like a Rose' is a beautifully heartbreaking collection of songs from a singer who has lived the life she sings about. Each is delivered with an ounce of hope or maybe a pound of theater. Monroe's fragile delivery is something to behold. Her voice is amongst the best of her generation of country singers.

3

'Same Trailer, Different Park'

Kacey Musgraves

Kacey Musgraves proves herself to be one of Nashville's top songwriters on her debut project 'Same Trailer, Different Park,' an album that truly stretches the genre. While just short of groundbreaking -- the Pistol Annies may have paved the way, or at least cut the trail for her -- Musgraves' ideas are bold and refreshing without being so edgy that she cuts those trying to get close. 'Silver Linings,' 'Dandelion' and 'Follow Your Arrow' are three one wants to hear again and again, but the entire album is packed with substantial lyrics that will stand the test of time.

2

The Band Perry's sophomore album is a more consistent project than their first, even if they never reach the high of a song like 'If I Die Young.' The family trio take their vocals to a new level, and brothers Neil and Reid are used in much more creative ways than ever before. Of course, Kimberly Perry is still the star, and songs like 'Back to Me Without You' and the title track show tremendous growth in terms of baring her soul in song -- something necessary for top vocalists.

1

Gary Allan's 'Set You Free' explores several different styles with amazing proficiency. Blues, rock, traditional country -- even reggae -- all blend seamlessly into the bigger picture he paints with stories of deep depression and newly found happiness. Allan's first album in three years more than lived up to the anticipation. Highlights include the title track, 'Drop,' 'It Ain't the Whiskey' and 'Hungover Heart.'
More From Taste of Country