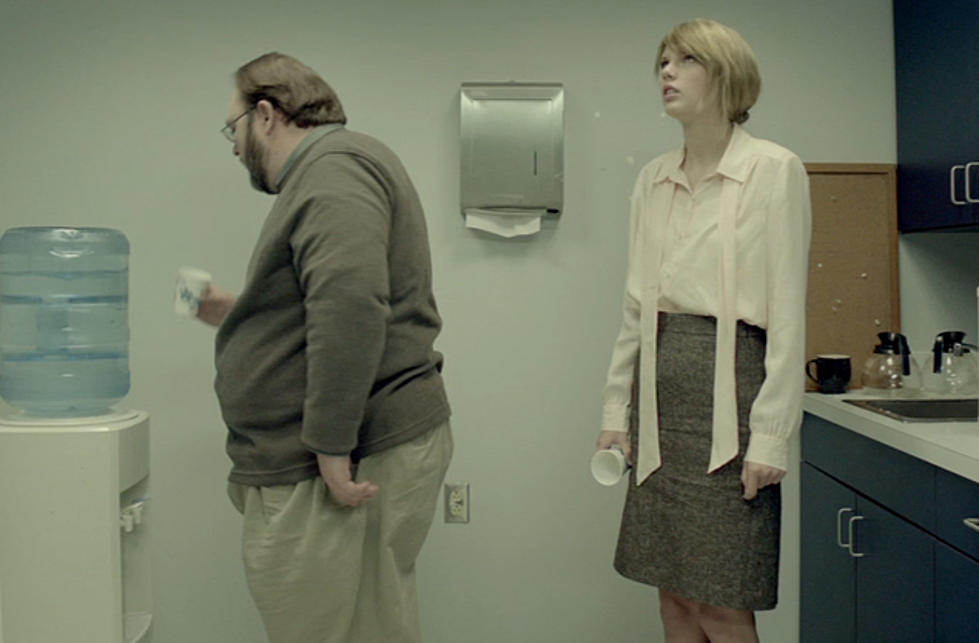 Taylor Swift's 'Ours' Video Casts a 'Weird, Eclectic Bunch' – Webisode Seven
Big Machine Records
Video No. 7 of 13 in Taylor Swift's behind-the-scenes series of 'Ours' is all about the characters. Casting for the 'Ours' video happened in Nashville and the surrounding areas, according to director Declan Whitebloom. As previously revealed, Swift specifically asked for actor Zach Gilford to play her love interest, but Whitebloom had his own fun in finding folks for the singer to cast as extras.
"We have a weird, eclectic bunch of people who work in this office," Whitebloom says in the clip as the camera pans across one man sticking a pen up his nose, and another with a paper clip stuck to his lip.
In this webisode, viewers get the scoop about several 'Ours' video characters: the "perfect" security guard, the janitor who Swift labels her "one friend" at the office, the annoying young redheaded male who shares her cubicle and enjoys attacking her with staplers, and -- who could forget? -- the heavyset fella who hogs the water cooler.
"The day just goes from bad to worse for Taylor," Whitebloom laments. Swift's expression in these scenes says the same.
Entertain yourself by watching the the behind-the-scenes glimpse at the 'Ours' cast below, and come back tomorrow to see more of the making of Swift's latest music video.
Watch the Taylor Swift Behind-the-Scenes 'Ours' Clip - Webisode Seven
More From Taste of Country