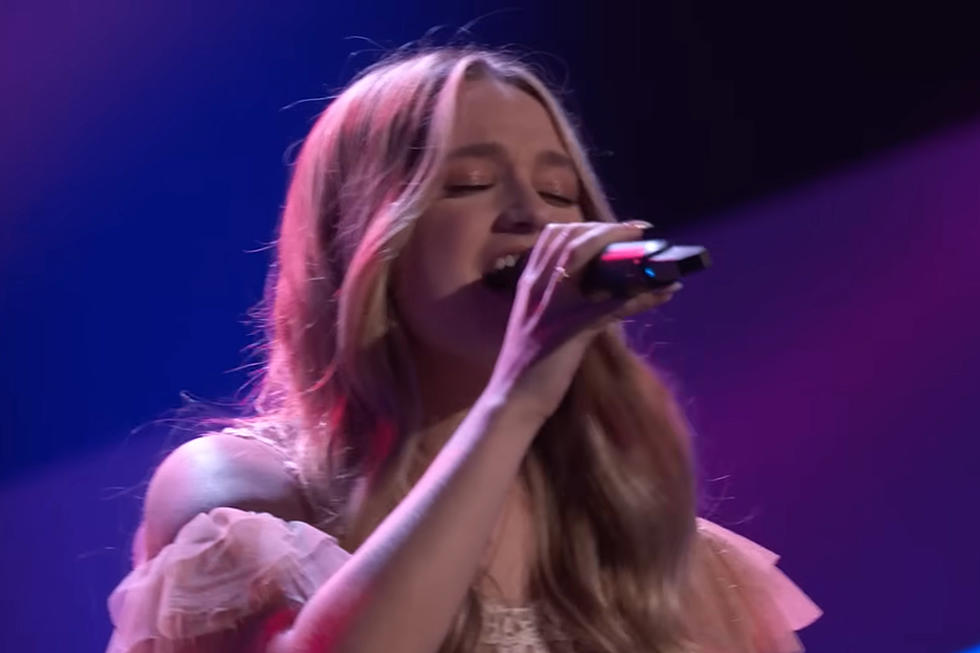 'The Voice': Mary Kate Connor Draws Comparisons to Brandi Carlile With Stunning Audition [Watch]
YouTube
Coaches Blake Shelton, Kelly Clarkson, Niall Horan and Chance the Rapper are filling their teams on Season 23 of The Voice. And, on Tuesday night (March 14), as part of night four of the blind auditions, two coaches went up to bat for an artist who reminded them of Brandi Carlile.
Shelton and Clarkson went head-to-head to wrangle 17-year-old Mary Kate Connor for their teams. The hopeful from Ashburn, Va., was last to showcase her talents in front of the celebrity panel during the one-hour episode.
Before taking the stage, though, Connor shared a bit of her backstory, telling folks that her first musical moment came when she auditioned for Les Miserables and got a minor part in it. The role allowed her to perform at the Kennedy Center in Washington, D.C.
"I remember running with my little broom across the stage sweeping. I had like the smallest little part. But, I remember going to school and just being like, 'Yeah. I was at the Kennedy Center," Connor said. "From that point all the way into high school, I just ran into musical theater hard. I loved it so much."
This time, Connor told viewers she was excited to take the stage as herself instead of working from a script. Wearing a pink babydoll-style dress and matching ankle boots, the teenage talent stood center stage and intrigued judges with her soft, angelic vocals on a cover of "Stars" by Grace Potter and the Nocturnals.
"Pretty," Clarkson commented mere seconds into the performance as Connor's parents stood side stage with their hands clasped together, hoping for a chair turn from one of the judges.
"I can't look at the stars / They make me wonder where you are / Stars, up on Heaven's boulevard / And if I know you at all / I know you've gone too far / So I, I can't look at the stars," Conner sang with sincerity in her vocals, earning two well-deserved chair turns from Clarkson and Shelton.
Afterward, Horan broke his expression to deliver the first set of comments.
"The fact that you are 17 years old. I mean that's just nuts," Horan said. "It was incredible to hear so much power and so much control. You're going to be around here for a long time."
"I love how beautiful and tender it was," Clarkson added. "Usually, people slide into it to make it a bit easier. So they don't sound pitchy. You just, like, nailed it, like, dead on. You're like a younger Brandi Carlile. I want you on Team Kelly."
"I ran into Kelly Clarkson at a Brandi Carlile concert 10 or 12 years ago, and I was like, "What are you doing here?'" Shelton then joked before adding, "Your voice is very soft and angelic. But I will say, it's funny when you say North Carolina, Kentucky, or Virginia, there's a thing that happens up there. It's an Americana thing. You can hear it in your approach because you swing for the fence with that song."
"I didn't turn because I figured you would fare very well with either Blake or Kelly," Chance the Rapper explained. "Awesome song choice, strong voice. But now comes the hard part. Who do you choose as your coach on The Voice?"
Answering Chance the Rapper, Connor selected Shelton.
"Mary Kate is probably not even completely aware of what she's capable of," Shelton said after welcoming Connor to his team. "She has a cool Appalachian sound. I love that, and I think America is gonna love it."
The Voice airs Monday and Tuesday nights on NBC.
Famous Singers from The Voice, Then + Now
Ten years (and counting) made a huge difference for many of the most popular singers and stars of
The Voice
.
Blake Shelton
looks noticeably different, but so do some of country music's most memorable performers.
Winners like
Cassadee Pope
and
Danielle Bradbery
wore baby faces when they auditioned during their respective seasons. The same can be said for
Morgan Wallen
, a forgotten castmember from the show who's transformed more than anyone else on this list of
The Voice
stars then and now.
More From Taste of Country