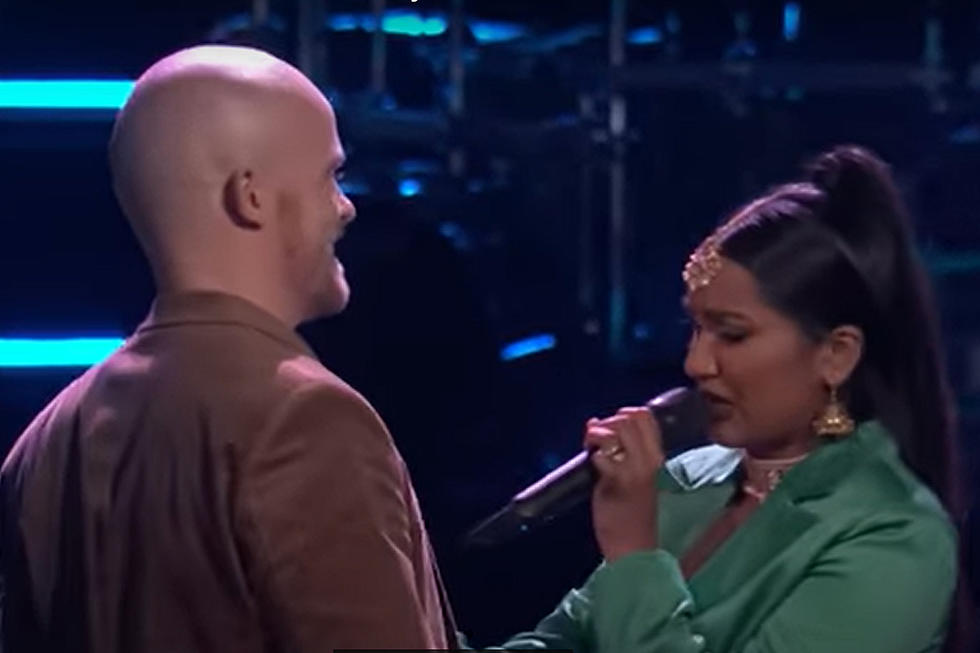 'The Voice': A Team Blake Battle Round Results in Two Steals [Watch]
YouTube
The Blind Auditions on Season 23 of The Voice are officially over, which means the reality TV competition series has moved onto the grueling Battle Rounds.
Coaches Blake Shelton, Niall Horan, Kelly Clarkson and Chance the Rapper have their teams stacked with talent. But, as with all Battle Rounds, they began the process of downsizing the pool of potential winners on Monday night (March 27).
During the two-hour broadcast, Shelton paired together Tasha Jessen and EJ Michels. The veteran country coach had the two hopefuls face off against each other because he felt like both singers have individual strengths, with Jessen's wide vocal range and Michels' electrifying voice.
For their performance, Shelton had the two duet on a cover of "The Track of My Tears" by Smokey Robinson & the Miracles. In rehearsals, he discussed tightening up some of his mentees notes and not to let any of the lyrics get away from them. Shelton also admitted he could see both contestants in the finale and added that he was dreading having to cut one of the singers from his team.
Taking the stage, Jessen and Michels sang their parts of the song with ease. Jessen donned a satin green suit. She paired her look with a unique headpiece as a tribute to her Pakistani culture. Michels, meanwhile, opted for a casual and simple look, rocking a tan blazer and white undershirt. Both singers provided an epic vocal delivery, with Michels showcasing his tenor vocals in the first verse. Jessen joined in with harmony before featuring her unique pop vocals on the second verse of the track. Neither singer overshadowed the other and, instead, allowed their opponent to shine, but ultimately only one of them would advance to the next phase of the competition on Team Blake.
"That was so good. I've got to say, EJ, you came out here, and I was afraid for her because I was like, 'He's really good,'" Clarkson commented. "Tasha, then you came in with your tone, and it was incredible. I do feel like it was evenly matched."
"I thought it was an award-show-level performance," Chance the Rapper added. "I agree, Tasha. You have an amazing individual tone, but I would go with EJ just because I think your stage presence is something that this competition could use."
Horan added, "Guys, that was absolutely insane. The two of you really brought that song to life. Tasha, I am still glad I turned for you. I'm still sad I lost you, EJ, I must've had ear plugs in that day, or something, because I never turned. This is regret. You were phenomenal, dude."
Last to share his thoughts was Shelton.
He said, "Tasha, I love hearing everybody talk about your tone and how special it is. There truly is something special about you. It starts with the sound of your voice. When my back was turned to you, you just go, 'Wow. I want to be in the Tasha business.' EJ, I don't know if I've ever been more shocked with somebody from the blinds. It's just like, where the heck did this guy come from? I mean, this is crazy. You came in swinging, and it made for just a great duet. That was a great performance."
Afterward, Shelton declared Jessen the winner, calling her a "one-of-a-kind artist that you're lucky to get." He added that she had endless potential.
Luckily though, it's not the end of the road for Michels. He received not one, but two steals, with Chance the Rapper and Horan hitting their red buttons for him. Michels decided to continue competing on The Voice on team Horan.
The Voice airs Monday and Tuesday nights on NBC.
Blake Shelton's Winners From 'The Voice': Where Are They Now?
How many of the eight Team Blake winners from
The Voice
can you name?
Blake Shelton
is the show's winningest coach, and several have had hits at country radio and beyond. Several more have shifted genres, changed their name or just flat-out gone missing. Here is the latest on every Team Blake winner from
The Voice.
More From Taste of Country