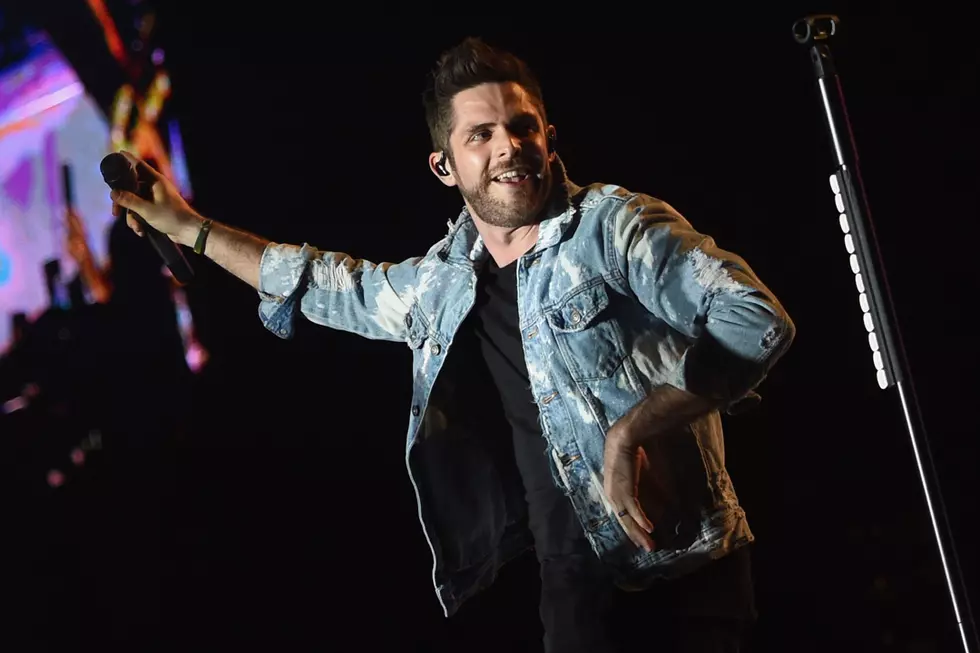 Top 3 Moments From Thomas Rhett's Home Team Tour Stop in Nashville
Rick Diamond, Getty Images
Thomas Rhett's Home Team Tour stop in Nashville leaned heavily on his newest album and cover songs. Guest artists — and the fact that Rhett wrote most of the covers — helped make the night a personal memory for the thousands in attendance.
The Ascend Amphitheater's intimacy aided Rhett's stage show, especially the video portion. A three-minute long trip down memory lane that featured an 8-year-old Rhett singing his first country songs (in a bleach-white button-down) felt like watching old family footage flicker on a white projector screen. He ventured into the audience for a stripped-down set, but didn't need to. Few felt very far away from the action because physically, they weren't.
Danielle Bradbery and Dierks Bentley were among the special guests, although openers Ryan Hurd, Russell Dickerson and Kelsea Ballerini joined Rhett for a cover of Bruno Mars' "24 Karat Magic" that closed the show. Find our Top 3 moments from Thursday night (April 20) below. While this is the final weekend of this leg of the Home Team Tour, Rhett has a busy summer planned. Additional headlining dates are weaved between fair and festival dates, including a stop at Country Jam in Grand Junction, Colo. this June.
No. 3: Kelsea Ballerini's Opening Set
No one is talking about the 23-year-old's live act, but her stage presence is only topped by her band. The group is tight, and Ballerini's chemistry with each individual member is sincere. There is without a doubt a heavy Taylor Swift influence that needs to be sanded away some before she's a legit, major venue headliner, but an acoustic medley that included the Chainsmokers amongst an otherwise electric 45-minute-set proved she's a dynamic, confident star to watch closely.
No. 2: "Craving You" With Maren Morris
Rhett's performance of the first single from his upcoming album was when the show really began. Prior to this he seemed hesitant, and his audience didn't give him all their energy. But this moment (song No. 4 on his set list) led to an inspired version of "Star of the Show" and playful fan moment during a cover of "Friends in Low Places."
Wait, Selena Gomez Is Gonna Be on TR's New Album Too? 
No. 1: "Die a Happy Man"
The final four songs before the encore were the climax of Rhett's 90-minute set. They came after a lengthy stay on a satellite stage that focused on his older material and songs he wrote for other artists (and a visit from Dierks Bentley), and a nearly 10-minute version of "Vacation." Specifically, "It Goes Like This" and "Make Me Wanna" greased the gears for an all-too-easy acoustic performance of the singer's biggest hit. It was patient, meaningful and perfect. Kudos to Rhett for still feeling a song he penned for his wife, even after a thousand performances of the hit.
Remember When Thomas Rhett Opened Up for Jason Aldean? See Pics!
More From Taste of Country