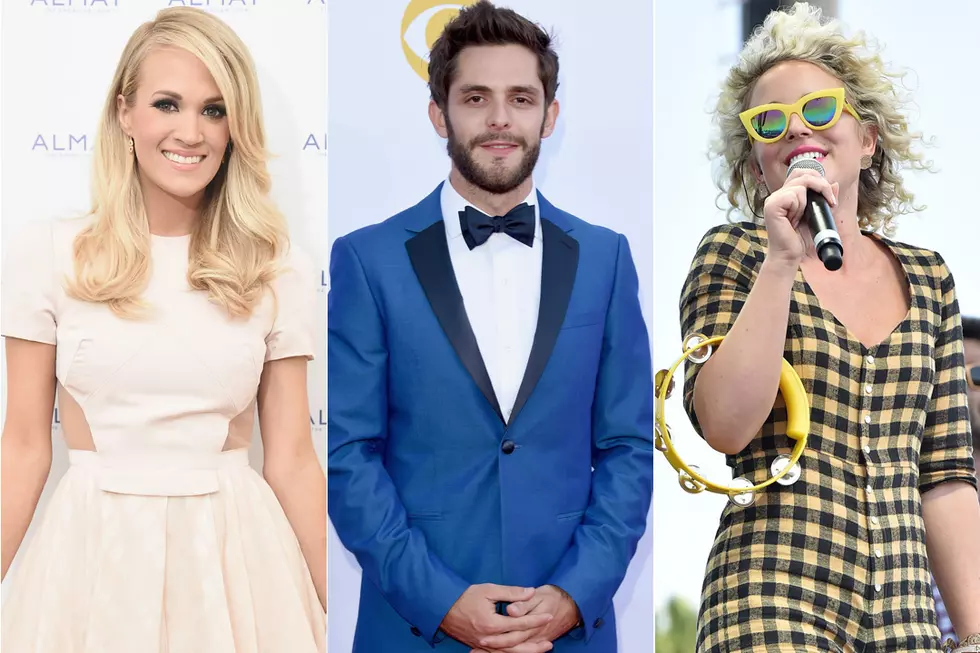 Top 40 Country Songs – November 2015
Michael Loccisano / Kevin Winter / Jason Merritt, Getty Images
The No. 1 song on November's list of Top 40 country songs made it to the top in just two months. The song may only be in the Top 20 on Billboard's airplay chart, but strong sales and overwhelmingly strong critic and fan approval bolster this artist's cut above hits from Cam, Old Dominion and Carrie Underwood.
Very few newcomers were added to this month's list. George Strait's "Cold Beer Conversation" grabs the highest debut title, while independent artist Kane Brown makes his Top 40 debut with "Used to Love You Sober," a song that reached as high as No. 2 on the week-to-week iTunes charts. Brown shot to fame with covers of classic and contemporary country songs on Facebook. His new single shows where he's headed as a solo artist.
Luke Bryan's "Strip It Down" was last month's No. 1, song but he slips to No. 6 on the November 2015 list. Brothers Osborne, Randy Houser and Chris Young all move up significantly on this next-to-last chart of the year. Find your favorite song, or let us know who we missed and where we went wrong in the comments section below.
The list of Top 40 Country Songs of November 2015 is compiled from Billboard chart data and sales figures, in addition to staff opinion and reader feedback.
Top 40 Country Songs for November 2015:
40. Kane Brown, "Used to Love You Sober" - INDIE ARTIST TO WATCH!
39. The Band Perry, "Live Forever"
38. Jerrod Niemann, "Blue Bandana"
37. Brantley Gilbert, "Stone Cold Sober"
36. Zac Brown Band, "Beautiful Drug"
35. A Thousand Horses, "(This Ain't No) Drunk Dial"
34. Jon Pardi, "Head Over Boots"
33. Rascal Flatts, "I Like the Sound of That"
32. Michael Ray, "Real Men Love Jesus"
31. Keith Urban, "Break On Me"
30. Canaan Smith, "Hole In a Bottle"
29. Dustin Lynch, "Mind Reader"
28. Hunter Hayes, "21"
27. Chase Bryant, "Little Bit of You"
26. George Strait, "Cold Beer Conversation" - HIGHEST DEBUT! IS THE KING BACK?
25. Lee Brice, "That Don't Sound Like You"
24. Granger Smith, "Backroad Song"
23. Brad Paisley, "Country Nation"
22. Dierks Bentley, "Riser"
21. Tim McGraw, "Top of the World"
20. Cole Swindell, "Let Me See Ya Girl"
19. Big & Rich, "Run Away With You"
18. Dan + Shay, "Nothin' Like You"
17. Parmalee, "Already Callin' You Mine"
16. Jana Kramer, "I Got the Boy"
15. Kelsea Ballerini, "Dibs"
14. Kenny Chesney, "Save It for a Rainy Day"
13. Jason Aldean, "Gonna Know We Were Here"
12. Randy Houser, "We Went"
11. Blake Shelton, "Gonna"
10. LoCash, "I Love This Life"
9. Florida Georgia Line, "Anything Goes"
8. Sam Hunt, "Break Up In a Small Town" - BIGGEST JUMP!
7. Brothers Osborne, "Stay a Little Longer"
6. Luke Bryan, "Strip It Down"
5. Chris Young, "I'm Comin' Over" - ALBUM DROPS NOVEMBER 13!
4. Carrie Underwood, "Smoke Break"
3. Old Dominion, "Break Up With Him" -ALBUM DROPS NOVEMBER 6!
2. Cam, "Burning House"
1. Thomas Rhett, "Die a Happy Man" - NO. 1 IN JUST TWO MONTHS!
Did Your Favorite Song Make Our Top 40 Country Songs List for November 2015?
What would you add to our list of the Top 40 country songs for November 2015? Share your opinions on this list — as well as the songs that deserve to be included, but weren't — in the comments section below.
More From Taste of Country