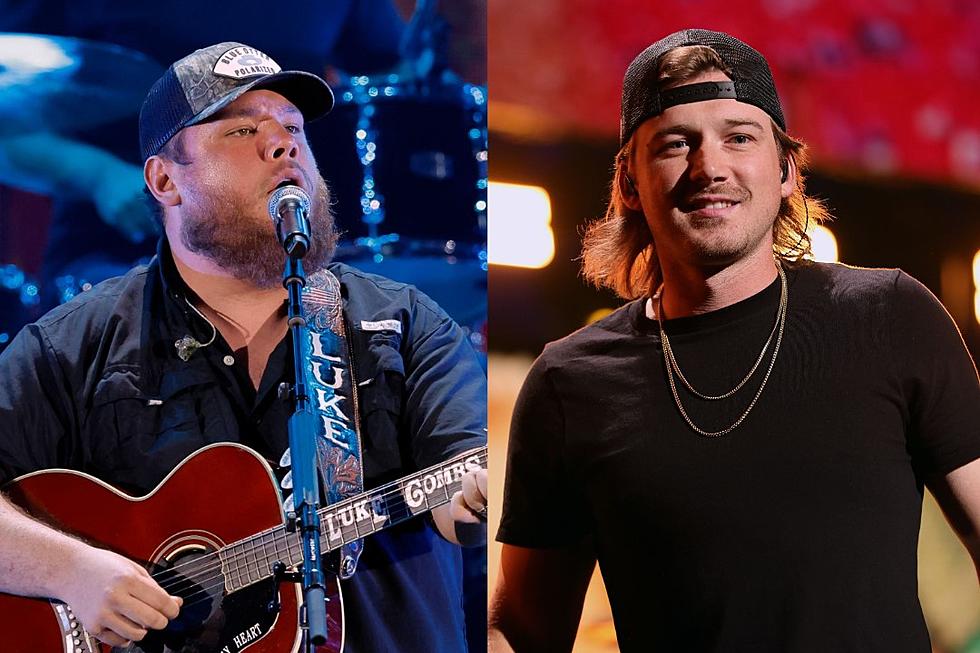 Luke Combs and Morgan Wallen Win iHeartRadio Music Awards [Watch]
Kevin Winter / Matt Winkelmeyer, Getty Images
Although Luke Combs and Morgan Wallen were unable to attend the iHeartRadio Music Awards on Monday night (March 27) in person, that didn't stop them from accepting their awards virtually.
Each of the stars received a trophy during the awards ceremony — Combs took home the win for Country Album of the Year for his Growin' Up project and Wallen nabbed the prize for Country Artist of the Year.
Combs released Growin' Up in 2022. The project appeared to be a singular project, but after putting out his follow-up album Gettin' Old, the singer revealed that the two albums together are actually a double feature. "Doin' This" and "The Kind of Love We Make" were released as singles, with "Doin' This" reaching the top of the charts. Combs' duet with Miranda Lambert — "Outrunnin' Your Memory" — was also featured on Growin' Up. The album as a whole debuted at No. 2 on the Billboard 200 chart, making it his fourth Top 5 album.
"I'm honored to have won Country Album of the Year at the iHeart Awards — so amazing," Combs shares in a video played during the ceremony. "I couldn't be more pumped. Thank you all so much."
Wallen missed the ceremony due to his massive One Night at a Time Tour, which launched in mid-March with an extended stay in Australia and New Zealand, making traveling to Los Angeles for an in-person acceptance speech unrealistic.
After releasing his record-breaking album Dangerous: The Double Album in 2021, Wallen took the 30-track project on the road in 2022 with his Dangerous Tour. Shortly after that tour wrapped, he announced plans for his 2023 world tour. He dropped a new 36-song album, One Thing at a Time, earlier this month.
"I just wanted to say thank you to my fans first and foremost for making this possible. You guys, you blow my mind every day," Wallen says in his acceptance video. "Thank you to iHeart for playing my music. Thank you to everyone who just stays and continues to be in my corner. I just really appreciate it."
"Thank you for making me the iHeart's Country Music Artist of the Year," he continues. "It's an honor and a privilege and we'll see you next time."
Best Country Albums of 2022 - Critic's Picks
This list of country music's best albums from 2022 separates artists who aim to make great albums from those simply looking to record great songs. Only one artist found below notched a solo No. 1 country airplay hit this year. Popularity doesn't always equal quality.
It's not that albums from country music's most notable hitmakers aren't any good. Count
Luke Combs
and
Thomas Rhett
as strong honorable mentions for this list but both were edged out by a group that in some ways didn't have to worry about the confines of commercial success.
Randy Houser
and
Muscadine Bloodline
are independant artists.
American Aquarium
is too and
Ashley McBryde
released the sort of album you'd expect from an indy act.
The lesson is country fans need to look deeper for the most daring, creative music of 2022.
More From Taste of Country