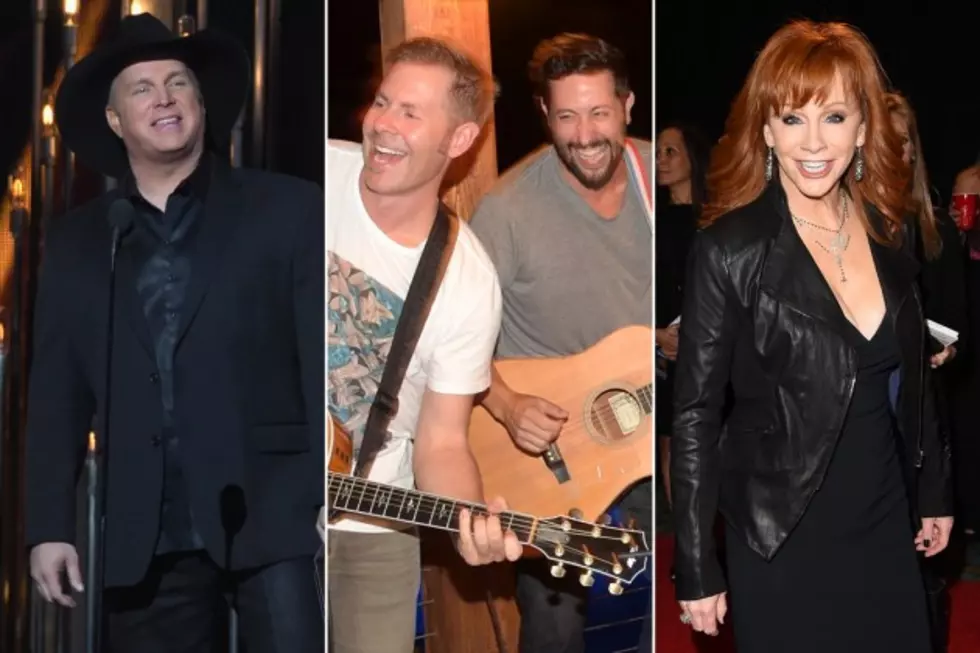 Rick Diamond (2) / Jason Merritt, Getty Images
The debate about if and when an artist should share their music on free streaming platforms like YouTube or Spotify is as simple as the philosophical "If a tree falls in the woods …" question. Your favorite artist may write and record the best country song ever, but if no one hears it, did he really?
Newcomers Old Dominion know the debate better than most artists. As a band, they're scratching and clawing for recognition. The "Break Up With Him" singers are also an independent act, which means they're even more reliant on non-traditional ways to listen to music.
"If you listen to these interviews with a lot of big artists, they kind of give in to the fact that yeah, if you need to be discovered, it's a huge tool," bassist Geoff Sprung told Taste of Country in November.
But as songwriters, the band agrees that they're grossly underpaid by these streaming services. "Break Up With Him" and "Shut Me Up" aren't going to make or break their financial futures, but separately or together the group has written massive hits like the Band Perry's "Chainsaw" and Dierks Bentley's current single "Say You Do." They're being cheated each time someone listens to a bootlegged version for free.
"For songwriters, I think the songwriter feels like the royalty rate is not fair," the band adds. "The royalty rate needs to come up. It needs to change, it will change."
The argument over if whether or not it's stealing to listen to a song without paying morphed into more of an argument over whether it's ethically wrong to steal by listening to a song without paying. That's a debate for another article — today's topic is when it helps, and when it doesn't really matter.
When it doesn't matter:
When an artist is guaranteed to have his or her song heard elsewhere. Most of the songs covered on Taste of Country are aggressively promoted to radio stations nationwide, meaning they have a chance to catch fire at radio. Furthermore, official music videos are released, and in special cases, the songs are performed on national television shows. The promotional budget is deep and the means of promotion are still very traditional.
Taylor Swift and Blake Shelton don't need YouTube or Spotify. That both don't aggressively remove their songs from all free platforms is a gift to fans. If Luke Bryan didn't want us to see him falling on stage while singing "Suntan City," he could have it pulled like Garth Brooks has done with nearly all videos from his shows — falling and otherwise — uploaded to YouTube. He didn't.
His reasons may be because he doesn't care, he doesn't take himself too seriously, or doesn't think it's worth the fight. It's probably not. One shudders at the thought of all the 15-letter words used in a cease and desist, if that's what's required. Superstars are probably losing money, but what's another million dollars? Plus there is some tacit benefit to the free promotion, it's just more difficult to quantify.
When it matters:
It's not just new, unheard of artists that benefit from streaming services. Reba McEntire and Trisha Yearwood are two well-known artists whose new songs are efficiently removed from YouTube as soon as they're uploaded. Yearwood just released "I Remember You," a song country America would be better for hearing. It's a wonderful, personal ballad that rocks your heart and soul. But …
"If a tree falls in the woods …"
According to industry trade publication Country Aircheck, one reporting station started playing it this week. "PrizeFighter," the title track from Yearwood's latest album, didn't break the Top 40. Fans aren't hearing her music, which is a bummer.
As for McEntire, her first single in four years has built some momentum. "Going Out Like That" is at No. 40 after six weeks, and one new station added it this week. Both women face other obstacles. Yearwood herself concedes that it's not a great environment for older, female artists right now, and she's right. To be fair, you can find McEntire's song on Spotify, and after several weeks, she quietly released official audio to YouTube.
Is the cost of allowing streaming worth it? That's essentially what each artist and his or her team needs to decide. For Old Dominion, the answer is "Yes!"
"There's a lot of people out there, like a lot of people out there that wouldn't know our music if it wasn't for Spotify," singer Matt Ramsey says.
Teams McEntire (at first), Yearwood and Garth Brooks decided it wasn't worth it. To each their own, and we're not criticizing those decisions, although dialing up Yearwood's new song on YouTube when you're missing someone hard would be oh-so-satisfying.
One just hopes the answer to that old philosophical question is "Yes, a song still makes a sound even when there's no one around to hear it."
Startling Facts About Women in Country Music 
More From Taste of Country