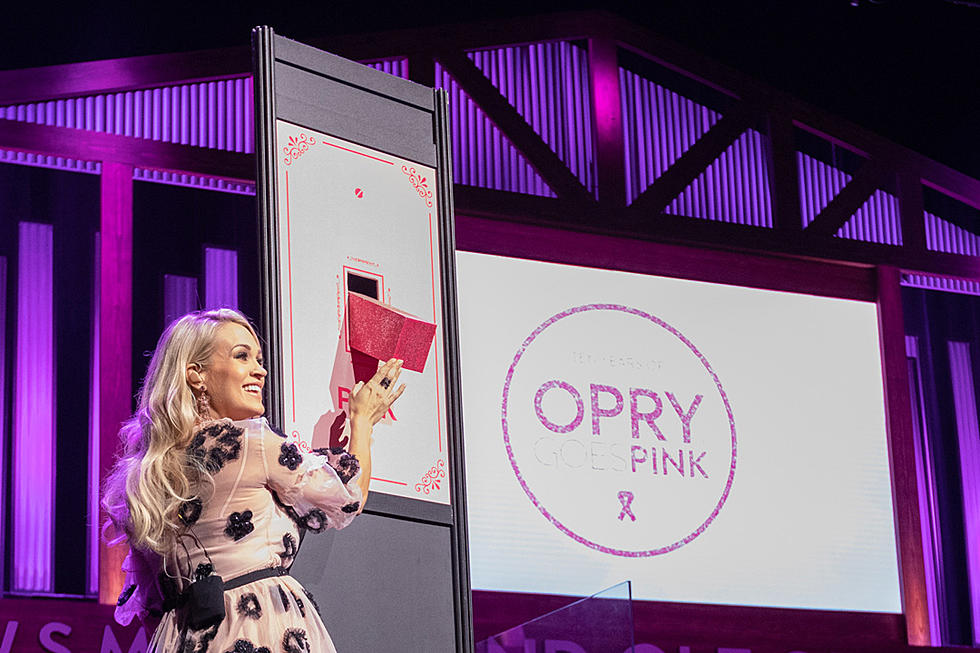 Carrie Underwood Flips the Switch on 2018 Opry Goes Pink Fundraiser [Pictures]
Photo courtesy Grand Ole Opry LLC. Chris Hollo, photographer
Carrie Underwood and more country music all-stars were on hand at the Grand Ole Opry in Nashville on Friday night (Oct. 26) for the 2018 Opry Goes Pink event, where Underwood flipped the switch onstage to launch the tenth edition of the annual breast cancer fundraiser.
Each year features a celebrity guest who flips the switch to make all of the lights on the Opry stage turn pink in recognition of National Breast Cancer Awareness Month in October, and since 2018 marked a decade of the event, the Opry held two special shows instead of one on Friday night.
Prior to Underwood flipping the switch, country singer and breast cancer survivor Anita Cochran — who recently released a song titled "Fight Like a Girl" about her cancer battle — cut a pink ribbon and led a pink carpet walk into the Grand Ole Opry House, accompanied by breast cancer survivors and members of their support networks, as well as fans. Everyone involved has pledged their support to fight the disease.
You've Never Heard Morgan Wallen Quite Like This Before
Underwood flipped the switch on the inaugural Opry Goes Pink event in 2009, and she was thrilled to return in 2018.
"Every time I get to step out on the Opry stage is an honor, but tonight was extra special," the "Love Wins" singer says in a press release. "When I flipped that switch and saw the Opry barn light up pink, it was just overwhelming and powerful knowing what the night meant for so many women. It was so beautiful to see so many survivors in the audience and backstage, and to be able to celebrate them and their fight."
Underwood also performed at the event, heading up a lineup that included Cochran and artists and breast cancer survivors Karen Mills and Rita Wilson, as well as Ronnie Milsap, Riders in the Sky and more. Gone West featuring Colbie Caillat made their Opry debut on the special show, and the evening raised funds for the Susan G. Komen Foundation's Nashville chapter, with the Opry partnering with the foundation and donating $5 from each ticket sold since the shows were announced.
See Pictures From the 2018 Opry Goes Pink Event
More From Taste of Country