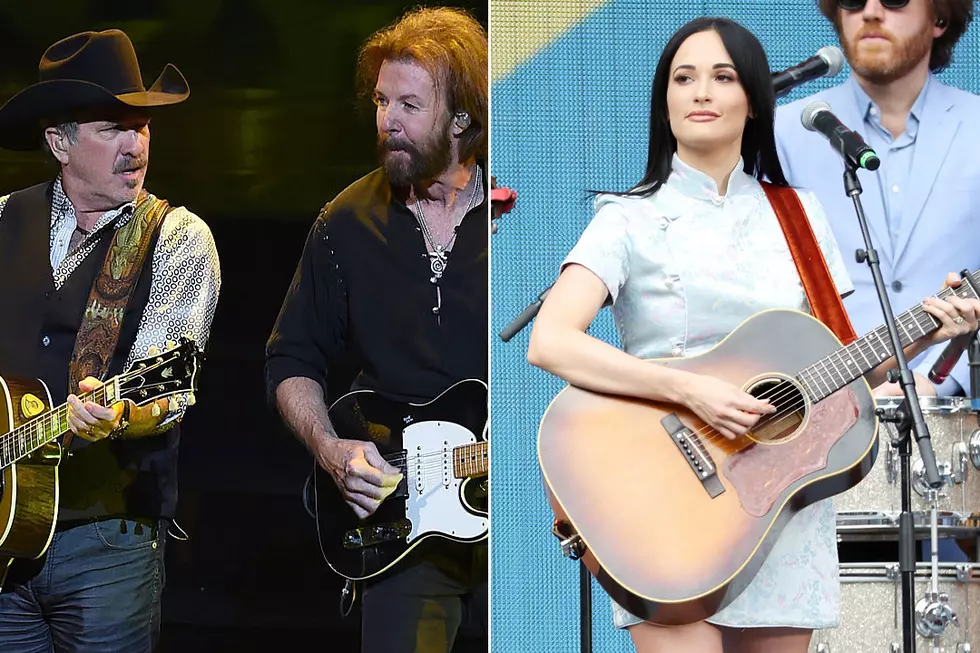 Brooks & Dunn, Kacey Musgraves + More to Receive 2019 ACM Honors
Ethan Miller / Jemal Countess, Getty Images
Brooks & Dunn, Kacey Musgraves and more will be recognized during the 2019 ACM Honors ceremony in late August in Nashville. The Academy of Country Music announced on Tuesday (May 28) the complete list of honorees for this year.
Along with Martina McBride, Brooks & Dunn are the 2019 recipients of the ACM Cliffie Stone Icon Award, which recognizes those in the country music industry who have "advanced the popularity of the genre through their contributions in multiple facets of the industry." Brooks & Dunn, of course, are the most-awarded duo and second-most-awarded act ever in ACM history — not to mention a simply iconic country pairing — while McBride has charted more than 50 songs on the Billboard Country Airplay chart throughout her decades-long career. She won the ACM Female Vocalist of the Year honor three times in a row (2001-2003) and also received the ACM Humanitarian Award in 2003.
Musgraves has been named the 2019 ACM Jim Reeves International Award winner in recognition of her efforts to promote and spread country music throughout the world. She's spent recent months on tour in support of her Grammy- and ACM-winning album Golden Hour, including playing shows in Sweden, the U.K. and Ireland, among other countries.
Miranda Lambert, the most-awarded artist in ACM Awards history, is receiving 2019's ACM Gene Weed Milestone Award. The honor recognizes "a specific, unprecedented or outstanding achievement in the field of country music" — and, for Lambert, that achievement is her 32 career ACM trophies. She broke Brooks & Dunn's record for the most ACM awards in 2018.
In honor of their "outstanding and longstanding musical and/or lyrical contributions" to the genre, Rodney Crowell, Kye Fleming and Billy Joe Shaver will all receive the ACM Poet's Award in 2019. Crowell's most well-known songs include Tim McGraw's "Please Remember Me" and Rosanne Cash's "I Don't Know Why You Don't Want Me," and he's also earned acclaim as an artist himself. Fleming wrote a number of 1970s and '80s country hits, while Shaver is an outlaw country icon and writer of Waylon Jennings' famous 1973 album Honky Tonk Heroes.
A Star Is Born, the 2018 film starring Bradley Cooper and Lady Gaga and featuring songs penned by, among others, Jason Isbell and Lori McKenna, is 2019's Tex Ritter Film Award recipient. The trophy "recognizes an outstanding television movie, series or feature film released during the preceding calendar year which prominently features country music" and is the latest in a string of accolades for the movie.
In 2019, the ACM Gary Haber Lifting Lives Award will go to Gayle Holcomb, who is a partner at WME and one of the people who helped launch the ACM's charitable arm, Lifting Lives, in 2009. Additionally, Shane McAnally is the previously announced recipient of the 2019 ACM Songwriter of the Year award.
The 2019 ACM Honors ceremony is scheduled for Aug. 21, at Nashville's Ryman Auditorium. In addition to the aforementioned special awards, winners of the ACM industry and studio recording awards will also be honored during the event.
Here's What You Didn't See on the 2019 ACM Awards
More From Taste of Country