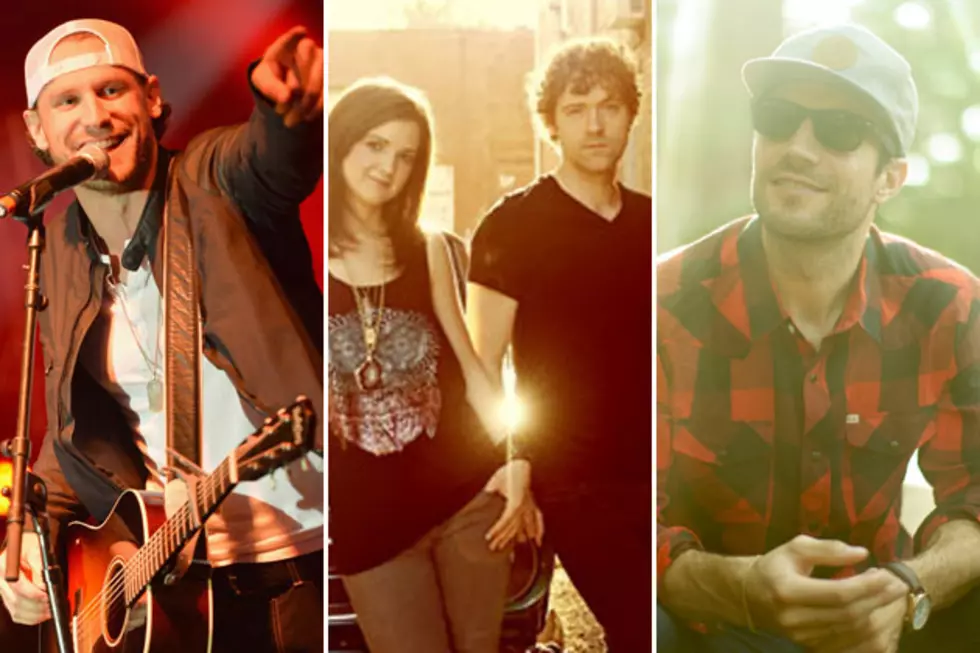 Country Artists to Watch in 2014
Rick Diamond, Getty Images / StrikingMatches.com/ Brad Belanger
There are at least 10 reasons to be excited about country music in 2014. Some of the best songs of the year may come from newcomers -- men, women and groups hungry for their very first taste of radio success. A few have found it on television, while others were popular in Canada before turning south to Nashville. The No. 1 artist on this list of newcomers to watch has two hits on the radio right now!
While much has been made of the lack of frontrunning female artists in country music, it's not because there aren't talented ladies out there. Women claim four of the 10 choices on our #NextUp: Artists to Watch in 2014 list. Two in this collection became famous on TV first, but others have been building their careers the old-fashioned way. That means endless writing, touring, promoting and rejection before finally getting that chance -- and boy did they ever make the most of it. You just may find your new favorite artist here!
10

Dallas Smith only qualifies as a newcomer to American country music fans. He's a popular singer in Canada, with two Top 10 singles from his 2012 album 'Jumped Right In' and another from an upcoming project. 'Tippin' Point' (co-written by Florida Georgia Line) is the song that is introducing him to U.S. audiences, although some may remember him as the lead singer of the rock band Default, who had the hit 'Wasting My Time' in 2001. Smith recently signed with the Big Machine Label Group, and if the sound popularized by FGL remains popular, his debut will do very well.

9

Natalie Stovall and the Drive

Columbia, Tenn.-raised Natalie Stovall and her band the Drive prove an artist can still make it the old-fashioned way. They've been together for more than a half-decade, sharpening their sound and resolve in a van while driving to gigs along lost American highways. The talented Stovall leads a group of four men much like Zac Brown leads his band, meaning she couldn't do it without them. The group was discovered by HitShop Records president Skip Bishop last January, and have cut a record with famed producer Paul Worley. Their debut single is called 'Baby Come on With It.'

8

Lucy Hale always had plans to make music her No. 1 priority until an acting job on ABC Family's 'Pretty Little Liars' caught her attention. In 2014, she's finally going to return to her passion, and 'You Sound Good to Me' is her first single. The uptempo, pop-friendly love song captures the spirit of this energetic 24-year-old from Memphis, Tenn. This isn't just another actor-turned-wannabe country star, and with a large fanbase cheering for her, the song could quickly become one radio stations have to play in 2014.

7

Dan + Shay are already enjoying radio success with their Warner Music Nashville debut '19 You + Me.' Tight harmonies are these two friends' signature. In a world of audacious tailgate, beer and babe songs, they stand out for their more subtle approach. Dan Smyers and Shay Mooney met at a party in Nashville and began working together soon after. Their record deal came together quickly, and their song is racing up the charts at a pace most newcomers could only dream of.

6

Lindsay Ell is the second Canadian artist on this list of country artists to watch for in 2014. The singer and guitarist also found success in her home country before turning to Nashville. She's an experienced touring act, meaning her live show will only make songs like her debut 'Trippin' on Us' more effective. That's not the case for every newbie. Ell's been called a young Sheryl Crow -- albeit one who can play guitar like Keith Urban.

5

The Swon Brothers are in a nice position. They'll benefit from their exposure on 'The Voice,' but they don't have the pressure that comes with winning a reality show. Zach and Colton Swon were a fun-loving duo that fans really took to on Team Blake in early 2013, and they've signed with Arista Nashville, Carrie Underwood and Brad Paisley's record label. Their new song 'Later On' will be released to radio in 2014, and a new album is expected to follow.

4

Fans of Florida Georgia Line and other Bro-Country acts will really dig Chase Rice, if they haven't purchased his debut EP already. 'Ready Set Roll' is an aggressive mix of country, rock and hip-hop influences that comes out like nothing else on the radio. The 'Cruise' songwriter and former University of North Carolina football player (he's also a former 'Survivor' contestant) is an independent artist, and it looks like he plans to keep it that way for the near future. He may struggle at radio for this reason, but his grassroots fanbase is growing faster kudzu.

3

Sarah Zimmerman and Justin Davis of Striking Matches have already landed a number of songs on the ABC show 'Nashville,' including the very memorable 'When the Right One Comes Along.' This ballad only shows one side of their personality, however. The foot-stomping, cut-throat 'Trouble Is as Trouble Does' is one of the finer songs of 2013. Zimmerman's voice carries the song, but Davis' harmonies provide intriguing depth. Their self-titled EP teases bigger things in 2014, especially now that they've signed a deal with I.R.S. Records.

2

Cole Swindell was selling merchandise for Luke Bryan before his song 'Chillin' It' began to catch fire at satellite radio in 2013. Now signed to Warner Music Nashville, the Georgia-raised singer finds himself nearing a Top 10 hit with his hip-hop-inspired country groove. While it will ultimately be his music that decides how far he goes in 2014, it doesn't hurt that he has powerful friends.

1

The No. 1 country artist to watch in 2014 is Sam Hunt, a man you are already very familiar with, although you may not know it. Hunt co-wrote 'Come Over' for Kenny Chesney and the current singles for both Billy Currington ('We Are Tonight') and Keith Urban ('Cop Car'). 'Raised On It' is every bit as good as those hits, but what separates this newcomer from other artists on this list is his natural confidence. You see it in the way he carries himself. Hunt has that special "it" factor that makes a singer very popular, very quickly. Download a free 15-song acoustic album at his official website.
More From Taste of Country