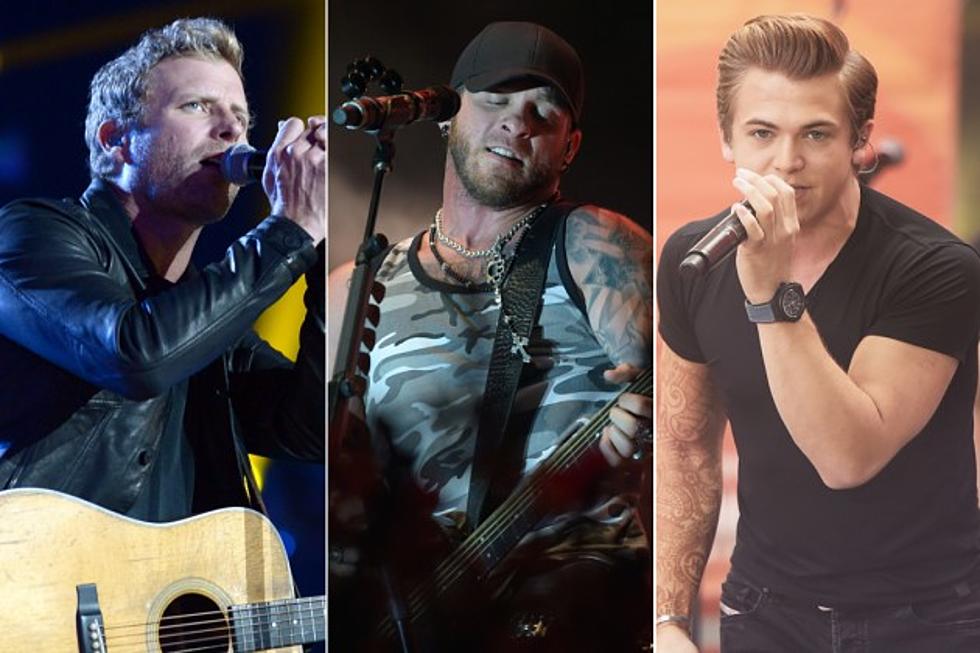 Rick Diamond / Michael Loccisano (2), Getty Images
Some of the best country albums of 2014 have come from country's most popular hitmakers, including Dierks Bentley and everyone's favorite outlaw, Eric Church. David Nail has released a strong contender with 'I'm a Fire,' while Lady Antebellum provided some softer tones.
The Best Albums of 2014 list is compiled using sales data, Taste of Country staff opinions and reader input. Check back monthly to see how your favorite albums are faring.
10

David Nail's third studio album is not so much of a departure as a new chapter in a diverse discography. The album is more upbeat than other ventures, but still packs a heavy punch when it comes to depth and lyrical skill. Nail originals like 'The Secret' and his No. 1 hit 'Whatever She's Got' will have you listening on repeat, and a rich duet with Lee Ann Womack perfectly complements his traditional, but never stale, sound. 'I'm a Fire' is a powerful release for Nail and definitely a contender for one of the top albums this year.

9

'I Don't Dance' is a big, sentimental ballad that's not found elsewhere on Lee Brice's 'I Don't Dance' album. The 16-song project is a true work of art with producer, songwriter and singer all melding together to create one unified project. Brice is best when he's singing with purpose, as in 'Drinking Class' and 'That Don't Sound Like You,' but songs like 'Girls in Bikinis' provide sweet interludes to lighten the mood.

8

'Sundown Heaven Town'

Tim McGraw

McGraw's latest album looks back in more ways than one. Many of the best songs ('Meanwhile Back at Mama's,' 'Dust') talk about the magic of memories and reliving simpler times, but a number of others recall some of this biggest hits. It's hard not to hear 'Just to See You Smile' in 'Shotgun Rider,' but the two songs end up a world apart. 'Overrated' and 'Diamond Rings and Old Bar Stools' are two of the finer tracks from the 'Sundown Heaven Town' album that haven't been released to radio yet.

7

'Write You a Song'

Jon Pardi

Jon Pardi may be a newcomer to the country scene, but this singer has a voice that harkens back to some of the most iconic stars. That's what makes 'Write You a Song' one of the top albums of 2014 -- his sound on tracks like 'What I Can't Put Down' and 'Up All Night' is rowdy, rocking, raw country. Pardi isn't trying to trick you into liking him with ballads about love or sentimentality, he's just here to bring some straight-forward country rock that will have you picking up something you can't put down.

6

Lady Antebellum's 2014 release moves away from ballads that rely on the chemistry and harmonies between Charles Kelley and Hillary Scott. The trio sounds more like Fleetwood Mac than ever, and this is a good thing. Songs like 'Long Stretch of Love' introduce the influence of new producer Nathan Chapman, while 'Damn You Seventeen' is a heartbreaking ballad one begs to hear again.

5

'Turn It Up'

Josh Thompson

Blue collar country hero Josh Thompson targets a specific audience with the 10 songs on his 'Turn It Up' album. It's loud and rowdy and undeniably country, but nothing on this Best Albums of 2014 list inclusion going to make old-timers too comfortable. Thompson re-introduces who he is on this album, his second studio release. Songs about beer, women and cars blanket the project, but he won't be cast aside as another bro-country star. If you're a meat and potatoes kind of country music fan, you'll dig this high-powered release.

4

With his most personal record to date, Dierks Bentley 'rises' to a new level of vulnerability and raw truth. He's dropped the harder-hitting sound for songs layered with melodic arrangements and greater lyrical depth. Tracks like 'I Hold On' propel this record to be one of 2014's top albums. Bentley's voice is stronger than ever, and by embracing the imperfections that come with honesty, the album is, in many senses, perfect.

3

Hunter Hayes' 'Storyline' is a mature, unimposing collection of tracks pulled from the singer's scarred heart. Each song is rooted in strong musicianship and even stronger songwriting. When the 22-year-old hurts, you feel it. When he's celebrating, the air in the room gets thinner. While not particularly diverse in terms of subject matter, each melody and arrangement sounds uniquely Hayes. A highly-touted newcomer often swings and misses when given a second chance. Hayes hits a home run.

2

'The Outsiders'

Eric Church

If you're looking for one of the best representatives of country music in 2014, look no further than Eric Church's phenomenal 'The Outsiders.' True to his unconventional outlaw persona, Church's newest offering pulls no punches and delivers a crowd-pleasing effect that still feels a bit rebellious. 'Give Me Back My Hometown' is an anthemic ballad for anyone who's ever been proud to be where they're from, and the title track is nothing if not a great soundtrack for a barroom brawl. With such a compelling and original sound, 'The Outsiders' is not a record that will sway fringe fans towards Church ... but it is one that will make his outsiders proud.

1

'Just as I Am'

Brantley Gilbert

Brantley Gilbert seems tortured at times on 'Just as I Am.' As he relives painful moments in his life he more than bears his scars -- the Georgia-raised singer seems to carve out places for new ones. 'I'm Gone' and 'Lights of My Hometown' are the most heartbreaking. Conversely, 'Let It Ride' is as sexy as anything released by more traditional country Lotharios. Diversity and incredible songwriting make this album No. 1 in 2014.
More From Taste of Country