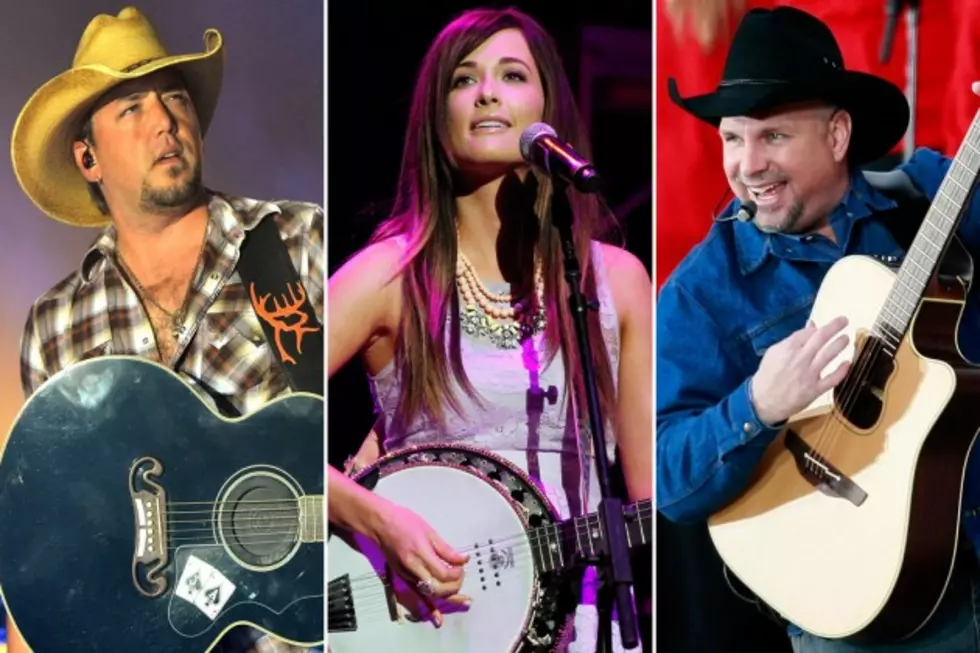 2014 in Country Music: Old Dogs, New Tricks and Big Surprises
Rick Diamond / Terry Wyatt / Mark Wilson, Getty Images
If you want to sum up the year in country music, you could do it in just one word: Garthmania.
Garth Brooks returned to active duty after a self-imposed exile of more than a dozen years, releasing a new album, starting his own digital music service and launching an enormous world tour that has sold out multiple dates in every market. Though he has yet to equal his past success at radio, Brooks has certainly reminded everybody why he's the most successful live entertainer of his generation -- and he hasn't lost his unique flair for making everything he does into news, either.
George Strait staged just the opposite of a comeback, wrapping up his touring career with an all-star farewell show in Texas, while Taylor Swift departed country music for the greener pastures of pop. Jason Aldean continued to lead the younger generation of country superstars with another breakout year that topped his own previous success.
It Was a Year to Remember For:
We've already touched on Garth Brooks, who may well be on his way to the most successful tour of all time. Miranda Lambert also had a great year, from a hit new album and tour, to nominations and awards. Chase Rice came out of seemingly nowhere to score a major hit, and Kip Moore graduated to headliner status, while Tim McGraw and Kenny Chesney proved they can still keep up with the kids with strong new albums.
Country music became a little more inclusive in 2014, too. Kacey Musgraves scored Song of the Year at the CMA Awards for 'Follow Your Arrow,' which takes a "whatever" stance on same-sex relationships. Ty Herndon and Billy Gilman both came out, and Brandy Clark -- who makes no big deal either way of the fact that she is openly gay -- was not only one of the writers on 'Follow Your Arrow,' she was also nominated for New Artist of the Year in the CMA Awards, and recently scored an all-genre nomination for Best New Artist in the upcoming 2015 Grammys.
It Was a Year to Forget For:
Trace Adkins got off to an incredibly hard start in 2014, with a stint in rehab, the death of his father and his wife filing for divorce. Scotty McCreery would probably just as soon erase the memory of getting robbed at gunpoint, and Josh Gracin posted what many interpreted as a desperate suicide note to social media, later apologizing. Tim McGraw had a great year except for a public furor after slapping at a grabby fan who got way too intimate at a concert. Video of the incident went viral.
Overall it was a year to forget for record sales across the board, with projects from major artists including Blake Shelton and Brad Paisley performing poorly compared to past efforts as physical sales and downloads continued to drop. Only Taylor Swift, Eric Church and Jason Aldean scored Platinum albums in country in 2014.
The 2014 Trend to Remember:
For the second year in a row, bro-country dominated radio and provided the biggest sales driver, with Aldean, Luke Bryan, Florida Georgia Line, Cole Swindell, Chase Rice and more landing one hit after another after another. Many of those songs continued to follow a paradigm that includes tight jeans or shorts, a pickup truck drive to the middle of nowhere, moonlight and -- of course! -- plenty of alcohol, but neither radio nor the country music masses seem to have had their fill quite yet.
The 2014 Trend to Forget:
Again for the second straight year, bro-country. There were plenty of voices already beginning to protest the dominance of the trend by the end of last year, but in 2014 that grew to a deafening chorus of people saying they'd had enough -- though it certainly didn't show in the numbers. Even Kenny Chesney spoke out about the objectification of women in contemporary country, while newcomers Maddie & Tae rode the anti-bro-country sentiment all the way to No. 1 with their debut single, 'Girl in a Country Song,' which turns the tables on the stereotypes of bro-country.
The Debate of the Year:
Yet again this year, the lack of opportunity for female artists at country radio was the subject of much debate, discussion and speculation, with nobody seemingly any closer to an answer than we were a year ago at this time. In fact, things have mostly gotten worse for female artists, despite the fact that strong female artists like Lambert, Musgraves and Clark have done very well in nominations and awards.
The continued rise of streaming services like Spotify, coupled with the decline of physical sales and downloads, have also set off a new round of debates about the future of the business, with many artists and labels taking the position that the revenue from streaming cannot hope to offset the losses from sales. Taylor Swift led the charge, removing her entire recorded catalog from Spotify, while other artists including Brantley Gilbert, Justin Moore and Jason Aldean have removed at least their most recent work. This is a debate that is sure to carry over into the next several years as the industry continues to struggle with declining revenue streams and an ever-changing paradigm.
Artists to Watch in 2015:
Previously mentioned acts like Chase Rice, Cole Swindell and Maddie & Tae are poised to follow up on their success in 2015, and it's bound to be a big year for Sam Hunt, too. He'll be embarking on his first headlining tour, after just two singles have been released. Brandy Clark's critically acclaimed '12 Stories' album has landed her a major label deal, and it's possible that she's poised to breakout as an artist at country radio in 2015, after writing hits for others including the Band Perry's 'Better Dig Two' and Miranda Lambert's 'Mama's Broken Heart.' Maybe 2015 will prove to be a pivotal year for women in country -- newcomer Kelsea Ballerini is another rising star to keep your eye on.
Best of Country Music in 2014
More From Taste of Country