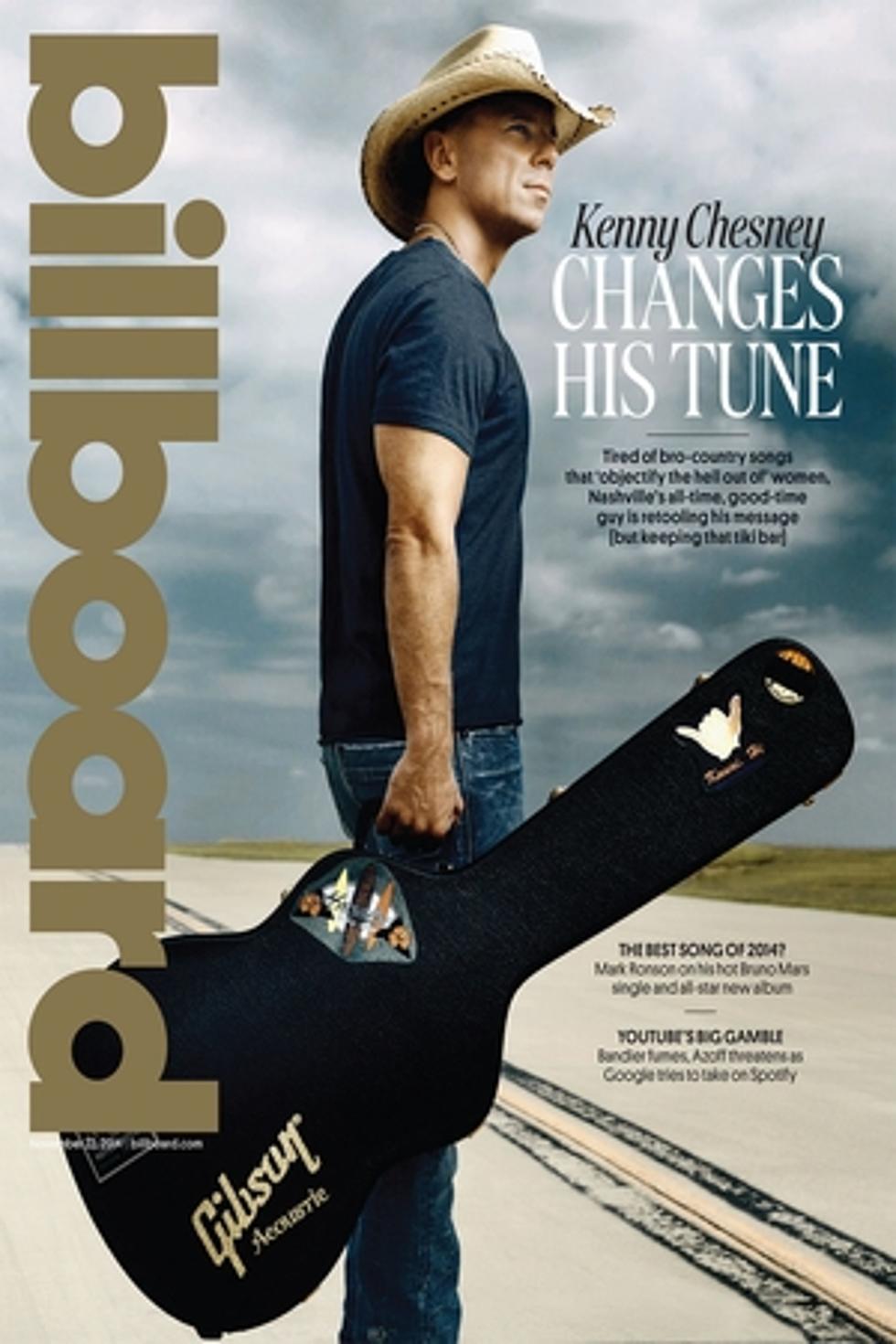 Kenny Chesney Covers Billboard, Speaks Out on Country Songs That 'Objectify' Women
Billboard
Kenny Chesney is trying to buck one of the biggest trends that's currently succeeding at country radio.
In a new cover story for Billboard, the country superstar reflects on the so-called "bro-country" songs that have dominated the genre recently.
"Over the last several years, it seems like anytime anybody sings about a woman, she's in cutoff jeans, drinking and on a tailgate -- they objectify the hell out of them," he says. "Twenty years ago, I might have written a song like that -- I probably did. But I'm at a point where I want to say something different about women."
In fact, one of the key songs on Chesney's new album, 'The Big Revival,' is 'Wild Child,' which re-teams him with Grace Potter. The song depicts a strong-willed and free-spirited female protagonist.
Chesney took a year off from the road to work on the album, which signals a shift in a different direction for him. He says the first part of the project was trial and error.
"I would listen to the songs I'd recorded, and they were good, but I felt like we were repeating ourselves," he admits. But after he co-wrote 'Wild Child,' he says, "I felt the excitement I needed to feel when I decided to take a year off."
Chesney will return to the road with a vengeance in 2015. His the Big Revival Tour is slated to play a mix of the biggest amphitheaters and stadiums in the country, and will feature some of country's hottest younger acts in support positions. He will also hook up with Jason Aldean and Eric Church for various runs of stadium dates.
The new issue of Billboard hits newsstands on Monday (Nov. 17).
Startling Facts About Women and Country Music
More From Taste of Country