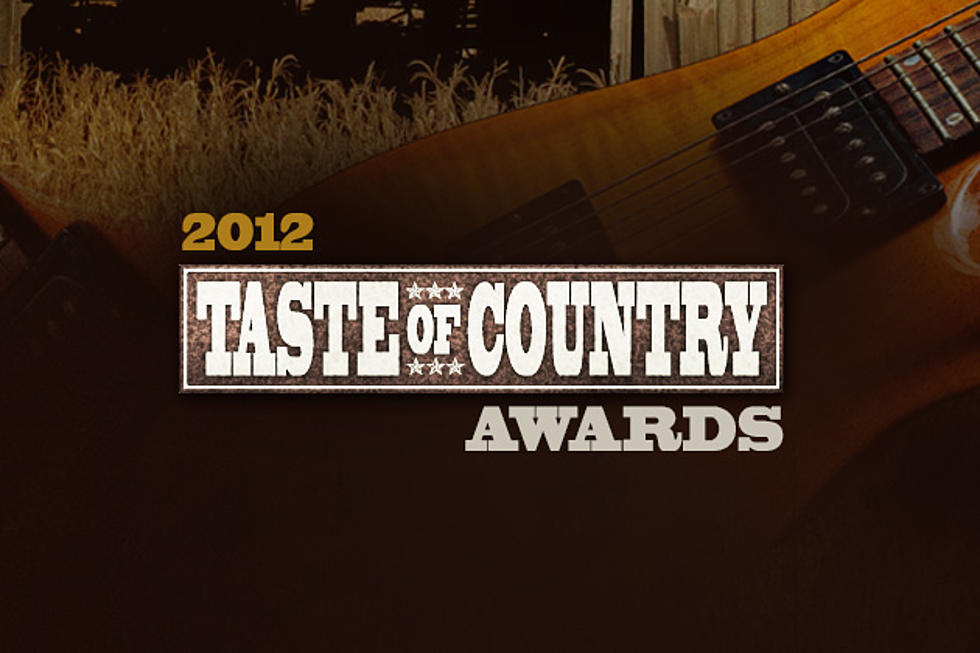 Best New Artist – 2012 Taste of Country Awards
Taste of Country
The nominees in the 2012 Taste of Country Awards Best New Artist category are all working hard to get songs from their major label debuts heard. They are truly new artists, still hustling to make it in the country music business. A win in this category could lead to big things next year, as Scotty McCreery proved by winning last year. 
Brantley Gilbert: Throughout 2012, Brantley Gilbert fans have stepped up to support him when called upon. No one has been more reliable in the Taste of Country Showdown. Gilbert landed a No. 1 song with 'You Don't Know Her Like I Do' and was part of two of the more exciting tours of the summer, opening for Eric Church and Toby Keith.
Casey James: Casey James released his self-titled debut and notched two songs inside the Top 25, with 'Crying on a Suitcase' still climbing. He doesn't have the sales success of some of the other stars in this category, but his live show is one of the more electric surprises among newcomers. In November and early December, he headlined the Taste of Country Christmas Tour.
Dustin Lynch: Dustin Lynch sold over 800,000 copies of his debut single 'Cowboys and Angels' while watching it soar to No. 2 on the country charts. His debut album introduces a singer with one of the sturdier voices in Nashville. Lynch commands your attention with each song, as Keith Urban fans will find out on tour in 2013.
Edens Edge: Edens Edge are still searching for their first hit, but not for lack of quality music. 'Amen' and 'Too Good to Be True' are both head-turners. Each opened country fans to a new style not yet popularized. Fans will find more of the same on the group's self-titled debut album, which stands up to any recording from any artist in 2012.
Florida Georgia Line: This Belmont University duo have the biggest song of the Best New Artist six nominees with the ultra-catchy 'Cruise.' Florida Georgia Line got their debut album out just before the deadline to qualify for the award. Sales figures for the record aren't known at this time, but their nearly one million singles sold stands out on their resume.
Hunter Hayes: The 2012 CMA New Artist of the Year watched his second single 'Wanted' go crazy this year. It's the fourth best-selling country single of the year with over 1.7 million downloads. Of course, a tour with Carrie Underwood pads his book of been there, done thats. Few artists are hotter right now than this young country star in the making.
Jana Kramer: The actress-turned-country-music-star makes a splash on red carpets, and has kept her name in the media by dating Brantley Gilbert. However, it's her music that stands out most. 'Why Ya Wanna' was a Top 5 song in 2012 -- and many think 'Whiskey' is even better.
Kip Moore: Kip Moore is the only artist in this category with a No. 1 song. The platinum-selling 'Somethin' 'Bout a Truck' reached the top of the charts in June of 2012. His album, 'Up All Night,' has outsold everyone else in the category, and it received strong critical praise upon its release in April.
More From Taste of Country