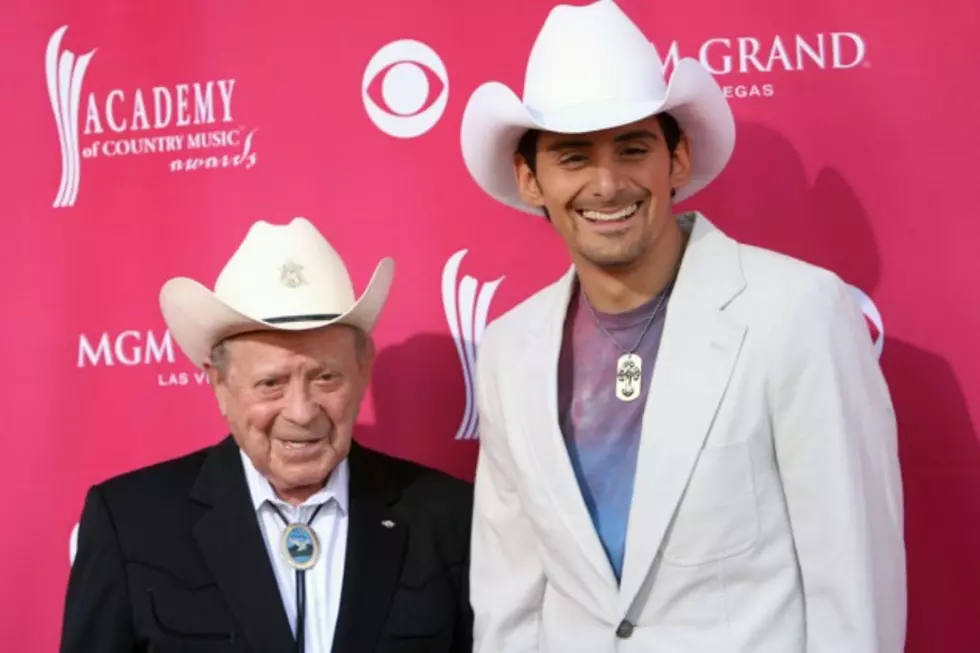 Brad Paisley Remembers His 'Hero,' Little Jimmy Dickens
Michael Buckner, Getty Images
Today's country music fan can't think of Little Jimmy Dickens without thinking of Brad Paisley immediately afterward. The two appeared to be close friends on and off stage and, as it turns out, nothing could be more true.
After learning of the 94-year-old's death on Friday, Paisley took to Twitter, opening up about why Dickens was his hero and -- most importantly -- why country fans should not be mourning the man some called Tater.
Dickens appeared in Paisley's videos for 'I'm Gonna Miss Her' and 'Celebrity' (who can forget "Chicks dig rhinestones"?) before playing along in hysterical skits at the CMA Awards. His Kanye West dig is a modern classic, but his Justin Bieber impression wasn't bad either.
Here is Paisley's tribute to Dickens, who died of cardiac arrest in a Nashville area hospital on Friday (Jan. 2).
As the sun sets on this planet tonight, for the first time in 94 years it is without my hero, Little Jimmy Dickens.

Why was he my hero? Jimmy made more out of his time in earth than anyone I've ever known; an incredible life in every measurable way. Longevity? Yes, practically unheard of. Faith? Totally and wholeheartedly. Humor? There was no one funnier, or with a better sense of it. A true entertainer? The best I've ever seen. Charm? Unmatched. Love? This was a big one. I think he loved everyone he ever met, and if not, he never let it be known. More importantly, I think everyone who ever met him loved him instantly...and forever. Romance? He and Mona had the most romantic story I've ever heard. Check it out sometime. Friendship? Well I can honestly say he was the best friend any human being could ask for. Bar none.

Much will be said and written about his incredible and unique place in Country Music history. Which could fill a book. But that isn't how I'll remember him. I will remember the human being that best check-marked all the boxes of a complete and wonderful life. My hero.

Do not mourn Little Jim. Celebrate him. Relive and share the memories. Aspire to be like him. And above all, laugh at the punchlines, the craziness, and the way he so gracefully made this planet a funnier, better, richer place while he was alive. And in doing so, will continue to for years to come.
More From Taste of Country